Whatfinger: Frontpage For Conservative News Founded By Veterans

"The Best Mix Of Hard-Hitting REAL News & Cutting-Edge Alternative News On The Web"
September 21, 2016
Americans Must Give Up 'Freedom Of Action' Obama Tells United Nations - Final Push For One World Government Begins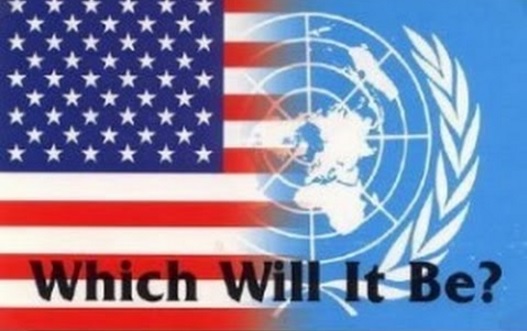 By Susan Duclos - All News PipeLine


Last September when Barack Obama stood in front the UN General Assembly and gave his New World Order speech, many of us in the Alternative Media were alarmed at his constant references to "International law, international norms, international rule and international order," without mention of sovereign rights guaranteed to Americans under the U.S. Constitution.

This year, the outgoing President of the United States of America, a man that took an oath to "preserve, protect and defend the Constitution of the United States," just blatantly and unapologetically told the world that the people of America should submit to a one world government at the expense of our constitutionally guaranteed freedoms, in direct violation of his oath of office.

"And we can only realize the promise of this institution's founding -- to replace the ravages of war with cooperation -- if powerful nations like my own accept constraints. Sometimes I'm criticized in my own country for professing a belief in international norms and multilateral institutions. But I am convinced that in the long run, giving up some freedom of action -- not giving up our ability to protect ourselves or pursue our core interests, but binding ourselves to international rules over the long term -- enhances our security. "- Barack Obama, UN Generally Assembly Speech, September 20, 2016




What "constraints" is he speaking of" What "freedom of action" does he expect Americans to sacrifice in the name of "international rules?"

The answers to those questions can be found in Obama's own actions and declarations over the last seven years, where he has openly attacked the Second Amendment right to bear arms, where Freedom of Religion has been stripped from religious employers and groups as we have seen the Obama administration call them as "extremists" if they refuse to provide abortion drugs to their employees on religious grounds, patriot groups have been labeled as dangerous, constitionalists as dangerous and freedom of speech is attacked at every turn if it "offends" others.

For example, a new report by the U.S. Commission on Civil Rights, dated September 2016,  highlighted by Life News, titled "Peace Coexistence: Reconciling Nondiscrimination Principles with Civil Liberties," recommends "Federal legislation should be considered to clarify that RFRA [the Religious Freedom Restoration Act] creates First Amendment Free Exercise Clause rights only for individuals and religious institutions and only to the extent that they do not unduly burden civil liberties and civil rights protections against status-based discrimination."

This would indicate that speaking out against abortion, or against "transgender" men in womens bathrooms, as just two quick examples, would be considered "status based discrimination."

Read More at Life News - Obama Admin Says You're "Racist and Intolerant" If You Believe in Religious Freedom

We have to ask what part of the First Amendment, which states "Congress shall make no law respecting an establishment of religion, or prohibiting the free exercise thereof; or abridging the freedom of speech, or of the press; or the right of the people peaceably to assemble, and to petition the government for a redress of grievances," is unclear to the Obama administration?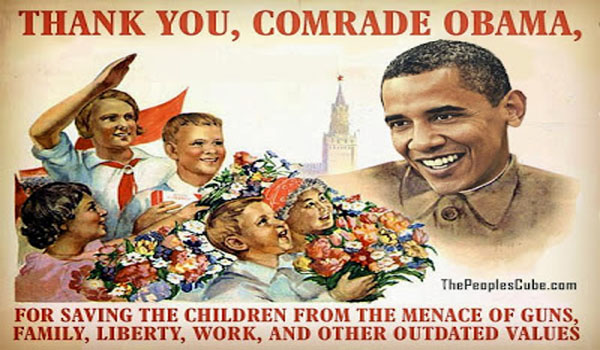 Obama's final push to force Americans into "giving up freedom of action," and putting "international rules" ahead of the U.S. constitution will come by way of Executive orders as reported by Roll Call on September 7, 2016, where we see Obama plans a slew of Executive actions, bypassing what he calls a "dysfunctional" Congress."

Obama has left little to the imagination when it comes to his willingness to use his authority as president to enact policy changes when lawmakers refuse to act or become too stymied by partisan bickering to pass legislation. Before his final year even began, Obama urged his senior aides to keep searching for ways to get things done — with or without lawmakers' help. [....]

So far, Obama has issued 249 executive orders, according to the American Presidency Project at the University of California, Santa Barbara. That's fewer than George W. Bush's 291 and Bill Clinton's 364.

But his Republican critics say the substance of Obama's executive orders has collectively had a greater impact — and that's before his rules and regulations are factored in. The 44th president has issued orders and actions targeting hot-button issues like immigration, gun control, transgender bathroom use, abortion, and arms sales to Vietnam. He has also designated large swaths of land and seas as federally protected areas.

GOP members see a president who has repeatedly overstepped his office's constitutional authority. One recently told Roll Call that any 11th-hour Obama orders or actions on major issues would likely "go right to the courts."

Just yesterday it was reported by MSN News that "White House aides in recent weeks have made it clear that Obama will continue to use his legal authorities on whatever he deems important to wrap up before he leaves the Oval Office on Jan. 20. Major regulatory changes require a 60-day waiting period, meaning Obama theoretically has until late November to tend to his to-do list."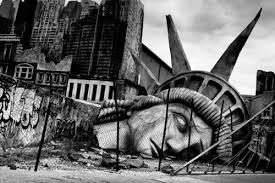 BOTTOM LINE

As I was working on this article, I was made aware of a vision given to Steve Quayle, posted on his site just this morning, one that eeerily describes what the ramifications will be from Obama's handing over U.S. sovereignty to "international rule of law," which sacrifices our constitional liberties and rights to the "one world government."

Our bottom line here goes to Steve Quayle.

SQ:THE VISON OF RATS ,CHESSE AND VERMIN,THAT I WAS GIVEN EARLY THIS MORNING

WHILE AWAKENING THE VISION STARTED OUT WITH THE STATUE OF LIBERTY BEING MADE OF CHEESE,AS I WATCHED RATS OF EVERY SHAPE AND COLOR,ALL WERE GNAWING AWAY AT THE BASE OF LIBERTY AND SWARMING ALL OVER THE STATUE. I SAW RATS IN BUSINESS SUITS IN BOARDROOMS ,BANKS AND IN ALL OUR HIGHEST OFFICES OF THE LAND-WHILE WATCHING THIS I SAW THE ENTERTAINMENT RATS DOING TRICKS FOR THE PEOPLE SO THAT THEIR AUDIENCE WOULDN'T SEE THE STATUE BEING EATEN UP BEFORE THEIR EYES.THE POLITICAL RATS WOULD PROTECT THE RIGHT'S OF THE VERMIN, AND PEOPLE WERE NO LONGER ALLOWED TO USE RAT TRAPS OR POISON TO RID THEIR HOMES OR COUNTRY OF THE RATS-AS THE RATS LEFT THEIR WASTE ACROSS THE LANDSCAPE -DISEASE AND FAMINE BROKE OUT AND THE PEOPLE STARTED TO GET WISE TO THE ENTERTAINMENT RATS AND FLED THE 'MAINSTREAM NEWS CIRCUSES' THAT HAD SO ENTHRALLED THEM-, BUT IT WAS TOO LATE AS IMMEDIATELY BEFORE MY EYES THE MAP AND OUTLINE OF THE NORTH AMERICAN CONTINENT CAME CLEARLY INTO FOCUS AND FROM SHIPS AND PLANES CAME THE TOTAL ONSLAUGHT OF MORE FEROCIOUS RATS FROM FOREIGN NATIONS WHO FANNED OUT ACROSS THE COUNTRY-EVERY FORM OF FOOD WAS DEVOURED AS THE INSATIABLE APPETITE OF THE RATS GREW BOLDER AND BOLDER, AS THE PEOPLE DIED THE RATS WOULD FEAST ON THEIR DEAD BODIES AND EVEN MORE VIRULENT FORMS OF DISEASE INCREASED.THE PICTURES IN MY MIND THEN TURNED TO THE GHETTOS OF IMMIGRANTS IN WESTERN EUROPE AND THE LACK OF SANITATION AND DISCARDED GARBAGE BECAME INFESTED AND THE ONCE GREAT CITIES OF EUROPE BECAME 'DEAD ZONES' AS THE ENTERTAINMENT AND NEWS RATS KEPT EVERYONE LOOKING AT EUROPE IN ORDER TO KEEP THE PEOPLE FROM SEEING THE SAME EVENTS HAPPENING IN THE U.S, THAT WERE TAKING PLACE IN THEIR OWN CITIES AND ACROSS AMERICAS POLITICAL LANDSCAPE-AS THE RATS CONFERRED AROUND THEIR GREAT BOARDROOMS, BUNKERS AND BASES THE 'HEAD RATS' WERE BRAGGING , ABOUT HOW THEY HAD DESTROYED THE OLD CIVILIZATION AND WOULD BRING ABOUT 'THEIR NEW KINGDOM OF RATS' -WHEN THE FOOD RAN OUT, THE U.S. RATS REALIZED THEY WOULD BE DINNER FOR THE FOREIGN RATS AS THERE WAS NOTHING LEFT TO DEVOUR ,BUT THE LESSER RATS FAILED TO REALIZE THAT 'THE NEW WORLD RAT ORDER' HAD ARRIVED AND THEY WERE NOW THE ONES ON THE MENU ! TAKE THIS TO THE LORD JESUS IN PRAYER AND ASK HIM HOW TO 'RAT PROOF' YOUR FAMILIES,YOUR LIVES, YOUR SUBSTANCE AND GOD'S PLANS FOR YOUR LIFE!








comments powered by

Disqus