Whatfinger: Frontpage For Conservative News Founded By Veterans

"The Best Mix Of Hard-Hitting REAL News & Cutting-Edge Alternative News On The Web"
October 9, 2017
This Nightmare Scenario Would Be The Total End Of America And The Western Banking System As We Know It - Vladimir Putin Gives Ominous Warning On North Korea†
- If THIS 'October Surprise' Is Awaiting America, We've Run Out Of Time To Prepare†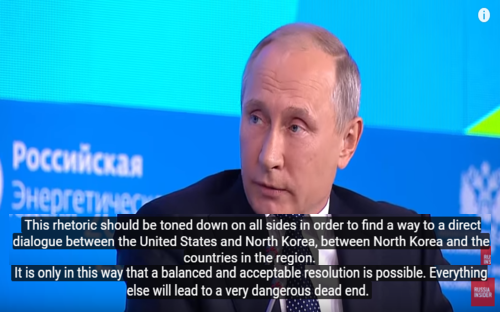 By Stefan Stanford - All News Pipeline - Live Free Or Die
With the eyes of much of the world now on North Korea as experts warn the October 10th anniversary of the birth of its ruling party could bring with it another long range missile test, this soon after announcements were made they'd soon be testing another missile that would be capable of striking America, we listen to Russian president Vladimir Putin in the first video below in which he offers us an ominous new warning that 'diplomacy', direct talks between the US and North Korea, BETTER work because†'everything else will lead to a very dangerous dead end'.

While the 'political correctness appeasement policies' carried out by President's Clinton, Bush and Obama over the past several decades allowed North Korea to reach the point they are now, (though most of the msm still blames President Trump for the North Korea nuclear tensions), we take a look within this ANP story at what might happen should war soon break out with Japan's defense chief also recently pointing at October 10th as possibly being a huge day.†

With North Korea 12 hours ahead of the US east coast and October 10th having already arrived there while it's Monday here,†experts are warning that Kim Jong Un could shoot off another missile test tonight,†a test that President Trump could choose to respond to militarily which could kick off world war 3 with China warning the US they'll back North Korea if the US attacks them first. Yet, as we previously warned on ANP, we're now in a major 'Catch 22' with North Korea as refusing to respond could lead to a North Korean EMP attack upon America and as has long been warned by EMP experts, only one such successful attack would be needed to immediately send America back to the dark ages.††

We also take a long look within this story at a potential nightmare scenario as outlined in this brand new SQAlert on the website of Steve Quayle: a North Korean EMP attack upon America, combined with an orchestrated cyber attack upon our banking system that drains the bank accounts of hundreds of millions of Americans prior to the emp strike, leaving the huge majority of Americans not only out of electrical power but out of money and most other ways to buy needed food and supplies, leaving the huge majority of America completely out of hope.

As we see within this story, such a nightmare scenario would lead to not only the end of the western banking system but the total end of America as we know it, which is what the globalists have long been working towards, anyways! Allowing them to complete their totalitarian takedown of America and eventually implement their 'mark of the beast' once the power finally came back on (9 months to a year later according to most estimates). With more and more moves being made by the globalists†to impose their digital universal ID's, 'America as we know it' may be running out of time.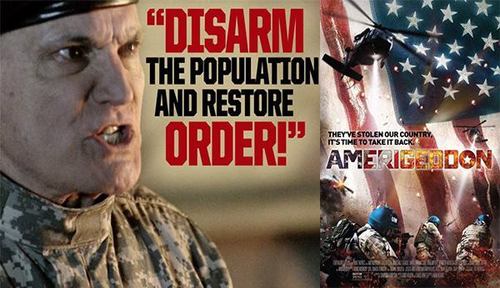 In the 2nd video below we hear a dire warning from Gary Heavin to President Donald Trump, which is a warning echoed by Steve Quayle in the new SQAlert we've republished below. As Heavin, producer of the movie 'Amerigeddon' immediately tells us in this video, "the ultimate power, the 'illuminists', are the ones that are going to bring America down and get us out of the way so they can have their true 'global order' which is a communist world-government ran by dictators."

How will the 'illuminists' get America out of the way?' As Heavin tells us, we must keep in mind that the 'illuminists' are different than the 'globalists' within the US military that President Trump has surrounded himself with, and they have different goals than the globalists within America do.

Heavin continues, "the whole North Korean thing is really staged. FDR said nothing happens by accident. So right now, they've kind of sucked President Trump into this trap where there is no good outcome. There is an ultimate lid on this trap that we need to warn President Trump about. And the interesting thing is, the 'deep state', who normally is orchestrating these things, is going to be a victim of what is going to be happening."

So, what IS going to be happening? As Heavin goes on, "the end game of this is Trump is going to be faced with several bad choices. And when he responds as he's going to have to do because of all the blustering he's done, the 'secret weapon' that North Korea has, the EMP satellites that we've been talking about, and†90% of Americans will end up dying and Trump is going to get the blame. And that's what they have in mind".†

Heavin concludes: "With the 'end game', this is what's so fascinating about all of this, the deep state, which wants war in corporatism, is going to lose on this one because the ultimate power, the 'illuminists', are the ones that are going to bring America down and get us out of the way so they can have their true 'global order' which is a communist world-government run by dictators. So what is the solution? What can Trump do to avoid this? He can shoot down those satellites today. Just simply get rid of them." Keep in mind, this video was originally published back in August, before President Trump's recent 'calm before the storm' warning and prior to any msm reports on the EMP threat.††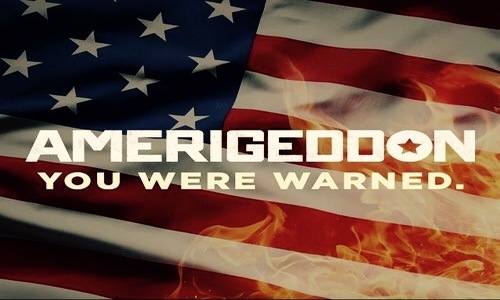 Since Heavin's warning in August, the msm has suddenly come out of the shadows on their emp reporting with CNN, the Wall Street Journal, and even MSN reporting upon the threat. Why is the mainstream media suddenly reporting upon something they heavily censored for years, with only the alternative media truly discussing it during that time?†

And no one has yet reported upon the threat we see in the horrific scenario outlined in the SQAlert below.†

EQUIFAX HACK AND NORTH KOREAN EMP CYBERATTACK ON THE U.S. BANKING SYSTEM NIGHTMARE, MOMENTS BEFORE A NORTH KOREAN EMP DETONATION AND YOU HAVE A COMPLETE END TO WESTERN BANKING AND THE U.S.A.

THE 'EQUIFAX HACK' WAS A COMPLETE PLANNED ATTACK BY COUNTRIES UNKNOWN, YET PROBABLY EASY TO FIGURE OUT. CONSIDER THE FACT THAT ONCE THE DECISION HAS BEEN MADE TO DETONATE AN EMP DEVICE OVER THE U.S. BY NORTH KOREA OR OTHER NATIONS IN CAHOOTS WITH THEM, CONSIDER THE ENSUING OUTCOME. NOW THAT THE IDENTITY, PASSWORDS AND ALL CREDIT CARD AND STOCK MARKET ACCOUNTS AND BANKING INFO IS IN SOMEONE ELSES NEFARIOUS HANDS', LET ME GIVE YOU HOW I THINK IT COULD PLAY OUT.

JUST MOMENTS BEFORE THE DETONATIONS ARE ACTIVATED EARLY IN THE MORNING, WHEN MOST AMERICA SLEEPS, ALL THE U.S. BANK AND BROKERAGE ACCOUNTS THAT ARE REPRESENTED BY THE CUSTOMERS IN THE STOLEN DATA BASES ACCOUNTS ARE EMPTIED INSTANTLY - THEN THE BIG EMP STRIKE AND VOILA - NO MORE MONEY, NO MORE POWER AND LIFE CHANGES FOREVER FOR .U.S. CITIZENS.

SPEED UP YOUR PREPS AND HAVE CASH ON HAND - REMEMBER FOOD FIRST - THINK THIS SCENARIO THROUGH AND THEN ACT - THE EMP PICTURE AND THE TENSIONS ARE INCREASING HOURLY - SUGGEST FOR THOSE OF YOU WHO HAVEN'T SEEN GARY HEAVIN'S MOVIE 'AMERIGEDDON' THAY YOU ACQUIRE IT POST HASTE† FROM amerigeddonthemovie.com-

JUST AS RONALD REAGAN SAID TO MIKHAEL GORBACHEV 'TAKE DOWN THAT WALL' - SO WE SAY TO 'PRESIDENT TRUMP' AND 'THE JOINT CHIEFS '- TAKE DOWN THOSE EMP/NUCLEAR SATELLITES OVER CONUS (CONTINENTAL UNITED STATES) IMMEDIATELY! SQ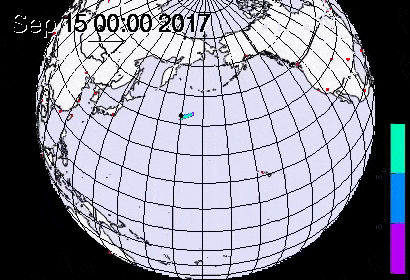 With the US recently cutting all contact with North Korea over the nuclear crisis that may be spiraling out of control as the hermit kingdom threatens to carry out a nuclear test over the Pacific Ocean that could send a huge radioactive cloud over America, the world may have reached 'decision time' for President Trump with the stakes never higher than now.††

As we see in the image above, a North Korean nuclear test over the Pacific Ocean alone could send a massive radiation cloud across America that circles the entire world and while many think a North Korean nuclear attack upon America could be 'the worst of the worst', as we see outlined within this story, that may not be the case.†

In this new story over at the Express they report North Korea would likely use plague, anthrax and smallpox weapons and as we previously have reported on ANP, North Korea is known to have one of the most deadly biological weapons programs in the world. Combine that with the absolute proof that we have that back in the 1990's, North Korea had at least 5 terror units in the US, ready to strike US nuclear power plants and US cities†should war have broken out then between the US and North Korea, and we have pandora's box already opened.†

With Seoul, South Korea now fearing an 'October shocker', they've responded by threatening to drop blackout bombs on North Korea that would paralyze the area, knocking out electricity to millions. Yet North Korea is nowhere near as 'electricity-dependent' as the US is, and while most military experts believe we could completely destroy NKorea, the damage that could be done with one successful EMP strike upon America could be the end of America as we know it. Combine that EMP strike with a massive, country-wide cyber attack upon the banks which emptied out everybody's accounts before the attack and it's easy to see why we have a nightmare scenario that America may never come back from.†





comments powered by

Disqus