Whatfinger: Frontpage For Conservative News Founded By Veterans

"The Best Mix Of Hard-Hitting REAL News & Cutting-Edge Alternative News On The Web"
December 18, 2019
Beware The Domino Effect - Virginia A Possible BETA Test For Martial Law & Civil War As President Trump Retweets: 'FBI & MSM Are Tyrants' & A 'Criminal Organization'
- Virginia's Governor Preparing To Slaughter His Own People Is A Dire Warning To America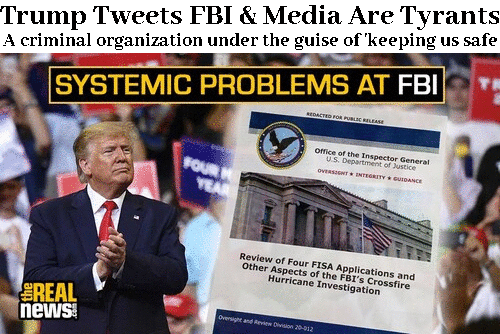 By Stefan Stanford - All News Pipeline - Live Free Or Die
All the way back in 1997, following the 1996 Centennial Olympic Park bombing in Atlanta, Georgia, one-time suspect Richard Jewell, eviscerated by the mainstream media despite being a hero who found the bomb and saved many lives, testified before Congress and called out the FBI, Department of Justice and mainstream media for their roles in ruining his life as heard in the 1st video at the bottom of this story.

With that three-headed beast attempting to pin terrorism charges on Jewel though he was an innocent man as actor Clint Eastwood recently brought back to America's memory in his new film "Richard Jewel", we shouldn't be the least bit surprised that the msm immediately attacked the movie having been called out within it. Yet as even James Comey recently admitted, while he was head of the FBI, the FBI made mistakes more consequential than simply FISA abuses. What more is being hidden from the American people? 
With Richard Jewel calling it as he saw it, we were pleasantly suprised on Monday morning when we saw that President Trump had retweeted the tweet seen below which included that video of Jewell calling out the FBI, DOJ and mainstream media. And interestingly, the tweet President Trump retweeted with the single word "Wow!" called out the FBI and 'their media partners' as being 'tyrants' and 'a criminal organization'. The original tweet.:
This is Richard Jewell. Listen to him.

President Trump could read the same statement.

The @FBI & their media partners are criminal organization under the guise of "keeping us safe"

They are tyrants and it isn't new.
So with President Trump himself calling out the mainstream media as a criminal organization and claiming that they 'partner in crime' with none other than the FBI as seen in the tweet below, actually endorsing a tweet that says "they are tyrants and it isn't new", Americans should absolutely get prepared now for whatever lays ahead with Demonrats in Congress preparing to impeach President Trump simply because they hate him.

And now, with America's Commander in Chief calling out the devils themselves who've long been working to destroy America and the US Constitution as tyrants and criminals, is Civil War ahead? Look at what's happening right now in Virginia to see what the devils have planned for America in 2021 if they win in 2020! 

(

ANP EMERGENCY FUNDRAISER!

Following Susan Duclos' recent heart attacks and hospitalization, All News Pipeline will need some financial help in the days ahead. So if you like stories like this, please consider donating to ANP to help keep us in this 'Info-war' for America at a time of systematic censorship and widespread corruption.)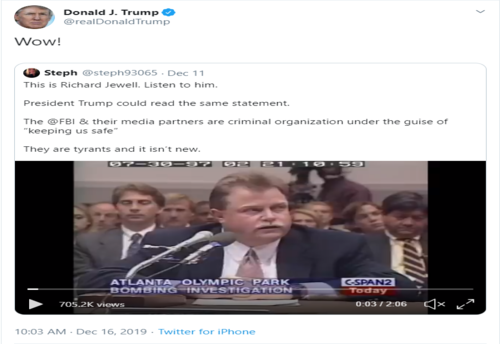 We reported on ANP back on December 5th that the state of Virginia had become the latest 'canary in the coal mine of tyranny' after baby-butchering Virginia governor Ralph Northam and Virginia Democrats began pushing to take away the rights of the Virginia people to protect their families from criminals and tyrants with Mike Adams reporting in this November 27th story at Natural News proposed law SB64 could be used to ban Krav Maga, Brazilian Jiu Jitsu, kickboxing, Tai Chi and firearms instruction in the state. 
And now as Breitbart reports in this December 15th story, over 90% of Virginia counties have declared themselves to be 2nd Amendment sanctuaries at a time when baby killer Northam has threatened to unleash the National Guard upon law-abiding Virginia citizens. If anybody needed any more proof that the Democrats are preparing to bring tyranny into America, what politician prepares to slaughter his own people? 

With the globalists now accelerating their eugenics depopulation programs all around the world as Mike Adams had reported within this December 17th Natural News story, and in response to the populist uprisings that are taking place in places like the UK and here in America where free people are sick and tired of being dictated to, we're happy to report that the people of Virginia are standing up as Law Enforcement Today reports in this new story, forming active militia to protect Virginia citizens and Sheriff's there from Unconstitutional laws. From that story. 

Things are getting really bad in Virginia. But this group isn't going down without a fight.

Earlier in the week, we reported on how lawmakers over in Virginia were threatening to use the National Guard if members of local law enforcement refused to enforce laws passed in the state that they felt violated the second amendment. Well, looks like Tazewell County isn't going down without a fight.

On top of calling themselves a second amendment sanctuary county, they're also crafting a militia as well. The Virginia county has taken the movement that has swept across the state and added an element that is sure to trigger pro gun-grabbing politicians in the state. 
Yet, if the state wanted to combat the resolutions, they could deny the county funding in areas other than law enforcement, or perhaps attempt to evict public officials from their held offices. Those are rather valid fears, considering this week's warnings from Northam and Congressman McEachin.

County Administrator Eric Young reportedly considered that element, and that's why they opted for the militia aspect:

"Our position is that Article I, Section 13, of the Constitution of Virginia reserves the right to 'order' militia to the localities. Therefore, counties, not the state, determine what types of arms may be carried in their territory and by whom. So, we are 'ordering' the militia by making sure everyone can own a weapon." Thus, if anyone from the state tries to remove the Sheriff from their elected office because they refuse to enforce unjust laws, those state officials will be faced with a lawful militia composed of citizens within the state.
With many Virginia citizens angry with the threat of tyranny exploding there, ANP was recently forwarded an email written by a very concerned Virginia citizen who warned that Democratic leadership is pushing Virginia there towards another 'shot heard around the world' with Virginia absolutely the satanic globalists new testing ground for disarming all of America in a similar fashion should they be successful there.

And while we'll continue to pray for peace in America, it's long been argued that it's better to go down fighting than to be a slave to tyranny for the rest of one's life. And with gun registration seemingly always preceeding disarmament and disarmament historically leading to genocide, everybody's eyes should be on what's happening now in Virginia. From a new SQAlert at the website of Steve Quayle.:

PRAY FOR VIRGINIA, OUR BROTHERS FRIENDS AND COUNTRYMEN, THIS IS THE TEST CASE, ORCHESTRATED BY THE GLOBALISTS, TO TEST THE CITIZENS OF THE US RESOLVE ON SECOND AMMENDMENT - PRAY SUPREME COURT STEPS IN!

BROTHER STEVE,

I HAVE BEEN AWAKENED SEVERVAL TIMES TONIGHT TO CONTINUE TO PRAY FOR VIRGINIA . GOD HAS ALSO IMPRESSED ME TO UNDERSTAND THAT VIRGINIA IS ONLY THE BEGINNING OF IT. WE ALL NEED TO PREPARE BECAUSE (IN MY OPINION, AS YOU WOULD SAY ) AND MY GUT TELLS ME THE REST OF THE COUNTRY WILL FALL LIKE A DOMINO EFFECT. 

Please read the rest of the alert here.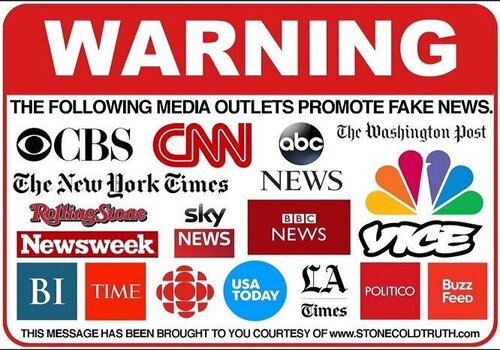 With the mainstream media clearly the enemy of the American people and now President Trump confirming they are 'partners in crime' with the 'deep state' that has been attempting an illegal coup upon President Trump ever since he got into office, how can outlets such as CNN, MSNBC, the NY Times, Washington Post and all of the others continuously pushing the globalists satanic propaganda be held accountable and responsible for the outright madness they are unleashing upon America as we'd reported in this December 14th ANP story? 
Let's take a quick look at the statement made by Richard Jewell calling out the FBI, DOJ and their media accomplices and compare that to what we've been witnessing over the past 3 years with Democrats attempting a very real coup over President Trump, thus attempting to negate the vote of the American people and proving they are outright tyrants, the devils our Founding Fathers warned us of long ago. 
In the two-minute clip, a noticeably shaken and timid Richard Jewell denounces his treatment at the hands of both the media and the FBI, taking specific aim at the government institution for actively seeking to ruin his life in spite of the truth. Here's the full transcript:

I come before you today, not as a Republican or a Democrat. I have no political agenda. I come before you simply as an American citizen with rights just like everybody else. One year ago today, the FBI and the media joined together to launch an attack on me of unparalleled proportions in the history of this nation. An attack calculated to portray me to the world as some kind of abnormal person, with a bizarre employment history who was guilty of the Centennial Olympic Park bombing. It was all a lie.

Two days ago, the Justice Department issued a written report about its investigation into a few of the unlawful acts committed by the FBI in its investigation of me. While I have not had an opportunity to study the report in detail, I did read a redacted summary yesterday. I submit to you that the Justice Department cannot be trusted to investigate itself because that report is also a lie. It is filled with false statements, half-truths, and gross distortions of the truth. Reading it reminded me of reading the FBI search warrant affidavit against me.



Apparently, truth for the Justice Department is simply whatever the Justice Department wants the truth to be

. Within a few days, after my name was leaked to the media, the FBI knew it had a public relations disaster on its hands. The organization that prided itself on being the best investigative agency in the world had quickly, and with the word watching, pointed the federal government's finger of guilt at the wrong man and they knew it within days. Not only did the FBI accuse the wrong man — its agents in Atlanta, and officials in Washington, actively participated in publicly humiliating me
So with America's deep state agencies showing a clear and ongoing pattern of corruption and criminality going back decades as William B. Stoecker had reported in this November 29th ANP story, and Democrats pushing America towards socialism/communism in 2021 and those political systems nearly always leading to forced obedience to government, mass starvation and 'death by government' in huge numbers, it's easy to understand why many are now preparing to protect their families and loved ones with Democrats preparing to unleash complete insanity in America and the left fully pushing a dark and Godless agenda.

In the 2nd video below we hear more about the growing 2nd Amendment Sanctuary movement in Virginia while in the 3rd and final video below, videographer 3% Report talks about the potential of the state of Virginia being the kick off point for a new Civil War in America and a BETA test for the unrolling of martial law.
ANP EMERGENCY FUNDRAISER: With non-stop censorship and 'big tech' attacks upon independent media, donations from readers are absolutely critical in keeping All News Pipeline online. So if you like stories like this, please consider donating to ANP.

All donations are greatly appreciated and will absolutely be used to keep us in this fight for the future of America.

Thank you and God Bless. Susan and Stefan.

PLEASE HELP KEEP ANP ALIVE BY DONATING USING ONE OF THE FOLLOWING METHODS.
One time donations or monthly, via Paypal or Credit Card:

Or  https://www.paypal.me/AllNewsPipeLine
Donate monthly from $1 up by becoming an ANP Patron.



Donate Via Snail Mail

Checks or money orders made payable to Stefan Stanford or Susan Duclos can be sent to:



P.O. Box 575

McHenry, MD. 21541






comments powered by

Disqus