Whatfinger: Frontpage For Conservative News Founded By Veterans
"The Best Mix Of Hard-Hitting REAL News & Cutting-Edge Alternative News On The Web"

October 4, 2016
Massive Staging Of UN Vehicles In Maryland - Are The Boys In UN Blue Here To Kill You?
'Quit Denying The Obvious And Get Real - Looks Like It's All About To Go Down'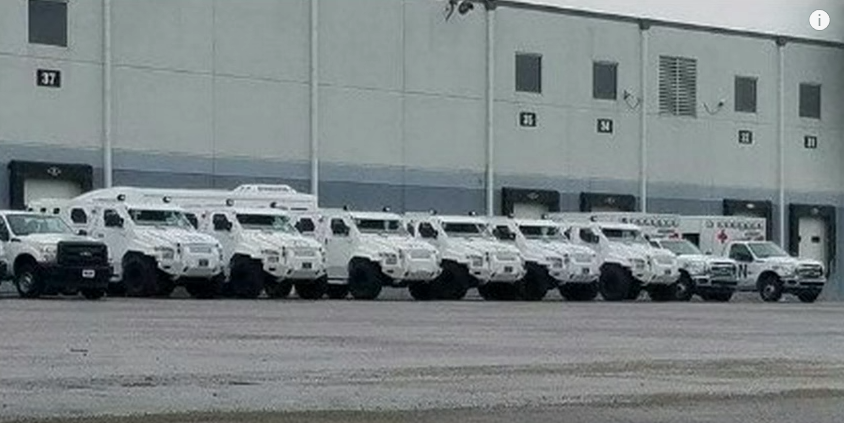 By Stefan Stanford - All News Pipeline - Live Free Or Die
The story from Danny Quest over at We Are Change back on July 13th of 2016 told us that a recent Obama Executive Order allowed the United Nations to use force upon US citizens. Quest used this Military Times story as the source for his story as he proceeded to tell us: The militarization of local police, combined with the arrival of a United Nations military presence, could mean big trouble for liberty and freedom here in America.
Back in June of 2016 after a massive sighting of United Nations vehicles in Virginia went viral not only in the alternative news but mainstream news as well after the Daily Mail picked up the story, the website Snopes put out a story attempting to debunk that sighting, telling us that the UN vehicles that were seen were only MADE in the US but were being transported to be used out of country.
We'd LOVE to know what Snopes will say about the latest massive UN vehicle sighting recently in Maryland as detailed in the first video below and the photographs within this story. Featuring not only armored vehicles but tanker trucks, massive storage containers as well as a huge amount of different equipment including large numbers of black and grey 'Suburban' trucks, we see a Kellog's plant in Westernport, Maryland absolutely filled to the brim with these UN machines of war on US soil that may be staging for an illegal globalist war upon the American people. We also take a look below at a new SQAlert from a Federal Law Enforcement officer who tells us what he feels is now happening in America.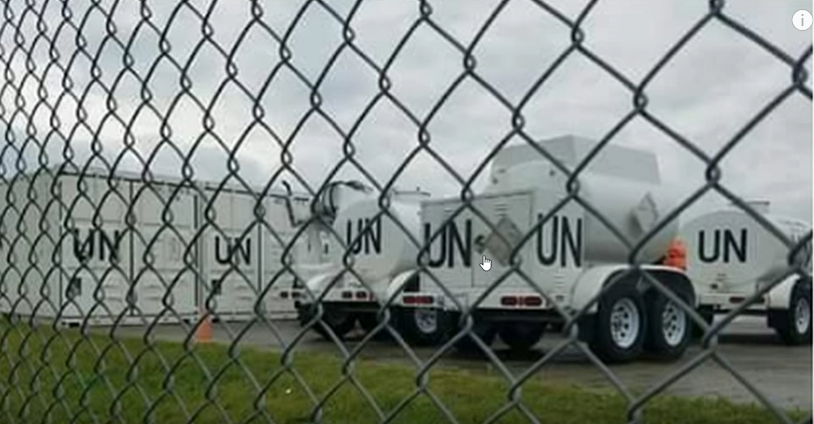 ANP reached out to Alpine Armoring, the source for Snopes 'debunking story', and were told that the information that Snopes published in their story was not accurate at all and not what they had told Snopes - the reporter at Snopes had created a 'conspiracy theory'. ANP also reached out to the Kellogg company and were told that the UN vehicles that have been just SITTING since AT LEAST last winter are owned by another company that is leasing the other half of that building. We were told that they did not know the name of that company.
If these vehicles were being built in Pennsylvania and then transported south to be shipped overseas, why are the tons and tons of UN vehicles that you'll see in this video here in the first place, being staged in Maryland, certainly not being transported overseas, and here for AT LEAST 8 months now?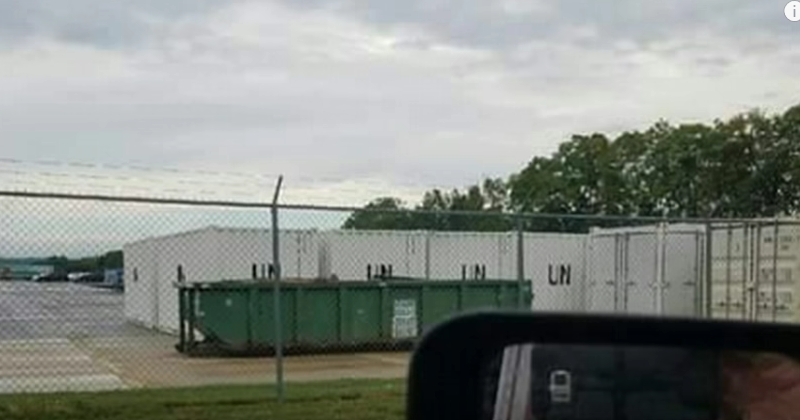 Will these monsters soon be used by Obama's goon squads to take guns away from law-abiding American citizens as the United States collapses and the UN begins to implement their crackdown upon American citizens? We must remind you that while UN troops are allegedly called 'peacekeeping', their is a long and very well-documented history of UN troops commmitting unspeakable crimes against humanity. From HeatStreet:



UN Peacekeepers have been raping children in the Central African Republic.





MINUSCA, the mission resulting in nearly a hundred allegations of child sexual abuse, gave soldiers the mandate "to protect civilians and support transition processes" following the devastation of war.





Instead, numerous Blue Helmets have used their position as an opportunity to engage in acts of rape and paedophilia. This abuse of power is no secret: it first emerged over a year ago. In fact, it is so widespread that the United Nations was subject to an independent report "on the Sexual Exploitation and Abuse by International Peace Keeping Forces."





In exchange for the assistance they were deployed in order to provide, in exchange for basic necessities such as food and water, UN soldiers have been sexually exploiting children. The Blue Helmets attacked the very people they were sent to protect. Children as young as 7 have been targeted, with a girl forced to perform "oral sex on French soldiers in exchange for a bottle of water and a sachet of cookies."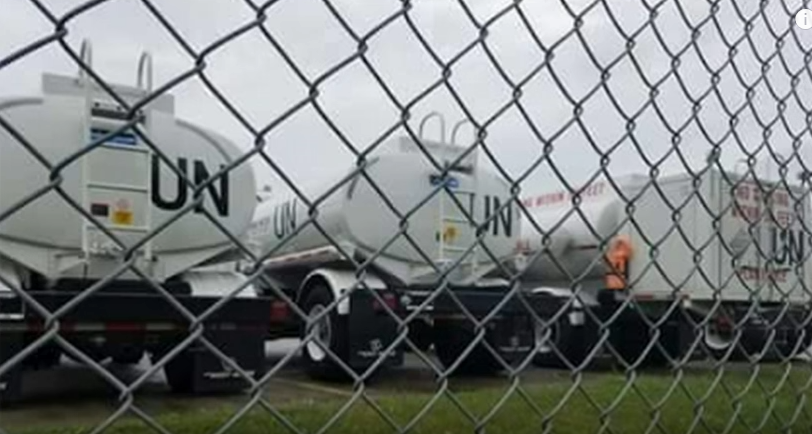 This story from Joseph Farrah was written all the way back in 2000 and in it we see that UN 'peacekeeping soldiers' have long been nothing but trouble wherever they are sent. Does America really want them here, waging war upon law-abiding US citizens?

Reading through the unedited comments on the video as seen in the screenshots below tells us exactly what other people are thinking about this latest United Nations vehicles sighting on US soil that Snopes WON'T be able to debunk like they attempted to back in June.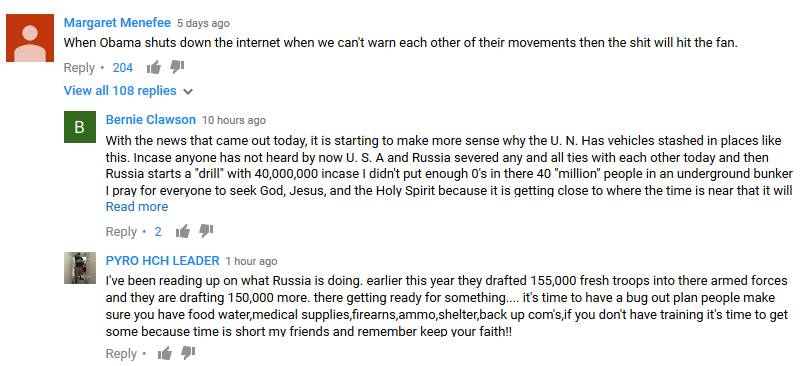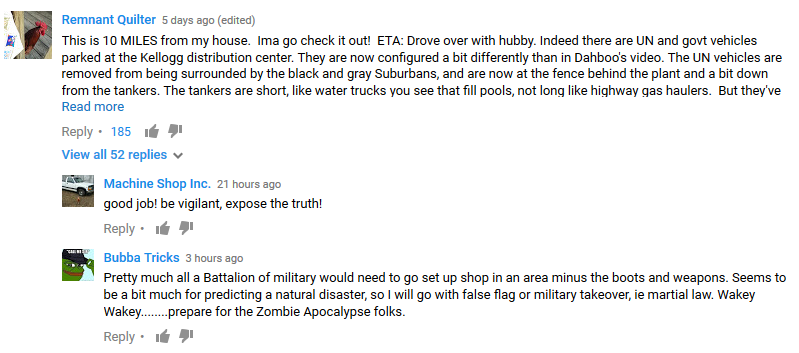 The story from Kristan T Harris over at the American Intelligence Report shares with us some very interesting history of the United Nations in America going back at least 6 decades.:
This is not the first time American politicians have attempted to sell their citizens out to the powers of the United Nations.
The UN's first attempt to capture America was in 1951, under a top secret program titled, "operation AGGRESSI."
In strange fashion, forces flying the flag of the United Nations began to occupy small towns and cities across the United States. This was intended to test the will of the people and see if they would accept a UN "takeover." The test failed and sparked controversy and concerns over a "revolution-in-the-making" that would destroy any plot formulated by the Council on Foreign Relations and the United Nations.
Project AGGRESSI forces were quickly met with much resistance and silently left occupied government buildings and removed United Nation flags nationwide. Jewish broadcaster Myron C. Fagan documented the secretive operation in the 1960's claiming "the UN 'invasions' were intended to be completely hush-hush. The Mass Media were very accommodating and the local newspapers and Radio Stations in the 'invaded' cities were kept silent under order of the UN. However, in several of the cities the local police refused to be 'captured'. That caused quite an uproar — true, only locally, but it threatened to spread nationwide, especially after troops and officers assigned to additional 'invasion units' refused to 'serve'. The alarmed plotters hastily halted all further 'invasions'."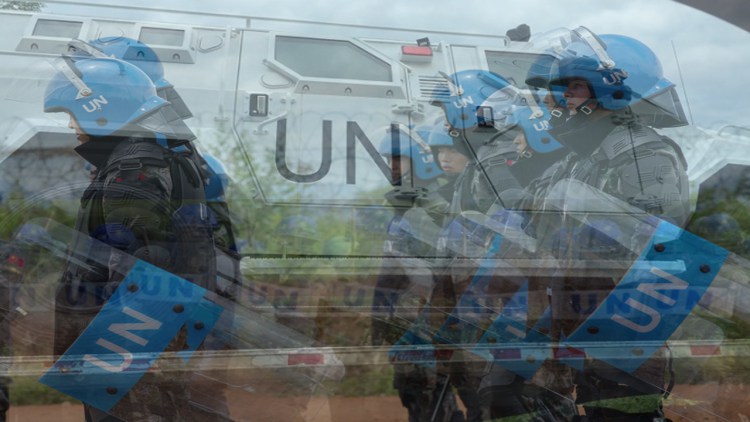 Might we be about to witness similar 'invasions' here in America? Their story continued:

United Nation military troops may soon arrive and see action on American soil following the United States' announcement of support for "a set of principles that give a green light for U.N. peacekeeping troops and police to use force to protect civilians in armed conflicts," Military Times reports.



U.S. Ambassador Samantha Power told attendees at an important U.N. meeting that the United States was "proud" and "humbled" to be a included in the new agenda and promised to follow by the 18 pledges, Fox News reports.





The arrival of the United Nations requires federalization of police in order to set a global standard of law enforcement. President Barrack Obama has pounced on the opportunity to exploit recent shootings to push for the federalization of local police forces.





More federalization of local police, collaborated with the arrival of the United Nations military presence, could mean big trouble for liberty and freedom of speech in America.



Videos are flooding the internet documenting the slow-moving invasion of United Nations military-like vehicles across America.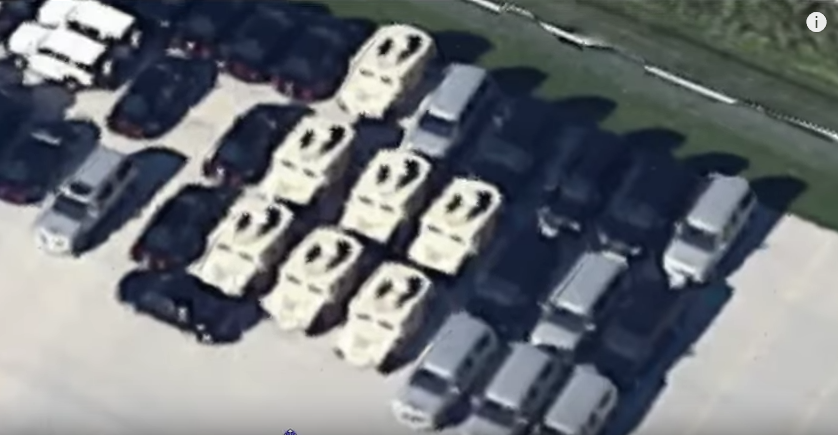 While clearly globalist run websites such as Snopes that hate America will continue to attempt to lull the American people into believing that such a 'globalists invasion' of America could never happen, history has proven to us that it already has! Are Barack Obama, Clinton and the globalists preparing to overthrow America? As we're told by our videographer, machines of war have also been hidden amongst what appears to him to be Fed vehicles as seen in the photo above.

We also take a look directly below at a new SQAlert from a Federal Law Enforcement officer who shares with us what he believes is now happening to America.



RESPONSE FROM FEDERAL LEO-THEIR SIDE OF THE STORY-THE WHOLE PURPOSE OF INITIATING WAR AGAINST THE COPS AND COPS AGAINST THE PEOPLE, IS TO FEDERALIZE ALL LOCAL POLICE AND SHERIFFS AND BRING THEM UNDER U.N. CONTROL



There is a spirit of rebellion against the law enforcement officers in this country. No one wants to tell the good we do anymore. No one wants to talk about how I talked a young women who was being tormented by demons and wanting to commit suicide, out of her harmful act and talked her back to Jesus. No one wants to talk about the good we do, it doesn't make a profit. Instead everyone to include Christian talk shows are speaking out against the police! No body's wants us until they can't defend themselves and if the victim "thinks" we didn't do them justice based off the laws and regulations we have to follow, than we are to blame for the crime more than the culprit.

Are there bad cops out there? Of course there are, but most of them are not on the street. Most "bad cops", are merely thrown into a situation that can have no positive outcome. Man if I was allowed to speak on air..I would to tell people the truth they are not allowed to hear!

Instead of brow beating the next police officer you see, I dare you to walk up to them and shake their hand and say thank you for agreeing to die for me, to keep me alive. We do this same thanking to Jesus for shedding , his own blood for us, to save us. But we can't give the same gratitude to the police who have sworn an oath to die in service of protecting the American people. I rebuke everyone that speaks out against the police at this point. The police have now become the prostitute who is about to be stoned to death, sadly we don't have a person like Jesus to stand up for us. But I will say this, I challenge any of you to go through all of our rigurous training, our incredibly hard tests, our weapons qualifications, our driving qualifications and the unstoppable hateful rhetoric that gets spit into our faces on a daily patrol! I dare you to pick up my badge and gun and go running towards the next active shooter without the first thought that you could die and not go home to your family. To leave you wife a widow and to leave your children's father or motherless! How about to take an oath that you will no longer due drugs, break laws, drink heavily, and that you have to stay I'm good shape? How about to stand and testify to the judge for the reason of every ticket and arrest? Or how about to rescue the young teen girl from a gang rape? Or break up a domestic dispute and then council the couple for hours, sometimes repeatedly? How about to pull that child out of a car crash where the father and mother died because an illegal alien was drunk driving and speeding then wrecked into a minivan, only to have cut your arms and hands up on the glass you just broke, drag the crying child out, then have that child die in your arms! I have to fight back tears to tell this and you people will never understand that my job is to save your *ss when you cant! To protect the innocent and defenseless! When was the last time you fed and clothed the homeless? When was the last time you gave a damn about anything besides yourself America? I rebuke all of you in the name of Jesus for let he that is without sin cast the first stone! If you haven't been there and you have walked or ran a mile in the snow down an alley after a man who just raped and robbed an 80 year old woman than you can shut the hell up and kiss my *ss! I have been provoked, spit on, pissed on, punched, kicked, car tried to run me over, been shot at, called a coward and traitor by illiterate children of a socialist welfare state. You think I care about your opinions anymore? I know what we do is noble and is right, I know the real reasons why we serve.

Do you know why you are TAUGHT TO HATE THE POLICE? LUCIFER HATED HAVING TO ANSWER TO A HIGHER AUTHORITY SO, REMEMBER THAT. ------SQ:I WARNED THIS DAY WOULD COME 20 PLUS YEARS AGO, AND NOW IS HERE -CLASS WARFARE AND TOTAL ,ANARCHY AND REBELLION-WE HAVE BECOME A NATION OF LAWLESSNESS FROM THE HEAD DOWN-EVEN THE FBI, AND DOJ WONT PROSECUTE TREASON OR NATIONAL SECURITY ISSUES AND MURDER AND TOTAL CROOKED POLITICIANS--THE PEOPLE SEE IT ALL!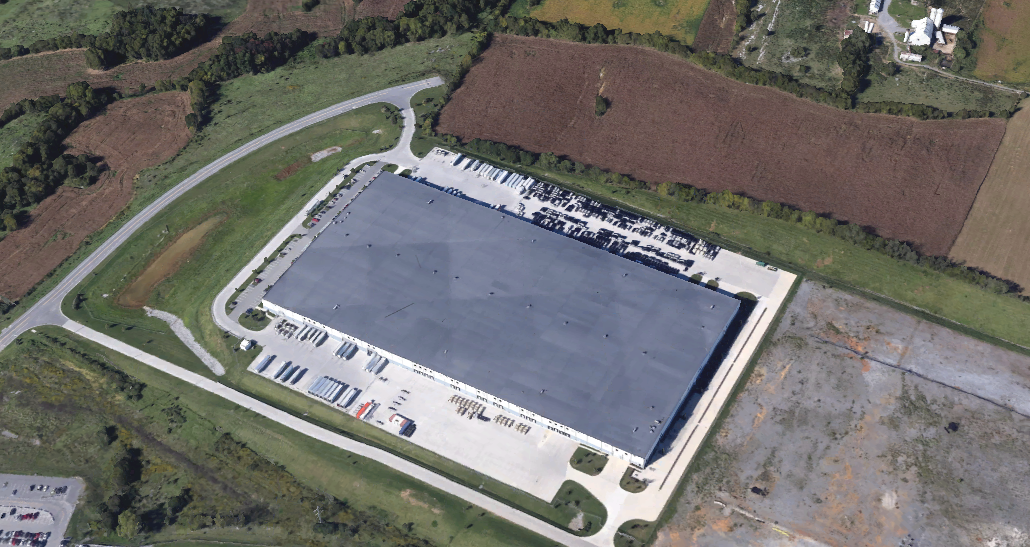 In the 2nd video below we see a compilation of many other videos which help to prove to us that the Obama administration is preparing to end the sovereignty of America and turn the United States over to United Nations governance while in the 3rd video below from the Doctor Of Common Sense we get even more proof that the globalists are preparing to do the unthinkable to America. We'll close with this from the American Intelligence Report story.:



Webster's dictionary defines "treason" as: "the crime of trying to overthrow your country's government or of helping your country's enemies during war." Let that sink in.


 



comments powered by

Disqus