Whatfinger: Frontpage For Conservative News Founded By Veterans
"The Best Mix Of Hard-Hitting REAL News & Cutting-Edge Alternative News On The Web"

June 12, 2018

End Times Headlines Ring Out In Europe And The Middle East: New Report Warns Of Massive Terror Attacks Coming To Europe Soon After Self-Proclaimed Islamic Caliph Warned Of Coming 'War Between The Crescent And The Cross' 
By Stefan Stanford - All News Pipeline - Live Free Or Die
While a new chapter has been written on the Korean peninsula with

President Donald Trump's historic meeting with North Korean president  Kim Jong Un yielding a new friendship and hopefully new stability in what was once looked at as one of the most dangerous regions in the world, the world's attention may soon return to the Middle East where Turkey's President Recep Tayyip Erdogan recently predicted a coming war between 'the crescent and the cross'. 
Attacking the decision of Austria's government to close mosques and expel between 40 and 60 Turkish-funded imams and their families there, Erdogan claimed the moves were 'anti-Islamic.' Promising a response by saying "They say they're going to kick our religious men out of Austria. Do you think we will not react if you do such a thing?", he then answered his own question with "That means we're going to have to do something" without elaborating upon what that 'something' might be.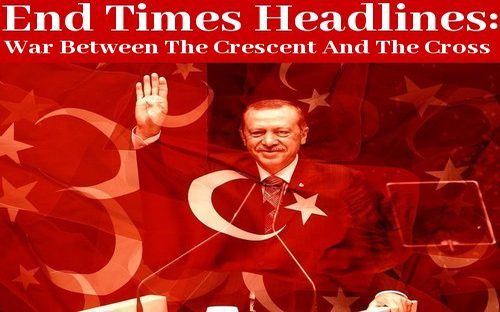 And while Italy also moves in a tough new anti-illegal-immigrant direction, prompting a feud between Italy and George Soros after their new Deputy Prime Minister Matteo Salvini pledged to deport hundreds of thousand of illegal immigrants, as we reported on ANP back on June 8th, the populist uprisings taking place across Europe suggest the tide is finally turning against the attempts of Islamo-fascists to build their totalitarian 'new world order'.

Yet Erdogan's remarks hint of danger ahead.  With the Tommy Robinson saga helping to prove that the UK has already fallen to Islamo-fascist-tyranny while emerging evidence proves that the many Islamic State's fighters returning to Europe have brought with them a wealth of terrorism expertise along with their hatred of Christians and the Western world, a new report warns that the risk is growing of complex and very large terrorist attacks being carried out in Europe. Is that what Erdogan, the self-proclaimed Islamic Caliph, is hinting at as his 'response'? From the report.: 

"In response to its territorial collapse in Iraq and Syria, the Islamic State is likely to widen its tactical arsenal, employ new technologies and strengthen its roots in local Islamist networks, building resilience despite the losses in its heartlands," said Otso Iho, senior analyst at JTIC.

"In addition to centrally planned and executed operations, there also remains a substantial threat from lone actors conducting attacks in the name of the Islamic State, which are usually then claimed by the group," said Iho.

"Foreign fighters returning to Europe will provide critical skills that will help an increasing number of operational Islamist networks conduct more complex attacks," said Iho.

"These skills include the construction of viable IEDs—learned in Iraq and Syria where the Islamic State has produced IEDs on an industrial scale—the effective and professional handling of assault weapons; training for acting in high-pressure combat situations; the use of new weapon types or technologies, such as unmanned aerial vehicles (UAVs); and maintaining better operational security," said Iho.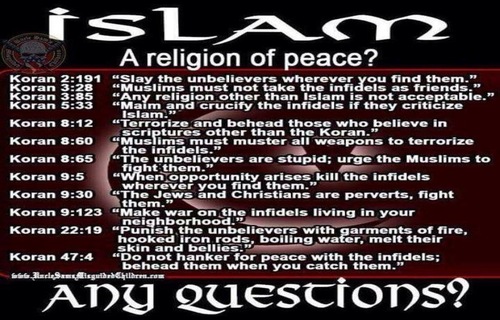 While we'd love to believe that the lies being peddled by the left about Islam being a 'religion of peace' to be true, we've warned previously on ANP about the Islamic principle of taqiyya which not only allows but encourages Muslims to lie in order to further advance the cause of Islam and to gain the upper hand over their enemies. 

With many verses of the Koran also imploring Muslims to slaughter Christians and Jews and labeling all non-believers as 'infidels', we're now witnessing the political results of unchecked Islam in the UK with the imprisonment of Tommy Robinson for merely reporting upon a Muslim child grooming gang.  

And while in the 2nd video below we hear a very refreshing point of view from a Muslim Imam who agrees with the decision of Austria to expel radical Islamic Imam's from their country and quite literally tells Erdogan within the video that he can go to hell, the extended excerpt below comes to us from the website The Religion of Peace, a non-partisan, fact-based web site which examines the ideological threat that Islam poses to human dignity and freedom.

Muslim scholars teach that Muslims should generally be truthful to each other, unless the purpose of lying is to "smooth over differences" or "gain the upper-hand over an enemy"

There are several forms of lying to non-believers that are permitted under certain circumstances, the best known being taqiyya (the Shia name). These circumstances are typically those that advance the cause of Islam - in some cases by gaining the trust of non-believers in order to draw out their vulnerability and defeat them.

From Islamic Law:

Reliance of the Traveler (p. 746 - 8.2) - "Speaking is a means to achieve objectives. If a praiseworthy aim is attainable through both telling the truth and lying, it is unlawful to accomplish through lying because there is no need for it. When it is possible to achieve such an aim by lying but not by telling the truth, it is permissible to lie if attaining the goal is permissible (N:i.e. when the purpose of lying is to circumvent someone who is preventing one from doing something permissible), and obligatory to lie if the goal is obligatory... it is religiously precautionary in all cases to employ words that give a misleading impression...

"Hiding faith" can mean deceiving others about Islam in order to make it appear more attractive. For example, a prominent Muslim activist in the United States, Linda Sarsour, bills herself as a "progressive" and says that gays, women and religious minorities need not worry about Sharia being imposed. She even says that money is lent free of charge under Islamic law (more about that here).

The Quran says in several places that Allah is the best at deceiving people.

The near absence of Quranic verses that encourage truthfulness is somewhat surprising, given that many Muslims are convinced their religion teaches honesty. In fact, many Muslims are honest because of this. But when lying is addressed in the Quran, it is nearly always in reference to the "lies against Allah" - referring to the Jews and Christians who rejected Muhammad's claim to being a prophet.

Finally, the circumstances by which Muhammad allowed a believer to lie to a non-spouse are limited to those that either advance the cause of Islam or enable a Muslim to avoid harm to his well-being (and presumably that of other Muslims as well). Although this should be kept very much in mind when dealing with matters of global security, such as Iran's nuclear intentions, it is not grounds for assuming that the Muslim one might personally encounter on the street or in the workplace is any less honest than anyone else.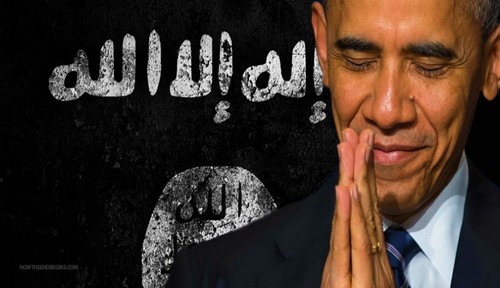 With the left and specifically Barack Obama going all-in during his 8 years in office to bring illegal immigrants and specifically Muslims into America a huge part of the globalists agenda to bring down the West as we've also been witnessing all throughout Europe, as we reported on ANP back on April 3rd, according to former Presidential candidate Alan Keyes, 'illegal immigration' is absolutely part of a strategy of 'unarmed invasion' that has been used throughout history in covert warfare to overthrow nations. 

With Obama and the globalists dedication to Islam also seen in the hundreds of millions of US taxpayer dollars spent funding the refurbishment and building of overseas mosques while showering UN projects with a whopping $9.2 billion in his last year in office alone, is it any wonder that globalists around the world are totally freaking out with President Trump in office? 

And with Obama also funding and arming ISIS in Syria with weapons that were likely eventually turned against innocent Syrians and US military members and possibly even innocent people via ISIS terrorist attacks, to clearly understand what is happening now we must remember that Obama switched sides in the war on terror, quite literally inviting the Muslim Brotherhood into the White House. And now with President Trump in office, all of that has changed. 

And while some claim that President Trump let Americans down by recently hosting a Ramadan dinner, it is well worth mentioning that he wouldn't allow any Muslims in who had ties to CAIR or the Muslim Brotherhood. Yet we must always remember that 'apocalyptic Islam' NEEDS an apocalypse to bring their long-awaited anti-Christ 'mahdi' upon the planet.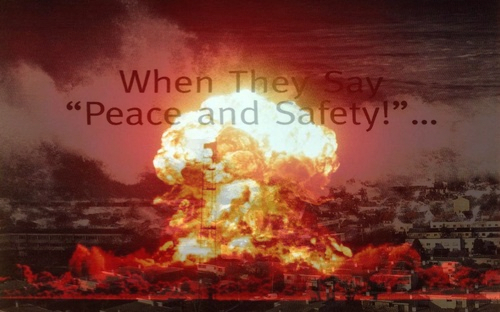 While President Trump's has decided to suspend long-running joint war games with South Korea after his meeting with Kim, we find it interesting that Zero Hedge reports that move alone goes directly against the long-held beliefs of many 'neocons' within his administration, including those held by his National Security Advisor John Bolton.

President Trump's decision to suspend the 'antagonizing' war games also gives us another sign about just how serious he is about his attempts to bring peace to the world while metaphorically splitting the heads of liberals who'd love to see him fail and would rather see the US get into another huge war or go through a devastating economic collapse than for President Trump to be successful as we also hear in the 1st video below from Fox News and Judge Jeanine. 

And while ANP is absolutely thrilled to see such positive steps towards peace finally being taken after the division that has plagued the Korean peninsula for over 70 years, we have long been warned, "While people are saying, 'Peace and safety,' destruction will come on them suddenly, as labor pains on a pregnant woman, and they will not escape."

And whether or not threats of massive new terror attacks in Europe are just another globalist distraction, with change coming to the world from every direction with President Trump now taking on the globalists on levels that they couldn't have ever even imagined, we hope that everybody is prepared for the kind of times we pray would never come. 






NOTE TO READERS: 

ANP Needs Your Help

. With digital media revenue spiraling downward, especially hitting those in Independent Media, it has become apparent that traditional advertising simply isn't going to fully cover the costs and expenses for many smaller independent websites. Any extra readers may be able to spare for donations is greatly appreciated.

One time donations or monthly, via Paypal or Credit Card:



Or  https://www.paypal.me/AllNewsPipeLine
Donate monthly from $1 up by becoming an ANP Patron.





comments powered by

Disqus