Whatfinger: Frontpage For Conservative News Founded By Veterans
"The Best Mix Of Hard-Hitting REAL News & Cutting-Edge Alternative News On The Web"
February 12, 2018
Mysterious Insider Could Hold The Key That Brings The Whole Russian House Of Cards Down On Obama & Clinton Minions In The  Intelligence Community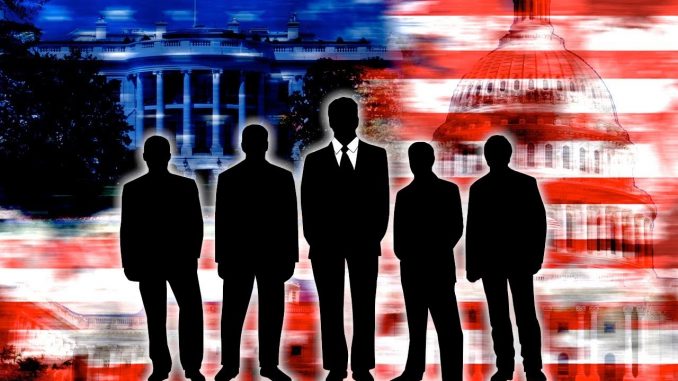 By Susan Duclos - All News PipeLine

They say hindsight is 20/20 and never before has that expressions appeared to be more relevant as we watch the whole "Russia collusion with Trump," narrative completely fall apart as we note that even going back to the initial DNI report which claimed that Russia meddled in the 2016 presidential election with what they referred to as "campaigns to influence US public opinion," the report itself was corrupted by Obama/Clinton deep state players.

REFERENCES WITHIN THE ARTICLE

Before we attempt to unravel the tangled web that has been woven by multiple senior levels officials in a number of U.S. intelligence agencies, using information that has been revealed since the original Director of National Intelligence report titled "Assessing Russian Activities and Intentions in Recent US Elections," that was issued on January 7, 2017, before President Trump took office, we will offer some brief reference points.

DNI Report: A declassified report issued by the DNI described in the report as "analytic assessment drafted and coordinated among The Central Intelligence Agency (CIA), The Federal Bureau of Investigation (FBI), and The National Security Agency (NSA), which draws on intelligence information collected and disseminated by those three agencies."


It covers the motivation and scope of Moscow's intentions regarding US elections and Moscow's use of cyber tools and media campaigns to influence US public opinion. The assessment focuses on activities aimed at the 2016 US presidential election and draws on our understanding of previous Russian influence operations. When we use the term "we" it refers to an assessment by all three agencies.

Steele Dossier: Unverified opposition research against President Donald Trump, produced by Fusion GPS, compiled by former British spy Christopher Steele, using Kremlin sources,  funded by the DNC and Hillary Clinton campaign before the 2016 presidential election. 

FISA Abuse Memo: Four page report by the House Intelligence Committee which showed the DOJ and FBI used the Steele dossier to obtain FISA court warrants, and subsequent extensions of those warrants, to surveil Trump campaign team member Carter Page, without informing the FISA court that the Hillary Clinton campaign and the DNC funded the unverified dossier. (Memo embedded at the bottom of previous ANP article, here)

Grassley/Graham Criminal Referral Against Christopher Steele: 10-Page Senate Judiciary Committee document referring Christopher Steele to the DOJ for criminal investigation. This document, after certain redactions were eliminated, confirmed the FISA abuse memo from the House Intelligence Committee, regarding the use of the Steele Memo in FISA court applications to surveil Trump campaign member. The Grassley/Graham document also showed that Steele shopped his  dossier around to multiple mainstream media outlets. (10-page document embedded in a previous ANP article, here) 

Strzok/Page Texts: In the course of a DOJ Office of Inspector General internal investigation of FBI and DOJ actions leading up to the 2016 presidential election, text messages between FBI senior agent, Peter Strzok and FBI Lisa Page, revealed a plot involving FBI senior officials to plan a "path" forward before the electionto help get Clinton elected, as well as put into place a "insurance policy" in the event that Donald Trump won the election. That "insurance policy" was later revealed to be the "Russia Probe." Strzok and Page, via the texts, were also exposed as having been the source of multiple leaks to the press.



(Fmr FBI Dir. James Comey, Fmr DNI James Clapper, Fmr. CIA Dir. John Brennan)


OBAMA, CLINTON MINIONS NOW ENGULFED IN RUSSIA SCANDALS

Information that continues to be revealed shows a tangled web of deceit that could perhaps be one of the largest conspiracies to be perpetrated upon the American public, and it is not just the "Russia/Trump colluding" hoax, but rather the entire assertion in the original DNI report, released by the former Director James Clapper, that claims The Central Intelligence Agency (CIA), The Federal Bureau of Investigation (FBI), and The National Security Agency (NSA) had a "high level of confidence" that Russia's media campaign to influence U.S. voters was to "help Trump."

Each of the three agencies that claimed they had a high level of confidence that Russia wanted to help Donald Trump, have now been implicated in using the Kremlin sourced Steele dossier, and other Russian intel, to manufacture the entire "Russian collusion with Trump" narrative. In hindsight, knowing what we do now, one has to question everything contained in the original DNI report.

When the DNI report came out, multiple media outlets asserted all 17 U.S. intelligence agencies agreed with the "assessments" in the report, yet later, the AP, and the New York Times, had to issue corrections to their articles, showing that only three agencies had a high level of confidence that Russia was trying to help Donald Trump become elected as President.

Here is the New York Times correction, dated June 29, 2018:


A White House Memo article on Monday about President Trump's deflections and denials about Russia referred incorrectly to the source of an intelligence assessment that said Russia orchestrated hacking attacks during last year's presidential election. The assessment was made by four intelligence agencies — the Office of the Director of National Intelligence, the Central Intelligence Agency, the Federal Bureau of Investigation and the National Security Agency. T

he assessment was not approved by all 17 organizations in the American intelligence community.

The FISA abuse memo, dubbed phase one by the Chairman of the House Intelligence Committee, Devin Nunes, which implicated senior level members of the FBI and DOJ in using the Russian sourced Steele dossier to obtain FISA warrants, was the first of a number of planned memos and revelations. Phase two according to Nunes will be a second report which highlights the Obama State Department's role in manufacturing and disseminating the Steele dossier. Phase three, according to Real Clear Investigations, is "the involvement of the intelligence community will come into sharper focus."


The aide, who spoke only on condition of anonymity, said Nunes will focus on Brennan as well as President Obama's first CIA director, Leon Panetta, along with the former president's intelligence czar, James Clapper, and national security adviser, Susan Rice, and security adviser-turned U.N. ambassador Samantha Power, among other intelligence officials.

"John Brennan did more than anyone to promulgate the dirty dossier," the investigator said. "He politicized and effectively weaponized what was false intelligence against Trump."

John Brennan was the Director of the Central Intelligence Agency from March 2013 to January 2017.

More on Brennan from Real Clear Investigations:


Several Capitol Hill sources say Brennan, a fiercely loyal Obama appointee, talked up the dossier to Democratic leaders, as well as the press, during the campaign. They say he also fed allegations about Trump-Russia contacts directly to the FBI, while pressuring the bureau to conduct an investigation of several Trump campaign figures starting in the summer of 2016

Related: How John Brennan's CIA became a big consumer of unmasked intelligence on Americans

This puts Brennan right in the crosshairs for perjury, as in May 2017, he specifically testified under oath to Congress that he did not know who commissioned the Steele dossier (Hillary Clinton campaign and the DNC), and that he had "no awareness," of the FBI relying on the Steele dossier for any court filings or applications (the FISA warrants to surveil Carter Page). Brennan also claimed the CIA did not rely on the dossier and that it was not used in the Intelligence Community Assessment.



The National Security Agency (NSA) , it has been recently revealed by none other than the NYT, was using their official Twitter channel to secretly communicate Russian using coded messages. The part of that article that caught quite a bit of attention was that the NSA was also willing to pay for dirt on Trump, specifically, a video claiming to show Trump with prostitutes in Moscow in 2013, which was one of the main unverified aspects of the Steele dossier. Even the New York Times admits in their article "There remains no evidence that such a video exists." (Hot Air has the direct quote from NYT)

So the only three intelligence agencies that would stand by the "high level" of confidence that Russia was trying to help Donald Trump get elected, subsequently have been caught themselves, communicating and/or colluding with Russia.

In the case of the NSA it was offering to pay Russians for information or a video of Trumpwhile communicating secretly, via Twitter, with the Russians. 

In the case of the Director of the CIA, Brennan, the weaponizing the information contained within the unverified dossier, while promulgating it to the media, Democrats, and according to Real Clear Investigations, "In early January, just weeks before Trump was inaugurated, investigators say Brennan saw to it that the contents from the dossier were attached to an official daily intelligence briefing for Obama. The special classified briefing was then leaked to the major Washington media, allowing them to use the presidential briefing to justify the publication of claims they had up to that point not been able to substantiate and had been reluctant to run.

In the case of the FBI, the dossier was used to create the "Russia collusion" hoax, obtain FISA warrants, and instigate the special counsel probe into the Trump campaign.

What a coincidence that all three agencies that concluded based on their "assessment" that Russia carried out a media campaign to favor Donald Trump, then began the investigation into Trump colluding with Russia, have all now been engulfed in their own Russia scandals.

Related: Peeling back the layers of Hillary Clinton's deceit

ANOTHER COINCIDENCE!

Coincidentally, it appears that former members of all three of the same agencies, including John Brennan and James Clapper, have all joined the anti-Trump media, including spots at CNN and NBC/MSNBC, as detailed by the New American in an article titled "Deep State-Fake News Marriage: CIA, NSA, FBI Operatives Join Media In Droves."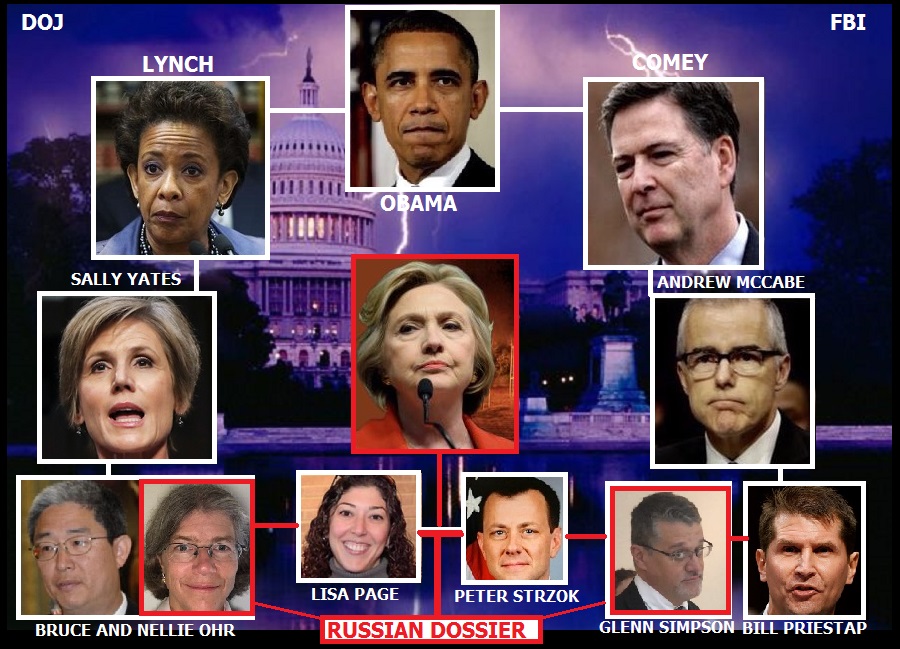 NEW INFORMATION COMING SOON ON MYSTERIOUS INSIDE INFORMANT? 

In the video below, it appears that Judge Jeanine Pirro is onto a huge story, as at approximately the 2:30 minute mark she addresses another name, one we do not see spoken about much in the media leaks, the Strzok/Page text messages, or the House or Senate memos.  His name is E.W. "Bill" Priestap, who is the head of the FBI Counterintelligence division and was the direct supervisor of Peter Strzok.

According to The Last Refuge,  Priestap was also referred to in testimony in front of Congress by former FBI Director James Comey (video at link), not by name, but by position, basically attempting to set Priestap up as a scapegoat. TLR suggests that while many above and below Priestap are either gone, been demoted, reassigned, or quit, Priestap is still on the job, yet never mentioned in any of the fast breaking news of late implicating a number of other senior level officials, indicating he may be a source or whistleblower now, helping the investigators to unravel the tangled web of deceit the Clinton deep state members have created surrounding the Russia investigation.

Judge Jeanine Pirro, who is joined by Congressman Chris Stewart, who is a member of the House Intelligence Committee, brings up Priestap's name to the Congressman Stewart, who tells Judge Jeanine that he has heard of that name, stating "and you are going to hear more of that name." After going back to the previous discussion, Judge Jeanine then brings the topic back to Priestap at the 3:18 minute mark, where she explains that she is asking about Priestap because she doesn't like that she hasn't been hearing about him in the news.

Judge Jeanine highlights that Comey "threw him under the bus" in his congressional testimony, then she says "The fact that we haven't heard from Priestap tells me he is cooperating with someone, or, what? Congressman Stewart then says "I am going to be careful on this because I'm not sure what we can say on this, and believe me, I don't want to be the headline of Chris Stewart reveals a bunch of sensitive or classified information."



Remember back in mid-January 2018, Senator Ron Johnson told Brett Baier "Now 'secret society', we have an informant that is talking about a group that were holding secret meetings off-site." Baier then interrupted him to clarify, asking to confirm there were secret meetings off site and that Congress had an informant, to which he answered "Yes."



Since then no other member of Congress, nor Johnson has mentioned that informant again.

Could it be Priestap? If so, he is in a position to know everything, where every body is buried, figuratively speaking. 

BOTTOM LINE

Those in the intelligence community, at senior levels, or who formerly held high positions of power, that attempted to create an "insurance policy" against President Trump, in order to bring down a sitting president, seems to have become caught in their own "Russian trap," as every new detail that emerges shows that all Russian roads lead right back to the Obama/Clinton minions in the intelligence community that wanted Hillary Clinton elected.







comments powered by

Disqus