Whatfinger: Frontpage For Conservative News Founded By Veterans

"The Best Mix Of Hard-Hitting REAL News & Cutting-Edge Alternative News On The Web"
September 23, 2017
America Under Siege: Antifa - Death Threats, Mass Protests Planned As Free Speech Week At Berkeley Comes Under Attack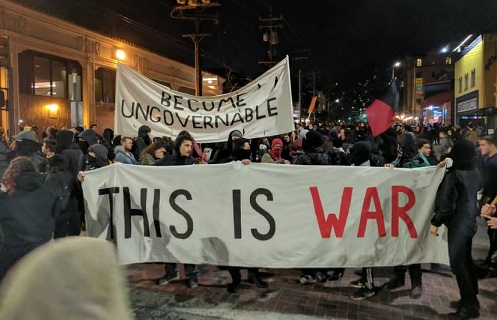 (Image- Berkeley, February 2017)

By Susan Duclos - All News PipeLine

The planned "Free Speech Week" at UC Berkeley, scheduled to run from Sunday September 24, to Wednesday September 27, 2017, is almost guaranteed to look almost nothing like it was originally planned.  Accusations from university officials that the group that organized Free Speech Week, The Berkeley Patriot,  did not meet deadlines to reserve indoor platforms are countered by emails from school officials to organizers published by one of the groups sponsors, Milo Yiannopoulos, on his Instagram account, as well as the organizers having filed a civil rights complaint with the DOJ against UC Berkeley.

The complaint charges "the students of the Berkeley Patriot believe that they have been subjected to a pattern and practice of suppression of their First Amendment rights, specifically Freedom of Speech, Freedom of Association, and their Fourteenth Amendment right to Equal Protection."


The letter was sent to the DOJ by the Law Offices of Melo and Sarsfield LLP on Tuesday, and goes on to accuse the university of adopting a "practice of de facto viewpoint discrimination."

"This viewpoint discrimination is effected by the UC Berkeley administration failing to take reasonable steps to protect students and others from physical assault or property damage when engaging in protected activities covered under the First Amendment," the complaint states.

Further, the letter states that the university has been failing to take disciplinary measures against students, staff, and faculty members who either engage in those same acts against students with differing political views — or worse, encourage, aid or abet those acts.

WHAT WE KNOW.....

We know some of the invited speakers will not be attending, such as former White House chief strategist Steve Bannon, and conservative pundit Ann Coulter, while others have confirmed publicly, such as Milo himself, Lisa de Pasquale, a conservative commentator and former CPAC organizer, Pamela Geller, Mike Cernovich, with others that are confirmed said to be announced at an "eve of battle" press conference which will be live-streamed on YouTube and Facebook."


"We're announcing the final line up at the press conference tomorrow," Yiannopoulos said in a text message. Asked which of the speakers will still attend, he said "I don't want to do this piecemeal any more. It's too chaotic. Meeting the team when I land and calling everyone personally to confirm so I can announce with confidence tomorrow."

"Too many people involved and too many moving parts," he said. "Press conference only."

We know that during the course of Free Speech Week, a documentary will be premiering titled "America Under Siege: Antifa," produced by Jake Klein for Dangerous Documentaries, the same group that made "No Safe Space," a documentary with comedian Adam Carolla and radio host Dennis Prager. Klein described the documentart as a new film that "represents the most in-depth look yet at America's most infamous modern-day movement and its disturbing impact on American society."

Trailer below:



The description of the film by Capital Research Center:


The communist movement known as Antifa (short for Anti-Fascist Action) has sparked violence across the nation. In the wake of their battling despicable white supremacist in Charlottesville, Antifa has begun to gain mainstream popularity. But unbeknownst to much of the public, the vast majority of Antifa violence isn't targeted at genuine fascists, but mainstream conservatives and civilians. With help from those who have encountered Antifa, including Milo Yiannopoulos, Gavin McInnes, Lauren Southern, Jack Posobiec, and Steve Deace, conservative author Trevor Loudon guides us through the history and ideas behind the Antifa movement, starting with Leon Trotsky and going all the way through the events in Berkeley, CA and Charlottesville, VA.

"Antifa" is the third episode in the America Under Siege documentary web-series from Dangerous Documentaries (a project of the Capital Research Center) and Cohesion Films. Each episode profiles the influence of radical Marxists on various segments of American society.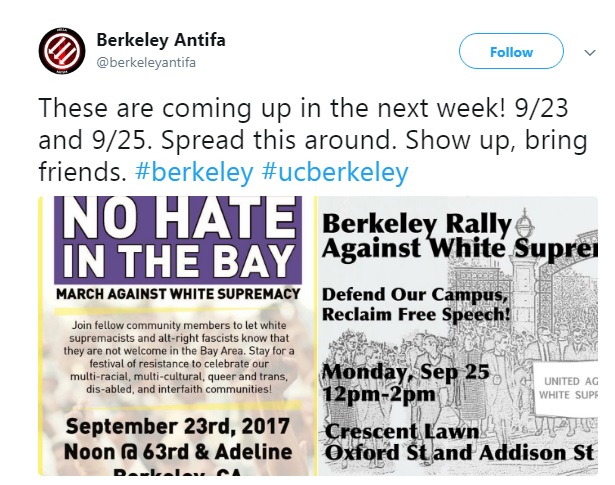 We know that Berkeley Antifa and other Antifa groups such as Refuse Fascism and BAMN (By Any Means Necessary), have scheduled protests, the first of which to be held on Saturday, September 23, 2017,a day before the Free Speech Week begins.

The Berkeley Antifa Twitter feed highlights their protests for Saturday the 23rd, and Monday the 25th, as the flier for those protests is shown in the screen shot above.

We know that the left-wing  Antifa group Refuse Fascism is plans to hold protests on Tuesday and Wednesday.

We know that the Antifa group BAMN (By Any Means Necessary,) which has been known to defend the violence at events such as the Milo event that was planned in February at Berkeley which was cancelled after left-wing Antifa activists started rioting, destroying campus property and throwing firebombs, resulting in over $100,000 worth of damage, is slated to protest Free Speech Week, is planning to "shut down Milo Yiannopoulos" on Tuesday and Wednesday." 


At a press conference Friday at the entrance to UC Berkeley, representatives from By Any Means Necessary said the rumors of the event's cancellation were an attempt to dissuade counterprotesters.

"This is a tactic these people have used to disorganize the opposition, to reduce our numbers," said Richard Alvarado, a UC Berkeley student with the group. "I encourage the campus community and the community at large to come out and demonstrate that we don't tolerate fascism."

Yvette Felarca, a national organizer for the group, urged people to show up at protests throughout the week.

"We have to really win this," she said. "We have to come out every day."

Yvette Felarca, the Berkeley area school teacher and militant left-wing protester responsible for organizing the riot at the University of California, Berkeley in February 2017, came under heavy criticism after she claimed that violence against the far-right is "not a crime," back in August. (Source)

In a leaked audio from a recent BAMN meeting discussing "tactics" for the upcoming protests, Felarca addressed issues such as how to evade police detection.



We know the city of Berkeley has announced a list of 26 objects in a press release Friday evening that will be banned in Martin Luther King Jr. Civic Center Park, Ohlone Park and Willard Park during Free Speech Week which includes the following:

Metal pipes; Lengths of lumber or wood of any size; Wooden dowels; Poles or staffs; Baseball bats or sticks modified for use as a weapon; Glass bottles or metal cans modified for use as a weapon; Bricks; Rocks; Pepper or bear spray; Mace; Knives or daggers; Firearms; Shields; Axes, axe handles, or hatchets; Ice picks; Razor blades; Tasers; Improvised explosive devices; Spray cans; Fire works; Smoke canisters; Dynamite; Heavy-gauge chain; Torches, lanterns or other devices that use fire or fuel; Slingshots; Any other item that is generally considered an "implement of riot" that can be used as a weapon.

What we do not notice on the list is the word "masks," which at two events that we are aware of, not allowing Antifa members to cover their faces to hide their identities, has led to events not marred by chaos, while all other high profile Antifa protests where member were allowed to cowardly hide behind masks, devolved into violence, destruction and in many cases outright rioting.

We know UC Berkeley has spent $600,000 on security so far, with other UC affiliated institutes having put in $300,000 and Milo already handing over $100,000 for security for the event, bring Free Speech Week to a million dollars price tag already, on top of the $600,000 UC Berkeley spent on security for Ben Shapiro speech on September 14, 2017. 

Free Speech is certainly expensive at Berkeley.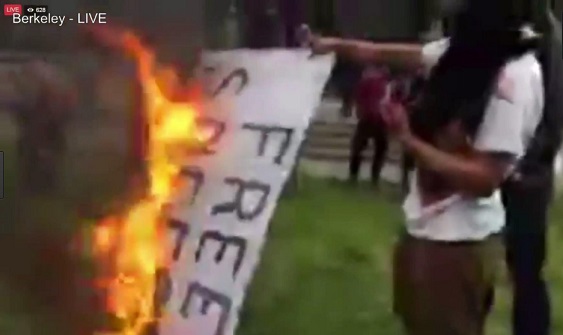 (Berkeley - Antifa burns free speech sign, February 2017)


BOTTOM LINE

Whether the event ends up being held at outside forums due to the bureaucratic obstructionism of UC Berkeley to return calls, or communications as the event organizers were trying to comply with jumping through all the hoops the university threw at them, and how many of those originally invited will show up, which we should know after the "eve of battle" press conference later on Saturday (We will add that video after the presser), we do know that this is serious test of whether free speech will be allowed to move forward at Berkeley or whether violent thugs will once again tear the place down to prevent any speech they deem unacceptable.

Note- This article will be updated throughout the event and can be considered an open thread for Berkeley related news. If events spiral out of control to the point another article is deemed necessary, we will publish a follow-up.

Below we see two of those invited and who had planned to attend Free Speech Week, Joy Villa, Kaya Jones, explain they had to cancel due to security issues after having received death threats.







Help Keep Independent Media Alive, Become A Patron for All News PipeLine at 

https://www.patreon.com/AllNewsPipeLine







comments powered by

Disqus