Whatfinger: Frontpage For Conservative News Founded By Veterans
"The Best Mix Of Hard-Hitting REAL News & Cutting-Edge Alternative News On The Web"



June 23, 2018


Can We Thank Obama's New START Arms Control Treaty For Nuclear Tsunami's? Russia Has Emphasized Quality Over Quantity Ever Since By Building New Class Of 'Super-Bombs'  
Russia's POSEIDON robot submarine under development, armed with a monster 100-megaton "TSAR" warhead, would explode underwater, destroying U.S. coastal cities with radioactive tsunamis.

Nuclear weapons now play a more important role in Russia's military doctrine for warfighting, deterrence, and diplomacy than during the Cold War. Russia is pouring resources into its nuclear forces, increasing their budget by 50 percent.

But Russia faces limits on how many nuclear weapons it can deploy under the New Strategic Arms Reduction Treaty (New START) limiting Russia and the U.S. to 1,550 nuclear warheads on missiles and bombers.

New START may be driving Russia to emphasize quality over quantity by, in addition to modernizing its missiles and bombers, building a few super-weapons like POSEIDON. This would enable Moscow to stay within the New START limits while surging ahead of the U.S. technologically with a new class of super-bomb to overawe the U.S. and its allies.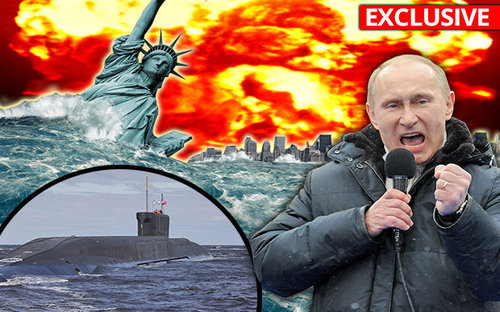 Moreover, Russia has lots of weapons-grade nuclear fuels in storage, laying around unused, from thousands of warheads dismantled under START, and nuclear weapons factories that need work. POSEIDON's 100-megaton monster warhead can harness these materials and talent to useful purpose.

Furthermore, POSEIDON may not, Moscow could argue, be covered by New START. POSEIDON is not a missile or a bomber. Arguably, it is a big nuclear mine, and may be categorized as a tactical nuclear weapon, despite its enormous yield, and therefore not limited by New START.

However, Dr. Mark Schneider in several articles and studies correctly warns that Russia is already building warheads beyond the New START limits and predicts Moscow plans to breakout of New START. Moscow has a long history of violating arms control treaties.

Therefore, New START calculations may have nothing to do with Russia's development of POSEIDON.

As an aside, the Trump Administration should declassify President Reagan's still classified General Advisory Committee full report "A Quarter Century of Soviet Compliance Practices Under Arms Control Commitments: 1958-1983" to finally explode the myth that arms control agreements with Russia serve America's national security interests. Moscow always cheats.

POSEIDON's chief purpose is to raise a tsunami, hundreds of feet high, that could flood and devastate U.S. coastal areas, according to Russian sources. Popularly, at least in most western press reporting, the notion of a nuclear tsunami is the most frightening aspect of POSEIDON.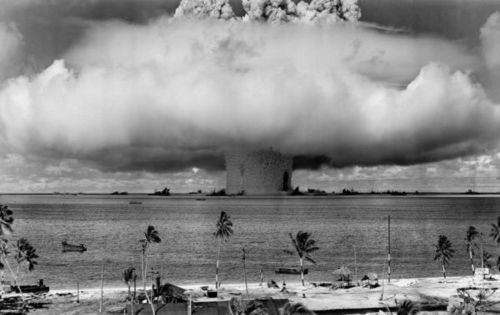 Some scientists doubt a nuclear tsunami is possible.

Gregg Spriggs of Lawrence Livermore National Laboratory claims a nuclear tsunami is impossible (in an article titled "A Physicist Says Blowing Up Nuclear Weapons In The Ocean To Trigger Tsunamis Would Be Completely Stupid"). According to Spriggs, even a 100-megaton underwater explosion could not make a tsunami because natural tsunamis, like Japan's 2011 tsunami that killed over 15,000 people, are created by earthquakes that are energetically equivalent to thousands of megatons.

Spriggs also notes that the U.S. underwater atomic tests CROSSROADS-BAKER (1946) and HARDTACK I YAHOO (1958) did not generate tsunamis.

However, according to physicist Rex Richardson: "A well-placed nuclear weapon of yield in the range of 20 MT to 50 MT near a seacoast could certainly couple enough energy to equal the 2011 tsunami, and perhaps much more. Taking advantage of the rising sea-floor amplification effect, tsunami waves reaching 100 meters [330 feet] in height are possible."

The facts indicate nuclear tsunamis are possible and could be a real threat.

The atomic tests cited by Spriggs to disprove nuclear tsunamis, CROSSROADS-BAKER and HARDTACK I YAHOO, utilized atomic bombs of yield 10-20 kilotons — 5,000-10,000 times less powerful than POSEIDON's TSAR warhead yielding 100 megatons (100,000 kilotons). And these relatively low-yield atomic tests, while they did not create tsunamis, did double the height of ocean waves, flooding local atolls.

Conventional high-explosives have raised, perhaps not tsunamis, but highly destructive waves.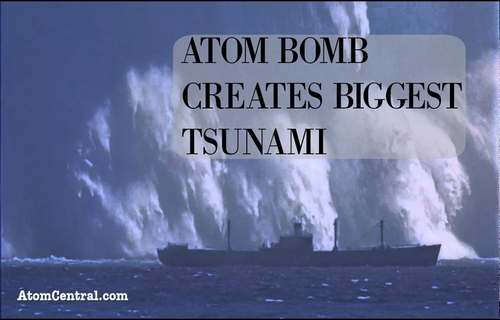 For example, on December 6, 1917, the French munitions ship SS Mont-Blanc exploded in Halifax, Nova Scotia, killing and injuring over 10,000 and leveling buildings out to a half-mile radius. Moreover: "A tsunami created by the blast wiped out the community of the Mi'kmag First Nation who had lived in the tufts cove area for generations."

The Halifax explosion was estimated equivalent to 2.9 kilotons. This is about 15,000-30,000 times less powerful than a 100-megaton POSEIDON warhead.

World War II research in Project Seal found that it is possible to "create a destructive wave" using conventional high-explosives equivalent to 2.2 kilotons.

Strangely for what was once represented as a secret super-weapon, Moscow has gone to extraordinary lengths to make sure the West knows about POSEIDON. Dictator Putin has described POSEIDON to a world television audience. Photos, graphics, and diagrams of the POSEIDON prototype undergoing testing have been published by Russian news agency TASS.

A 100-megaton POSEIDON could conceivably produce a tsunami, as described by the Russians, if detonated off the U.S. coast. A robot submarine could certainly transport a 100-megaton bomb like TSAR, weighing 30 tons.

While nuclear tsunamis are possible, there are reasons to doubt tsunamis are POSEIDON's real purpose, for reasons explained in my report "POSEIDON: Russia's New Doomsday Machine" (Amazon.com) and in my next Newsmax article. To be continued…

This story was originally published here. Peter Vincent Pry is executive director of the Task Force on National and Homeland Security. He served on the Congressional EMP Commission as chief of staff, the Congressional Strategic Posture Commission, the House Armed Services Committee, and the CIA. He is author of "Blackout Wars." For more of his reports, Go Here Now. 



The opinions expressed in this story are those of the author's and do not necessarily align with those of ANP. 




NOTE TO READERS

: ANP incredibly appreciates donations from our readers. With digital media revenue spiraling downward, especially hitting those in Independent Media, it has become apparent that traditional advertising simply isn't going to fully cover the costs and expenses for many smaller independent websites.

Any extra readers may be able to spare for donations is greatly appreciated.

One time donations or monthly, via Paypal or Credit Card:



Or  https://www.paypal.me/AllNewsPipeLine
Donate monthly from $1 up by becoming an ANP Patron

.





comments powered by

Disqus