Whatfinger: Frontpage For Conservative News Founded By Veterans
"The Best Mix Of Hard-Hitting REAL News & Cutting-Edge Alternative News On The Web"
'We Are Hunting You...My Comrades Will Kill You...Rape You. Fear Our Revolution' - Chilling Threat Sent To Female VT GOP Candidate By Socialists


By Susan Duclos - All News PipeLine

We have all seen the reports of violence, the mob mentality of radical liberals confronting conservatives in restaurants, marching in Washington DC attacking the supreme court doors, letters with a white powdery substance delivered to Republican senators, and long list of other disturbing acts, detailed in Breitbart's rap sheet of media approved violence, harassment and threats.

While those examples are disturbing and show a level of politically hostility and animosity that is off the rails, the latest example is downright chilling.

Deserae Morin, a Vermont GOP candidate for the state House, married, with two young daughters, received a "cutout" letter in the mail, telling her "We are hunting you," threatening to rape her, kill her, and calling for an "open season for Republican death in Vermont."

While the threats are atrocious, the fact that she recognized the "cutouts" on the envelope as coming from her own campaign materials, is what makes this so terrifying. It means either Morin herself, or a member of her campaign was in contact with whoever sent the sickening threats, while they were out campaigning.

Via the BLAZE & VTDIGGER. 

In a "cutout" word format, the letter begins "C**t" and continues with, "We are hunting you. My comrades will kill you and the Constitution. First we will rape you for years. You will scream and know that agonizing horror. No equal rights for Republicans. Socialism is here. Open season for Republican death in Vermont. Fear our revolution. It's time." The letter, mailed to Morin's home in Colchester, is signed "AA."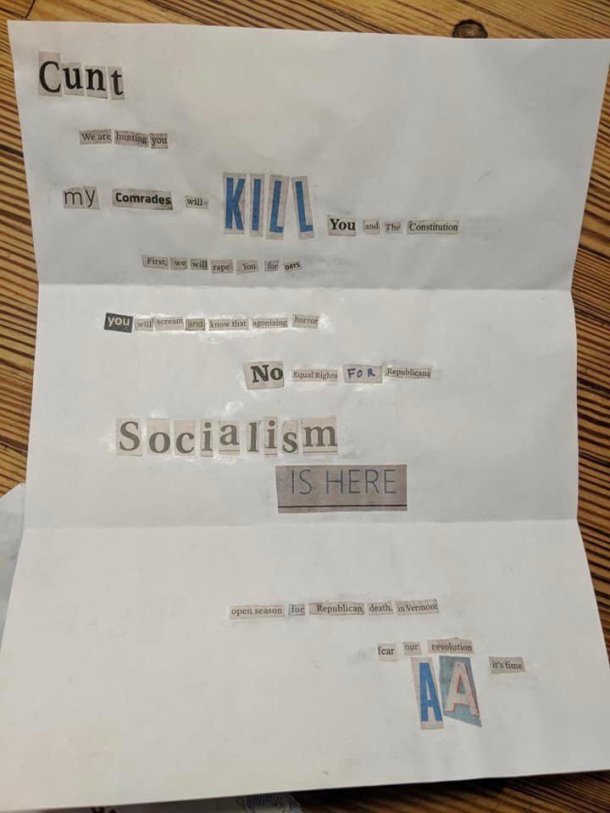 DUMBED DOWN IN AMERICA

In no way, shape or form should this be acceptable, yet as I read through the story at VTDigger, I noted Morin mention that at first when she shared the letter on her FB account, people were supportive, then after it was reported to the police and the local media, the comments became a "dumpster fire," so I went to check. The amount of people either accusing her of creating it, or questioning the terminology, specifically the use of the word "comrades," is sickening. 

One commentator actually asked "But what socialist refers to their buddies as "comrade"? None....."

The level of ignorance in just that one question and his own answer, shows me the media has done a spectacular job in keeping the actual news from reaching the eyes, ears and minds of their audience.

Socialist and Antifa groups have been using that term for their members and supporters for years. Examples can be found on their own websites, and on their Burlington Antifa Facebook page. Burlington is just 16-18 minutes away from Colchester.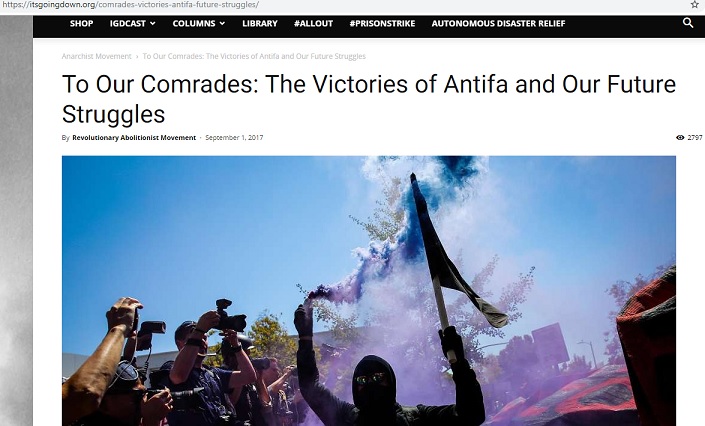 Multiple Antifa groups have a presence in Vermont, including the Burlington Antifa and the Green Mountain Anti-fascists Action, which hasn't been active on Facebook since May 2017.

Green Mountain Antifascists Action - About page - "Green Mountain Anti-Fascist Action is a community network of militant anti-fascists in Vermont."

Here is an example of the rhetoric from a post in February 2017 and below is the image they published with their message: "Donate here to assist with legal costs for our comrades arrested on J20. They are now facing 10 years in prison on unprecedented Felony charges. Do your part to support those on the frontline of the struggle against fascists!"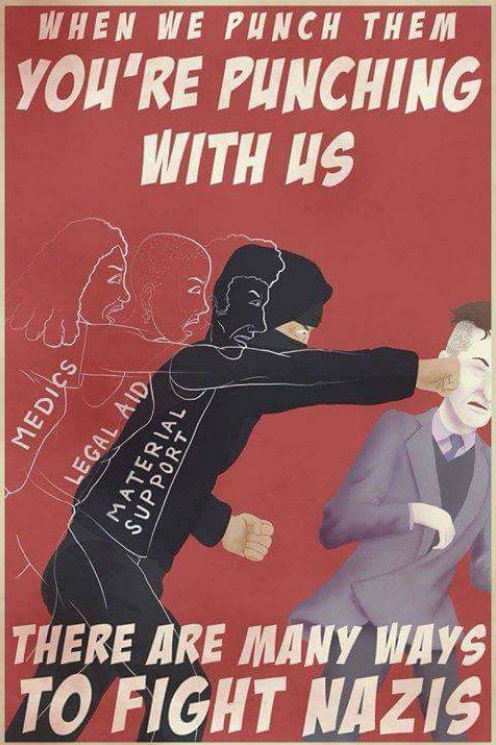 Other Antifa groups also have a presence in Vermont. 

The point here is that after all the violence associated with any event Antifa groups show up at over the course of the past few years, how is it that there are still so many Americans that are not even aware of their rhetoric? The media has literally dumbed down a significant portion of the nation. Not only have they been caught misinforming, lying, publishing fake news, but they have used those tactics to also not inform the public of the danger that could be right next to them.


BOTTOM LINE

These socialist and Antifa groups are terrorists, pure and simple. Death threats, sending white powdery substances in the mail, harassment, rape threats, these are all acts meant to terrorize. The fact that so many of them are individual groups, yet act as a collective, makes it that much harder for officials to designate them as terror groups, which is likely why in 2016 DHS and the FBI listed their activities as terror activities, instead of naming specific groups.

The media fail here is unforgivable. It is literally their job to inform the public of the danger surrounding them and they have been so busy downplaying Antifa and socialist violence, excusing it, attempting to justify it, that they are now endangering that same public.

Keep Morin and her family in your prayers, because the danger to her, her family, and her campaign workers, as well as Republicans in Vermont, is right there in the town.






NOTE TO READERS: ANP Needs Your Help. With digital media revenue spiraling downward, especially hitting those in Independent Media, it has become apparent that traditional advertising simply isn't going to fully cover the costs and expenses for many smaller independent websites.

Any extra readers may be able to spare for donations is greatly appreciated.

One time donations or monthly, via Paypal or Credit Card:



Or  https://www.paypal.me/AllNewsPipeLine
Donate monthly from $1 up by becoming an ANP Patron.





comments powered by

Disqus