Whatfinger: Frontpage For Conservative News Founded By Veterans

"The Best Mix Of Hard-Hitting REAL News & Cutting-Edge Alternative News On The Web"
Dangerous Media Blackout On Violence And Harassment On College Campuses Conservative Students & Groups Ignored By The MSM 
- U.S. Colleges Are Cesspools Of Social Justice Warriors And Socialist Indoctrination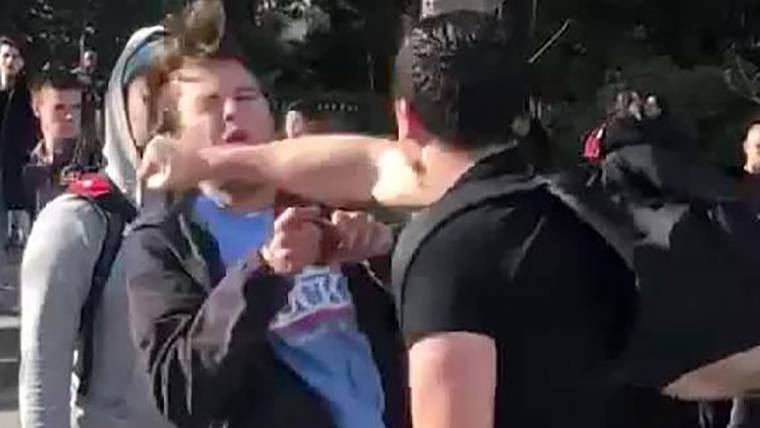 (Conservative Activist Sucker-Punched at UC Berkeley, Feb., 2019)



By Susan Duclos - All News PipeLine

It was extremely disappointing when Breitbart News stopped updating their "Rap Sheet" of media approved acts of violence and/or harassment of conservatives and Trump supporters back in November 2018, because it is incredibly important to document not only how often this type of activity was occurring but also how it was becoming increasingly frequent. At the time Breitbart stopped updating the list, they had documented, with source links, 639 acts of violence and harassment from September 2015 to November 2018.

The liberal media has consistently attempted to paint Trump supporters, and conservatives as violent, racist, homophobic and (add all the other descriptors they call conservatives here), jumping on any and all stories that fit that narrative, even after their original narrative falls apart as with the Covington Catholic students and the Jussie Smollett hate crime hoax, but they offer nothing but a total media blackout on the rise of violence against conservatives, because it does not fit that narrative.

CAMPUS VIOLENCE AGAINST CONSERVATIVES IN 2019

Breitbart has begun another rap sheet, this time regarding violence and harassment of conservatives at college campuses (and high schools), which is an ongoing project as it appears they started with what they have documented from 2016 to present day, but they are still "back-filling," meaning they are still adding more as they run across examples they have missed.

As of now they have 76 cases documented from 2016, with 21 listed for 2019 alone, although we have a few more to add that they haven't back-filled yet.

Brietbart's list published on June 5, 2019, stopped on May 30th, so we'll start with what we have found that is not on the list (already sent to Breitbart's tips for addition), and will focus more on just the increasing violence/harassment in just 2019. Breitbart's list, can be read here.


(If you appreciate stories like this, please consider donating to ANP to help keep us in this battle for the future of America.)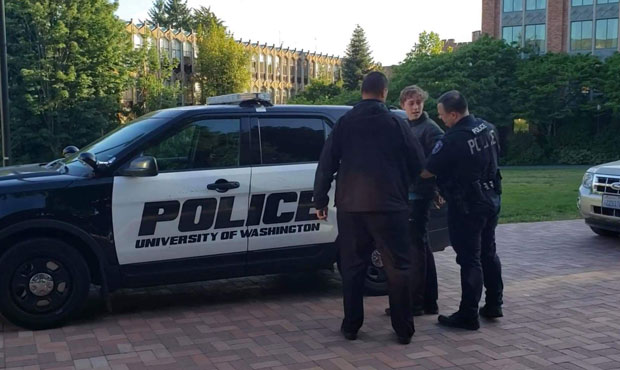 On June 5, 2019, MyNorthwest.com reported, with video, that an Antifa member was arrested for "trying to imprison Republican students in classroom," by attempting to chain the doors closed while the group was having their meeting.

Emerald City Antifa used their Facebook Page to call on Antifa supporters to "deplatform" a conservative group, the University of Washington College Republicans, who were holding their final meeting of the school year.

The Antifa Facebook Page read:


Just a reminder to people at the UW that the Operation Cold Front crew (who you might remember from such antics as "It's ok to be White" signs, transphobic harassment of students, posing as Black Lives Matter to ask for reparations, harassing people outside an abortion clinic, and more) will be having a speaking engagement at the UW June 3rd at 6pm in Thomson Hall rm 101. There's space for 100 or so people, but for those who show up, some useful tactics might to sit in using large items that take up additional seats, maybe with headphones in so you don't have to hear their garbage, or noise demo tactics such as whistles to make it difficult for them to speak over.

They have recently put out some very ugly, transphobic material and were harrassing queer students at Evergreen, and we hope that we can take some time out this Pride Month to have our queer siblings backs, and not allow these assholes to have a platform.

These people are Proud Boy chuds, and Proud Boy chud supporters, they have been caught on video yelling "yt power!" while harassing womxn, and have a history of harassing womxn (including one of the co-hosts who is an accused rapist). These people belong to the Him Too movement, an anti-MeToo, misogynist, homophobic, transphobic, "traditionalist" Men's Rights trash fire. They should not be on campus bothering students.

So, if you're able, show up to deplatform.

The video over at MyNorthwest.com is the entire speech and the Antifa antics, which is an hour long, but the attempt to chain the door, the subsequent arrest, and commentary from one of the speakers about the incident in the short video below.


Via Breitbart: May 30, 2019: University of Chicago student says he received death threats over pro-life bill

May 28, 2019: College Fix reported on University harassment against conservatives by enforcing arbitrary free rules against a conservative groups that are not enforced against socialist groups.

May 15, 2019: Santa Clara University's student government rejected a conservative group's application to become a registered student organization, claiming the conservative message would cause "harm" to the community. (Note - Decision was overturned by student court after appeal)

More via Breitbart from 2019:

May 14, 2019: UNC-Chapel Hill student arrested after stealing a sign from pro-life activist

May 11, 2019: UNC-Chapel Hill student physically attacks pro-life activist

May 9, 2019: Mizzou student destroys Turning Point USA sign, calls conservative student "fascist"

May 7, 2019: Arsonist sets pro-life poster on fire at Western Washington University

May 6, 2019: Students at Texas State University arrested over an incident involving the assault of one student wearing a MAGA hat

May 3, 2019: UNLV students tear down Turning Point USA display, flip table

May 1, 2019: Black pro-life speaker faces smoke bomb attack at University of Texas

April 13, 2019: Police investigate "bias incident" at South Seattle College after Turning Point USA chapter president stalked by man in SUV

April 8, 2019: University of Connecticut professor encourages students to obstruct attendance for Turning Point USA event

April 4, 2019: LSU protester jumps on stage, disrupts Charlie Kirk and Candace Owens' Turning Point USA speech

April 1, 2019: Beloit College cancels Erik Prince speech amid protests, student protesters cheer upon successfully shutting down event

March 25, 2019: Tulane University students set fire to Turning Point USA chapter president's dorm room door

March 21, 2019: Georgia Southern University calls police on students for exercising their free speech outside the bounds of the "free speech zone"

March 8, 2019: Portland State University speaker unable to speak due to Leftist protester ringing cowbell while security watches

February 22, 2019: UC Berkeley employee celebrates violence against conservative activist on campus

February 21, 2019: Conservative activist Hayden Williams punched in the face at UC Berkeley

February 15, 2019: SUNY students get death threats after hosting "Build the Wall" event

February 13, 2019: Dartmouth students surround Dinesh D'Souza, chant "go home racist"

February 9, 2019: Yale University student newspaper suggest collecting evidence on white male classmates to ruin their careers later on in life

January 23, 2019: Dartmouth professor argues in favor of "doxing" Covington Catholic students

Hat tip to Breitbart for creating this new list because the liberal national media completely ignores the rampant discrimination, harassment and outright violence occurring nation wide against conservative students and free speech advocates.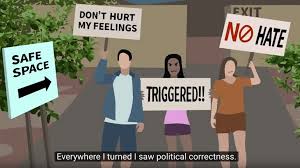 COLLEGES ARE CESSPOOLS OF SOCIAL JUSTICE WARRIORS & SOCIALIST INDOCTRINATION

The websites College Fix and Campus Reform continue to document the indoctrination of college students into the socialist mindset, without ever truly "educating" those students as to what socialism really is, while encouraging them to spend more time on "social justice warrior-type activism than they do on their school studies, in some cases paying them to become activists, and in other cases "mandating" activism for progressive policies.

The importance of this issue cannot be overstated as these are the next generation of graduates that will go out into the world, unable to cope with the fact that there are no "safe spaces" in real life to prevent them from having to hear, see or address ideology other than their own. There are also no trigger warnings in life off campus for bad events, or thought that offends their feelings.

Another critical aspect regarding the MSM ignoring the news, refusing to inform their readers/viewers of what is happening, is that parents thinking of sending their children to specific universities and colleges are unaware of what cesspools these institutions have become for socialism and the creation of violent, harassing social justice warriors.

BOTTOM LINE - THE LIGHT AT THE END OF THE TUNNEL

The pin prick of light that can be seen at the end of the tunnel is two-fold. While there is definitely a media blackout on the rise of violence, hate, harassment and threats by liberal SJW's on campuses throughout the U.S., Independent Media has been documenting, and informing the public, where more and more people are learning how dangerous things have become for conservatives in American universities.

The second thing is that we have stories like the one below, which give hope that some of these students being indoctrinated can, and do, turn their back on violence once they realize Antifa groups are quite literally attempting to lump all conservatives in with neo-Nazis.

Below Campus Reform's Cabot Phillips recently sat down Gabe Nadales, a Regional Field Coordinator for the Leadership Institute, now a free speech champion, as he speaks about his past involvement with Antifa.





EMERGENCY FUNDRAISER: Despite generous donations, the still dwindling advertising revenue over the course of the last two years has forced us to completely deplete all our savings just to survive and continue to keep All News PipeLine online.

So ANP is accepting reader donations.

PLEASE HELP KEEP ANP ALIVE BY DONATING USING ONE OF THE FOLLOWING METHODS.

One time donations or monthly, via Paypal or Credit Card:



Or  https://www.paypal.me/AllNewsPipeLine
Donate monthly from $1 up by becoming an ANP Patron.



Donate Via Snail Mail

Checks or money orders made payable to Stefan Stanford or Susan Duclos can be sent to:



P.O. Box 575

McHenry, MD. 21541







comments powered by

Disqus