Whatfinger: Frontpage For Conservative News Founded By Veterans
"The Best Mix Of Hard-Hitting REAL News & Cutting-Edge Alternative News On The Web"

May 15, 2020
Prepare Now As If It May Be Our Last Chance With Globalist Politicians Having Awakened The 'Sleeping Giant' Assuring More Trouble Ahead
- Prep as if 'covid-19' IS the 'globalists end game' to bring tyranny and 'Economic Armageddon' to America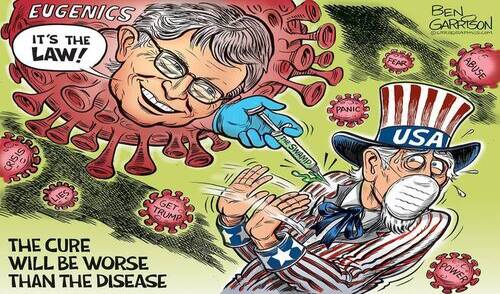 By Stefan Stanford - All News Pipeline - Live Free Or Die
We're so incredibly fortunate here in America that we have the 1st Amendment and the freedom to speak freely because if we didn't, what we've been witnessing all across America of increasing tyranny as Susan Duclos had reported in this May 14th ANP story would never be reported. And without advance knowledge of what's happening elsewhere nationwide, with the mainstream media sure to neglect much that's happening since they have their own 'globalist agenda', Americans would never have the opportunity to 'get prepared' for what has arrived now on US shores. 
But as we're seeing now in this story over at The Sacramento Bee (saved at archive), the globalists/democrat politicians are quite literally 'awakening a sleeping giant' with many on the left now joining President Trump supporters and many others on the right to stand up against warnings of mandatory and forced vaccines coming to America. 
With this report coming to us from the Daily Mail warning us that some medical 'experts' believe that it could take 5 years or more to get this pandemic 'under control', and 5 years of America being locked down sure to bring mass starvation, civil unrest and outright chaos, the fact that some are warning of a mandatory vaccine delivered by the US military coming at a time when even 'Nazi death scientists' like Dr. Anthony Fauci have told Congress there is no guarantee that a vaccine would even be effective are all more signs of trouble ahead.  
So while some states across America are finally beginning to reopen, including our own state of Maryland which will begin 'phase one' of our reopening at 5 pm today, we'll be taking a look within this story at still emerging signs of trouble ahead. And while we're happy that things may slowly be 'getting back to normal' in America, some have warned that re-opening America TOO early could have absolutely catastrophic effects in the future if too many people ignore the 'sound' health advice out there as Mike Adams explains in the next section of this story below. So we'll be taking another look in the final section of this story below at getting ready for the future at a time when things in America could change in an instant should covid-19 hospitalizations sky rocket once again. 
(

PLEASE HELP SUPPORT ANP

: With Independent Media being censored on almost every internet platform, reader donations are what keeps websites like ANP up and running. Your donations are greatly appreciated. Thank you, Susan & Stefan)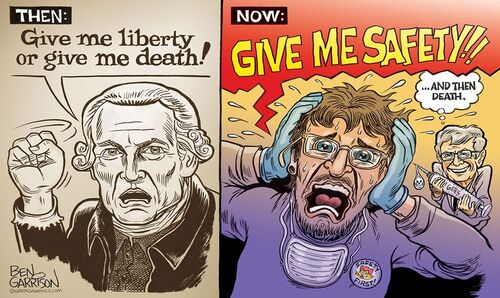 According to Mike Adams in this May 11th story over at Natural News, "the coronavirus TRUMP TRAP has been set" with Adams warning us a second wave of covid-19 infections and deaths may send President Trump down in flames come November. And as Adams warns, many of his own supporters are setting the bait with COMPLACENCY.
And while we'll strongly agree with the state of Maryland's new 'slogan' for getting through this pandemic after Governor Larry Hogan dropped the 'stay at home order' for a 'safer at home' re-opening strategy, (and specifically for us due to Susan Duclos being 'high risk' due to her recent heart attacks), America is truly stuck between a rock and a hard place with any extended lockdown sure to lead to more and more food shortages and even starvation while re-opening too soon without enough people taking the proper precautions could lead to absolute disaster. From Mike Adams' story.:
A devastating trap is being set for President Trump, and the trap is being baited by his own supporters who largely remain in a state of total denial about the severity and danger of the coronavirus pandemic. 
The trap consists of encouraging the reopening of the US economy while complacency is widespread and the masses have been falsely led to believe the virus is now extinguished just because the exponential explosion has been interrupted. Under the "complacency" scenario that now seems likely, things will look fine for about two months, after which the exponential explosion of the spread will have resumed with a new level of ferocity, suddenly overwhelming the nation with a shocking number of new hospitalizations and deaths in the Fall. 
Further adding to the bizarre nature of this convergence of events, it is Democrats who are most likely to wear masks and exercise the social distancing measures that would speed the economic recovery and help Trump win re-election in November. Simultaneously, it's conservatives and Trump supporters who are most likely to avoid wearing masks, thereby contributing to the spread of infections and the likelihood of a second wave of lockdowns that may destroy Trump's chances of victory. 
With Adams also warning that 'complacency' will be the dominant factor in determining what happens over the next six months, and that America must walk that 'fine line' to ensure that re-opening the country doesn't lead to the potential disaster he warns of, we serve our families and loved one's best by preparing as if covid-19 is the globalists end game to bring tyranny and a total economic collapse to America that leaves us looking like the shell of our former country being forecast right now for 2025 America by the website Deagel.com.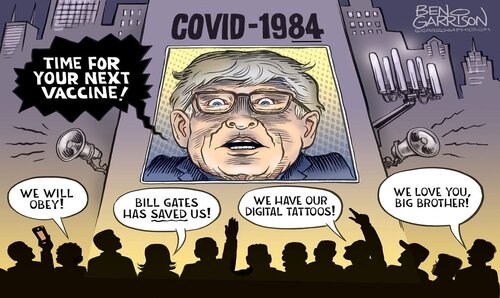 As we had reported on ANP back on February 28th, the website Deagel is still forecasting America to look like a 3rd world nation by the year 2025, forecasting a population of less than 100 million (down from the 327+ million living here now) and forecasting America to have a GDP per capita of less than half of what it is now. Also forecasting the 'purchasing power' of Americans to drop considerably by 2025, are we now witnessing the 'fall of America'? If so, we should expect everything to change in the months and years ahead.   
So while we're optimistic that the 're-opening' of America will bring somewhat of a return to 'normalcy', if covid-19 really is the 'globalists end game', the 'new 9/11' that we've long been warned about being used to 'usher in change', we should continue to prepare as if the 'worst case scenario' is about to come to pass.  A HUGE thanks to 
Susan Duclos for putting together the following list of still available food products that can be delivered to you in a matter of days. 
FREEZE DRIED/DEHYDRATED
Wise Company 124-Serving Ultimate Preparedness Pack, Multi Color
Wise Company ReadyWise, Emergency Food Supply, Freeze Dried Vegetables, 120 Servings
Wise Company ReadyWise, Emergency Food Supply, Emergency Freeze Dried Fruit Bucket, 120 Servings
Vegetable Soup Mix by Its Delish, 10 lbs
Traina Home Grown California Sun Dried Fancy Ruby Royal Apricots - No Sugar Added, Non GMO, Gluten Free, Kosher Certified, Vegan, Packed in Resealable Pouch (2 lbs)
Augason Farms Butter Powder 2 lbs 4 oz No. 10 Can
Augason Farms Hard White Wheat Emergency Food Storage 24 Pound Pail
Augason Farms Vegetable Stew Blend 2 lbs 0.5 oz No. 10 Can
Augason Farms Tomato Powder Emergency Food Storage 3 lbs 10 oz No. 10 Can
It's Just - Whole Egg Protein Powder, Nothing Else, Made in USA, Non-GMO (20oz)
CANNED/PACKAGED MEATS
DAK Premium Ham, Fully Cooked, 16 oz.
Armour Potted Meat, Keto Friendly, Chicken & Pork (24) 4.6-oz
Armour Star Vienna Sausage, Smoked, 27.6 oz.
Fully Cooked Bacon, Ready to Eat, 80 Slices Per Pack / Case, 10 Year Shelf Life, Superior to Canned, Real Thick Cut, 2+ Pounds, No Refrigeration Needed, Grocery, Long Term Storage, Camp, Hunt, Lunch
Underwood Deviled Ham 4.25 Oz can - Pack of 4
Valley Fresh 100% Natural White Chicken Cuts Pouch, 7 Ounce (Pack of 12)
Underwood Chicken Spread 4.25 oz (Pack of 4)
Kirkland Signature Premium Chunk Chicken Breast Packed in Water, 12.5 Ounce, 6 Count
Chef-mate Creamed Sliced Beef, Canned Food and Canned Meat, 6 lb 10 oz (#10 Can Bulk)
Mary Kitchen Hash Mary Kitchen Corned Beef Hash 14 Oz (8 Pack)
Harris Robinette Natural 100% Grass Fed Ground Beef - Hamburger Meat, Ground Meat - Made in the USA - 10 Pack
Underwood Roast Beef Spread, 4.25 Ounce (Pack of 24)
Additionally, 
canned fruits canned be found here while canned veggies
can be found here. 
In the first video below, Mike Adams discusses the 'complacency' he warns of that could lead to an even bigger disaster in America than we're witnessing now while in the 2nd video below, the 'Bill Gates mandatory and enforced' vaccine is discussed in an eye-opening video presentation that looks at the globalists 'long game' of forced vaccinations of the entire global population. 
DONATE TO ANP: With non-stop censorship and 'big tech' attacks upon independent media, donations from readers are absolutely critical in keeping All News Pipeline online. So if you like stories like this, please consider donating to ANP.

All donations are greatly appreciated and will absolutely be used to keep us in this fight for the future of America.

Thank you and God Bless. Susan and Stefan.

PLEASE HELP KEEP ANP ALIVE BY DONATING USING ONE OF THE FOLLOWING METHODS.
One time donations or monthly, via Paypal or Credit Card:

Or  https://www.paypal.me/AllNewsPipeLine
Donate monthly from $1 up by becoming an ANP Patron.



Donate Via Snail Mail

Checks or money orders made payable to Stefan Stanford or Susan Duclos can be sent to:



P.O. Box 575

McHenry, MD. 21541

ANP is a participant in the Amazon Services LLC Associates Program.







comments powered by

Disqus