Whatfinger: Frontpage For Conservative News Founded By Veterans
"The Best Mix Of Hard-Hitting REAL News & Cutting-Edge Alternative News On The Web"
May 7, 2018
'Incompetent Purveyors Of Politicized Intelligence' Are Enabling The Building Of The 'Islamic Bomb' And Corrupting President Trump's National Security Council 
- Obama Holdovers In Trump's Administration Got It Wrong On North Korea, Too! 
Submitted to All News Pipeline by Dr. Peter Vincent Pry
The views and opinions expressed in this article are those of the author and do not necessarily reflect those of ANP.
Israeli Prime Minister Benjamin Netanyahu's briefing on Monday, April 30 — based on 100,000 files, a half-ton of documents stolen by Mossad — proves definitively Iran has an ongoing clandestine program for nuclear weapons.
The White House response initially got it right. Press secretary Sarah Huckabee Sanders wrote, "These facts are consistent with what the United States has long known: Iran has a robust, clandestine nuclear weapons program that it has tried and failed to hide from the world and from its own people."
But then the White House got it wrong, "correcting" the above by replacing "has" with "had" thereby preserving the fiction that Iran is not now cheating on the Joint Comprehensive Plan Of Action (JCPOA) nuclear deal.
I suspect Obama administration holdovers still serving in the National Security Council staff and intelligence community are responsible for this latest outrage. They cling to the false narrative that Iran suspended its nuclear weapons program in 2003, to justify President Obama's JCPOA and crediting himself with stopping the Mullahs just a few months short of building their "Islamic Bomb."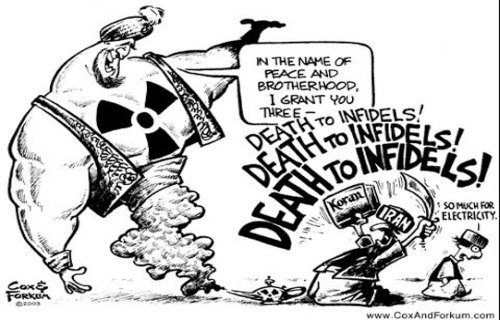 These purveyors of politicized intelligence are the same incompetents who claimed North Korea was a decade away from the H-Bomb and years away from ICBMs that could strike the U.S.—both of which North Korea tested successfully last summer.
Malcolm Lowe writing in Gatestone (May 4, 2018) grasps the immense significance of Israel's intelligence coup, "these are in effect a hundred thousand signed confessions of the Iranian regime that it intended to create nuclear weapons and load them on missiles manufactured by itself. The miniature minds of the apologists are simply incapable of grasping the historic magnitude of the Mossad's discovery."
Some of us have been warning for years that Iran is cheating on JCPOA and probably already has nuclear-armed missiles. (For example, see my article "The Worst Deal" Family Security Matters" Oct. 3, 2015.)
Netanyahu did not go this far, but his briefing disclosed additional facts proving Iran almost certainly already has nuclear weapons:
· Iran's Project Amad had the objective of developing 5 atomic warheads of 10 kilotons yield (as powerful as the Hiroshima A-Bomb) by 2003

. Iran built and tested implosion devices for compressing uranium spheres into a super-critical mass, the heart of a nuclear weapon, prior to 2003.

· Iran cast uranium metal into hemispheres for implosion, the last step for a weapon, prior to 2003.

· Iran designed an atomic warhead that would fit inside the non-nuclear high-explosives re-entry vehicle for the Shahab-III missile. Thus, Iran could disguise nuclear warheads on Shahab-III as non-nuclear warheads by 2003.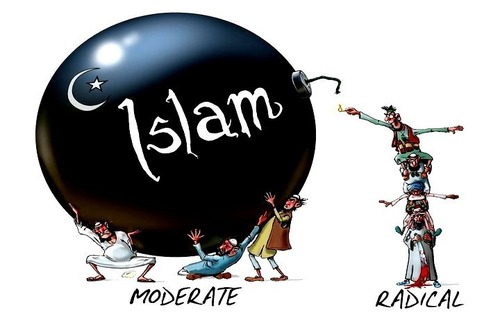 It is implausible that Iran would advance so far, but freeze their nuclear weapons program just prior to deployment in 2003, and for the next 15 years until today, which is what Obama-holdovers in CIA and JCPOA supporters want to believe.
A prudent person would conclude that Iran completed Project Amad and built 5 atomic warheads for the Shahab-III missile by 2003.
The International Atomic Energy Agency discovered Iran developed a fuse for detonating a nuclear weapon at high-altitude prior to 2003. The Congressional EMP Commission warned Iran launched several Shahab-IIIs apparently testing successfully high-altitude detonations for nuclear EMP attack.
Since Iran and North Korea are strategic partners by interests and treaty, known to collaborate on missile and nuclear technology, we cannot rule-out that Iran is or very quickly could become as big a nuclear missile threat as North Korea — armed with ICBMs, H-Bombs, and Super-EMP warheads deliverable by satellite.
What is to be done?
Nuclear armed Iran and North Korea are existential threats to the world, but also strategic opportunities to re-educate our intelligence community on how to achieve regime change without war. During the Cold War, the CIA was adept at engineering coups d'etat, revolutions, counter-revolutions, and special operations of intelligence that have been indispensable to war avoidance and cost-effective statecraft for centuries.
In no small part because CIA does not do counter-revolutions any more, the United States has increasingly turned to its military — and to war — as its instrument of first resort, when war should always be the instrument of last resort. Consequently, thousands of the best and most patriotic Americans have died, lost limbs, and been permanently traumatized in seemingly endless, pointless, unwinnable wars.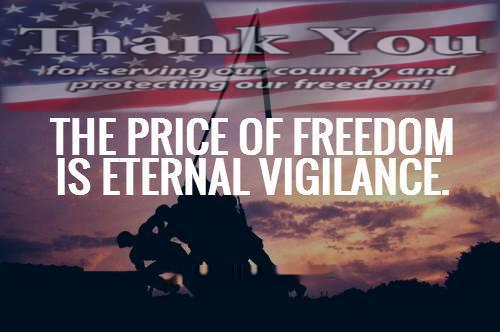 CIA can learn to do its job again in Iran.
CIA can learn by providing resources and helping Mossad and intelligence services of moderate Arab states, who are still masters of such 'special operations' and fear an Iran with nuclear missiles. A "new" national security strategy that relies less on war and more on spy-craft would really be a return to the original, apparently forgotten, national security strategy that won the Cold War.
President Trump, please:
Fire or re-assign to cafeteria duties the Obama administration holdovers corrupting your National Security Council and intelligence community.
Sign an executive order protecting the U.S. electric grid from EMP attack and deploy space-based missile defenses as soon as possible.
Tear-up the JCPOA. Re-negotiation of the Iran nuclear deal, premised on the dangerous lie that Iran does not yet have nuclear weapons, would be suicidal.




This story originally published here. Dr. Peter Vincent Pry is executive director of the Task Force on National and Homeland Security. He served in the Congressional EMP Commission, the Congressional Strategic Posture Commission, the House Armed Services Committee, and the CIA. He is author of "Blackout Wars." For more of his reports, Go Here Now.
NOTE TO READERS:

With digital media revenue spiraling downward, especially hitting those in Independent Media, where attacks from every direction continue to come unabated, it has become apparent that traditional advertising simply isn't going to fully cover the costs and expenses for many smaller independent websites.
Any extra readers may be able to spare for donations is greatly appreciated.






comments powered by

Disqus