Whatfinger: Frontpage For Conservative News Founded By Veterans

"The Best Mix Of Hard-Hitting REAL News & Cutting-Edge Alternative News On The Web"

October 25, 2021 
As One Manufactured Crisis After Another Strike America, Fatal Consequences Await Those Who Are Unprepared For This 'Dead Of Winter' TEOTWAWKI Scenario  

We've recently had a number of news tips sent to ANP by several different readers all focusing on the same subject matter and when that happens, we'll often take that as a sign to do some more research on the topic at hand and write a story about it when we've discovered something sinister at play and all of these shortages, supply chain failures, shipping fiascos and empty shelves indictate America is showing all of the signs of being a country under attack from the inside. 
With supply chain disruptions striking countless products that Americans use regularly, and many believing these supply chain disruptions are deliberate as was reported in this Burning Platform story that ANP reader and story contributor Maria Kneas sent us as a story tip Sunday morning, we have to ask, who among those reading this story could thrive in a long term energy crisis (even if 'manufactured') in the middle of Winter with most Americans completely dependent in one way or another upon natural gas, propane, heating oil, gasoline and other energy products to survive day to day?  
With Winter now dead ahead as the cold weather rushes in to some parts of America, check out these recent story titles.:
From the Wall Street Journal: "Natural-Gas Shortage Sets Off Scramble Ahead of Winter"
From the website Energy Wire: "4 ways the energy crisis hits U.S. electricity, gas, EVs"
From Forbes: "Gas Prices Climb, No Relief Before The Holidays"
From CNN Business: "Gas prices skyrocket as the global energy crisis worsens"
From Bloomberg: "Europe's Energy Crisis Is Coming for the Rest of the World, Too"
From Reuters: "Column: Global gas shortage helps lift prices in United States"
From ABC News23 in California: "Southern California gas prices reach the highest in nine years"
From CNBC: "Gas crisis, labor shortages and supply chain chaos: Post-Brexit Britain faces a difficult winter"
From the Washington Post (saved at archive): "Opinion: We're headed for a global energy crisis. What we need is a transition strategy"
Yet while a solid strategy is needed to deal with the energy crisis that is here, America has Joe Biden. So we'll be taking a look at some of those stories and more in the next sections of our story below, fully understanding that staying warm during freezing cold weather is absolutely pertinent to survival and the fact that this Winter, we could be potentially facing simultaneous shortages of oil, natural gas, propane and coal as Michael Snyder warned in this recent story over at the Economic Collapse Blog.  
(ANP FUNDRAISER: Due to renewed censorship by 'big tech' upon ANP articles, we're running a fundraising drive We also want to thank everybody who has donated to ANP over the years. With donations and ad revenue all that keep ANP online, if you're able, please consider donating to ANP to help keep us in this fight for America's future at this absolutely critical time in US history. During a time of systematic, 'big tech' censorship and widespread institutional corruption, truth-seeking media and alternative views are crucial, and EVERY little bit helps more than you could know!)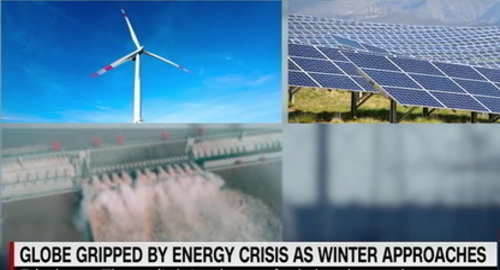 As Michael Snyder had also reported in this October 13th story titled "As The Global Energy Crisis Explodes, They Are Warning That Heating Bills Will Be Extremely Painful This Winter", whether we like it or not, a major global energy crisis is here, and it is going to hit all of us right in the wallet. From that story.: 
Today, markets for energy are truly global, and that means that price spikes in one part of the planet will inevitably filter elsewhere. For example, a lot of natural gas that is produced in the United States is now heading for Europe, and that is pushing up prices here. 
As energy supplies get tighter and tighter, power bills are going to go higher and higher. In fact, the U.S. government is now warning American citizens to expect heating bills to rise more than 50 percent this winter. Needless to say, a lot of families out there simply cannot afford that.
Global demand for energy is only going to increase in the months ahead. Summer just ended a few weeks ago, and the middle of winter is still months away. So if you think that things are bad now, just wait until we get into early 2022. 
At this point, even CNN is admitting the truth… 
Astronomical increases in natural gas prices. Skyrocketing coal costs. Predictions of $100 oil. 
A global energy crunch caused by weather and a resurgence in demand is getting worse, stirring alarm ahead of the winter, when more energy is needed to light and heat homes. Governments around the world are trying to limit the impact on consumers, but acknowledge they may not be able to prevent bills spiking.
And as Snyder also pointed out in that story, things will only get worse as Joe Biden's 'dark winter' arrives and things start to get really cold, pushing the demand for energy even higher. Also bringing up what would only be the icing on the globalists cake, a collapse of the electrical grid like we saw in Texas for a lengthy period of time last Winter, how would you survive if the grid goes down in your own area for an extended period of time while temps outside are below freezing or even below zero? 
With us having a rip-roaring fireplace in the middle of the family room that we spend most of our time in that heats up the entire house, we begin burning wood around here in the middle to end of October when the weather starts to turn cold. Using the fireplace as our primary means of heating our home through the months of late Fall and all of Winter, even into the beginning of Spring, should the grid go down for an extended period of time, at least we'll be able to keep our home somewhat 'warm' should such a worst case scenario of freezing cold weather and the grid down happen at the same time. Once again, from Snyder's story.: 
And now this new energy crisis is going to make things even worse. Virtually everything that we buy has to be physically transported, and now shipping stuff around the country is going to become significantly more expensive. 
In my last two books I specifically warned that inflation would spin wildly out of control, and now it is happening right in front of our eyes. 
The experts are telling us that this is going to be a really cold winter, and a lot of American families are going to be forced to make some very difficult choices. 
Many will decide to keep their thermostats uncomfortably low, but as long as the power stays on most of us will make it through the coming months okay. 
The real danger would come if we start having blackouts like other parts of the globe are already experiencing. As we witnessed in Texas last winter, the loss of power for an extended period of time during a cold stretch can have absolutely disastrous consequences.
With Snyder also warning that many Americans are sure to skimp on 'basic necessities' to pay their heating bills this winter, meaning once again that people will be shorting themselves on nutritious foods as we've seen throughout this 'scamdemic', as Snyder asked in another story on this unfolding crisis, what are people going to do when they suddenly run out of propane or other heating fuels in the middle of winter at a time when prices are spiking, millions of people are out of work and such fuels are in critically short supply? Just that nightmare scenario gives us a reason to prepare now for 'the coming storm'.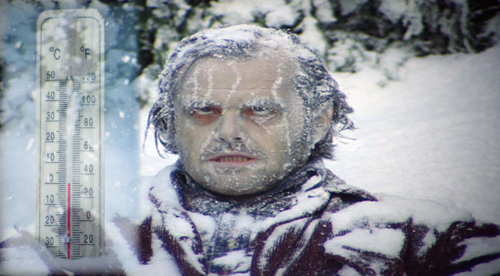 So with another story from Forbes titled "China's Energy Crisis Deepens With Potentially Fatal Consequences" reminding us not only that this is a 'global problem' but that potentially 'fatal consequences' await Americans in the brutal cold weather as well, with hypothermia definitely NOT 'race, gender, nor ethno specific', we'll continue to emphasis 'Winter prepping', doing so now ensuring we'll avoid looking like 'Jack' in 'The Shining' should a worst case scenario unfold in our futures.
With most people's home heating systems tied into the electrical grid, how will you keep your families and loved ones warm should the grid go down for an extended period of time like it did in Texas last year? 
While this September 24th ANP story focused on such things as winter hats, gloves, blankets and other cold weather gear, within this story we'll focus here upon a few key items to help make sure our entire families stay warm should such a worst case scenario unfold, quite literally meaning the difference between life and death, with 'death by hypothermia' something that we wouldn't wish upon anyone.   
Generators:
DBPOWER Portable Power Station, 178Wh/250W Lithium Ion Battery Solar Generator with 110V AC Outlet for Home Outdoor Camping Adventure Travel Fishing Emergency Backup Power Supply
WEN 56203i Super Quiet 2000-Watt Portable Inverter Generator w/Fuel Shut Off, CARB Compliant, Ultra Lightweight
Pulsar G2319N 2,300W Portable Gas-Powered Inverter Generator with USB Outlet & Parallel Capability, CARB Compliant, Gray
DuroMax XP5500E Gas Powered Portable Generator - 5500 Watt - Electric Start - Camping & RV Ready, 50 State Approved
Generac 7127 iQ3500-3500 Watt Portable Inverter Generator Quieter Than Honda, Orange/Black
Wood Stoves:
US Stove US1269E 900 Sq. Ft. Log Wood Cast Iron Stove, Black
Ashley Hearth AW1120E-P 1,200 Sq. Ft. EPA Certified Pedestal Wood Burning Stove, Black
Portable Heaters:
Propane:
Mr. Heater F232000 MH9BX Buddy 4,000-9,000-BTU Indoor-Safe Portable Propane Radiant Heater, Red-Black
Mr. Heater MH18B Propane Heater, Red
Mr. Heater 30,000 BTU Vent Free Blue Flame Natural Gas Heater MHVFB30NGT
Mr. Heater F242100 MH15T 10000-15000 BTU tanktop propane heater radiantly with the loss of heat to the air without electricity
Outdoor Patio Heater Propane Heater - 87 In 48000 BTU CSA Certified Gas Steel Floor-standing Liquid Propane Outdoor Heater with Heater Cover Pulley Accessories 
Kerosene:
Craftsman CMXEHAO80FAK Forced Air Kerosene Heater, Red
Sengoku Kerosene Heater, White
Some accessories for the products above include.:
Coleman Propane Fuel, 16 oz, Propane Camping Cylinde 4-Pack 
GasOne 50180 Refill Adapter for 1lb Propane Tanks & Fits 20lb Tanks, Black
No-Spill 1456 5-Gallon Poly Kerosene Can (CARB & EPA Approved)
So while to some it may seem silly to be preparing now for what could be a brutally cold winter, as fast as time flies by now in 2021, with the year almost over seemingly soon after it began, we were once told that we can never go wrong by preparing early for winter, especially at a time when shortages of all kinds of supplies, food and other necessities is striking America with warnings things will only get worse with Joe Biden now trying to 'fix things'. 
Each of the videos below take a look at what we've reported on in this story, including winter prepping and the still emerging energy shortages, with the 1st video below featuring Ice Age Farmer explaining to us how the energy crisis and an even greater food crisis in our futures are linked together, calling a 'worst case scenario' this winter 'Holodomor 2.0'. 
As Wikipedia reports, Holodomor, sometimes referred to as 'The Great Famine', led to the deaths of millions of Ukrainians back in 1932 and 1933, with the famine 'manmade' as outside food aid was rejected, all household foodstuffs was confiscated and the populations movements were severely restricted. Sound familiar with the globalists 'locking down' free people in 2020 and 2021 over 'COVID'? More stories with winter prepping suggestions can be found here and here with suggestions for survival foods and other supplies found here, here and here. 
ANP is a participant in the Amazon Services LLC Associates Program. 
ANP FUNDRAISER: With non-stop censorship and 'big
tech' attacks upon independent media, donations from readers are absolutely critical in keeping All News Pipeline online. So if you like stories like this, please consider donating to ANP.

All donations are greatly appreciated and will absolutely be used to keep us in this fight for the future of America.

Thank you and God Bless. Susan and Stefan.

PLEASE HELP KEEP ANP ALIVE BY DONATING USING ONE OF THE FOLLOWING METHODS.
One time donations or monthly, via Paypal or Credit Card:

Or https://www.paypal.me/AllNewsPipeLine
Donate monthly from $1 up by becoming an ANP Patron.



Donate Via Snail Mail

Checks or money orders made payable to Stefan Stanford or Susan Duclos can be sent to:



P.O. Box 575

McHenry, MD. 21541







comments powered by

Disqus