Whatfinger: Frontpage For Conservative News Founded By Veterans
"The Best Mix Of Hard-Hitting REAL News & Cutting-Edge Alternative News On The Web"

April 4, 2021 
With More Signs Of War, Genocide And Mass Starvation In America's Future, The Unprepared Won't Be Able To Survive Without Trading Their Own Enslavement For A Can Of Corn
- The Globalists Satanic Agenda Being Pushed To Their 'End Game' For America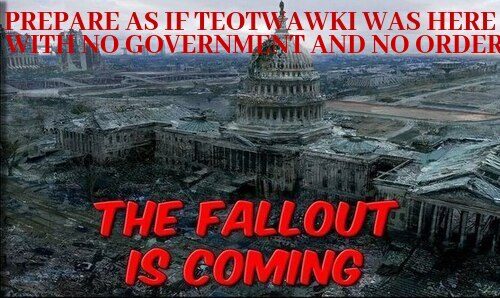 Two days ago on April 2nd, we'd reported within this ANP story that if Joe Biden and Democrats got their way, they're going to get us all killed with Biden's admin insanely declaring their 'unwavering support for Ukraine' at a time when Russia is flooding Crimea with tanks and soldiers and tensions between Russia and Ukraine are running super hot. 
Reporting within that story that in numerous ways, the Russian military had equaled or surpassed the US military, with Russia now owning what have been called the 'crown jewels' of weapons in 2021, the unstoppable hypersonic nuclear weapons capable of evading all defenses, we've just gotten more signs that story was right on the money, with a Russian military analyst warning in this new story over at the Daily Mail that a European or world war could break out in as little as four weeks!
With Russian military analyst Pavel Felgenhauer warning that 'events in the Ukraine could quickly spiral completely out of control', and we could see 'war in a month', as the top-voted comment on that story had correctly pointed out:
"It's amazing, isn't it? 4 years without a new war, troops going back home finally. Less tension with Russia, and proper tension with China. And within the first 90 days, Biden has managed to escalate tensions, and I bet Hillary is hoping she can bomb some ruskies like she wanted to in Syria."
So with any future war that America gets into against Russia or China practically 'sealing' the globalists tyrannical endgame, with wars traditionally being used by governments to crack down massively upon the liberties of a population that they normally wouldn't be able to get away with, and more human rights abuses occurring during wartime than at any other time, as another one of the top-voted comments on that story pointed out, "America is divided and weak and so is Europe. A war is almost inevitable."
And with that comment echoing this March 27th ANP story by Susan Duclos titled "The Disaster That Is Joe Biden - His First Press Conference Showed Biden As Weak, Frail, And Forgetful Which Is An Invitation For Hostile Nations To Attack America", we owe it to our families and loved ones to be prepared for absolutely anything in the days ahead, especially with so many signs of forthcoming trouble emerging. 
(ANP EMERGENCY FUNDRAISER: Donations and ad revenue are all that keep ANP online, so please consider donating to ANP to help keep us in this fight for America's future at this critical time in US history. With 'slow-Joe' Biden occupying the White House, and at a time of systematic, 'big tech' censorship and widespread Democrat corruption, truthful media and alternative views are crucial.)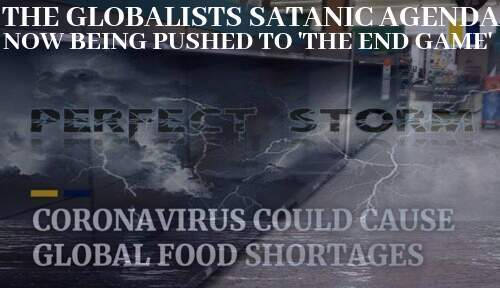 With America's big, Democrat-run cities now completely transformed into disease and crime ridden wastelands with soaring murder rates in 2021 as Michael Snyder reports in this new story over at the Economic Collapse Blog, and Democrats/globalists seeking to turn law-abiding Americans into 2nd class citizens if we don't take their 'covid-19 kill shot', as Steve Quayle and Greg Hunter warn in this important new story over at Greg's website, we're now witnessing nothing less now than the initiation of the globalists 'extinction protocols'. 
While Democrats and the mainstream media will continue to call the 'depopulation agenda' a 'conspiracy theory', as Steve warns us all: the evil elite have long warned about drastically reducing the global population. They even carved it into the infamous Georgia Guide Stones. It says the world should be comprised of only a half billion people, not the 7.9 billion living on the planet today. 
Steve Quayle says the Covid-19 (CV-19) vaccines are part of the plan to kill off a stunningly large part of humanity. Quayle explains, "The bottom line is we are talking about the depopulation in the United States and the rest of the world in the order of 7.4 billion people. The population on earth right now is around 7.9 billion people. The question for the elite globalists that erected the Georgia Guide Stones is how are all those people going to die? That's what I believe is happening right now. The globalists are initiating their 'extinction protocols.' 
This is why they would not settle for Ivermectin, Hydroxychloroquine (HCQ), zinc, vitamin D, Z-Pack and etcetera. (These are medically proven safe and effective ways to treat CV-19.) This did not fit the depopulation agenda. The lies on the narrative of the whole Covid-19 . . . bio weapon, the deaths will be eclipsed by the vaccinations. I don't use the word vaccination because by the classic definition of vaccination, it does not fit. This is an injection of a DNA altering mutagenic substance using 'messenger' RNA. . . . 
The global depopulation is underway. We have so many events taking place in the purported vaccine. Women who are pregnant, who should not be taking vaccines, are reporting miscarriages. Little children are having obscene reactions, and now it's come out that it is absolutely sterilizing the children. Sterilization of the planet goes right along with the 'extinction protocols.'"
You can see Steve's entire interview with Greg here and here. 
So with a possible world war in our futures if we continue traveling down the same path Joe Biden and Democrats have set us upon, and the globalists all-out war upon the human race nothing less than 'genocide', we put ourselves and families ahead of the masses by making sure we're prepared to not only survive but thrive in a world without 'government' and no 'order' as we've come to know it.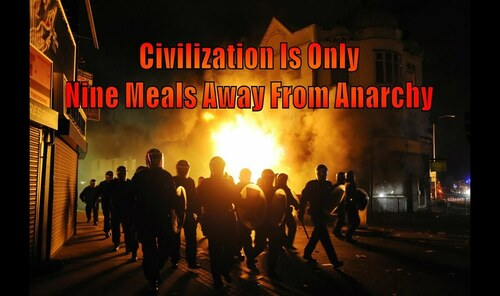 According to Mac Slavo in this new story over at SHTFPlan, 'just as planned in order to push forward the New World Order agenda, global commerce is being hammered'. 
Warning within that story of forthcoming supply shortages due largely to the massive Suez Canal traffic jam that for days held up hundreds of ships in the waterway through which approximately 12% of world trade flows, Slavo's story confirmed what we'd reported within this March 26th ANP story, that a potential worst case scenarios lays ahead for us while giving us all another concrete sign to prepare. 
With ANP warning within that story of plastic shortages, steel shortages, lumber prices hitting record highs and massive shortages in computer chips, the brains for almost every electronic device in the world, as Slavo had also warned within his story, adding fuel to the fire, grocery prices were already rising faster than inflation. A quick trip to your local grocery store will prove to you that this is true. 
And while purchases of lumber and plastic and computer chips and steel can be put off for quite some time (though they absolutely hint of war ahead with wars historically bringing about supply chain shortages due to rationing and government diverting resources away from human), food and water are things that can't be 'postponed', with no potable drinking water bringing about death in as little as 3 days while people will begin rioting and killing for food in as little as 72 hours.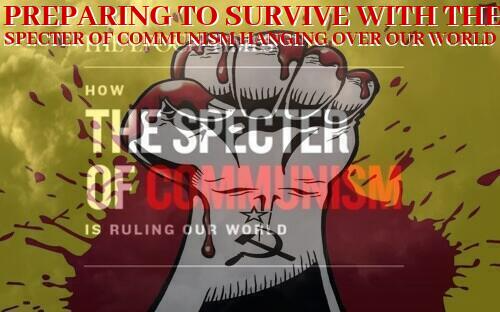 So as Slavo also pointed out in his story, 'coping with reality is the best way to beat' what is now here, with those who've prepared able to stave off starvation while being comfortable and unafraid while others won't be able to function without submitting to their own enslavement in exchange for a can of corn.
And while many of the different SHTF scenarios that we may face in the days and weeks ahead will create vastly different challenges, with food and water being absolute essentials for survival, those who overlook those little things will absolutely be regretting that decision later. 
As many ANP readers know, I recently experienced first hand what chronic dehydration will do to one's body. And with estimates that 3 out of every 4 Americans may suffer from chronic dehydration without even knowing it, imagine how bad things could get in a SHTF scenario. With lack of drinking water bringing about death in as little as 72 hours, and every human bodily function depending upon it, we'll first look here at making sure we'll have clean drinking water for our families even during TEOTWAWKI. 
MSR Guardian Military-Grade Water Purifier Pump for Backcountry, Global Travel, and Emergency Preparedness
Clearsource Nomad Water Filter System - NEW! CLEAN, SAFE WATER FROM ANY LAKE OR STREAM: Engineered for the rugged outdoor adventurer, the Clearsource Nomad pulls water from any lake or stream and purifies it better than even the best portable survival filters. Drink, shower, and clean up with unlimited clean, fresh water!
GRAYL GeoPress 24 oz Water Purifier Bottle - Filter for Hiking, Camping, Survival, and Travel
PriorityPour Tight Head - 5 Gallon / 20 Liter Blue Eight (8) Pack Emergency Water Storage Jugs/Containers - Included 70mm caps, Cap Wrench and 3/4 Turn Spigot 
Blue 55 Gallon Water Storage Tank by WaterPrepared - Emergency Water Barrel Container with Spigot for Emergency Disaster Preparedness - Stackable, Space Saving - BPA Free
Survivor Filter Pro X - Electric Camping Water Filter - Emergency Water Filter
With food also absolutely essential, some 'survival foods' available now include: 
Freeze Dried Foods:
Wise Company Long Term Emergency Freeze-Dried Food Supply, Breakfast and Entree Variety
MRE Meals - 124-Serving Freeze Dried Emergency Food Supply
Long Term Dehydrated Food Storage - 120 Large Entree Servings - 29 Lbs- Disaster Prepper Freeze Dried Supply Kit
Wise Company ReadyWise, Emergency Food Supply, Emergency Freeze Dried Fruit Bucket, 120 Servings
Wise Company Emergency Food Supply, Freeze Dried Meat Variety, 15-Year Shelf Life, 60 Servings
Wise Company Emergency Food Supply, Variety Pack, 25-Year Shelf Life, 104 Servings
Wise Company ReadyWise, Emergency Food Supply, Freeze Dried Vegetables, 120 Servings
Mountain House Classic Bucket | Freeze Dried Backpacking & Camping Food | 24 Servings
Mountain House Diced Beef #10 Can Freeze Dried Food - 6 Cans Per Case
Mountain House Cooked Diced Chicken #10 Can
Augason Farms Lunch and Dinner Variety Pail Emergency Food Supply 4-Gallon Pail
Augason Farms Breakfast Emergency Food Supply 11 lbs 1.8 oz 4 Gallon Pail
PB2 Original Powdered Peanut Butter - [2 Lb/32oz Jar]

Augason Farms Vegetable Stew Blend 2 lbs 0.5 oz No. 10 Can

It's Just - Whole Egg Protein Powder, Made in USA, Non-GMO (8oz)

Augason Farms 5-90158 Scrambled Egg Mix, 2 lbs, 4 oz. No. 10 Can

Augason Farms Dried Whole Egg Product 2 lbs 1 oz No. 10 Can

Hoosier Hill Farm All American Dairy Whole Milk Powder 1 lb

Hoosier Hill Farm Heavy Cream Powder Jar, 1 Pound

Hoosier Hill Farm Real Butter powder, Gluten and Hormone.free, 2 lbs

Augason Farms Dehydrated Chopped Onions 1 lb 7 oz No. 10 Can

Nutristore Freeze Dried Mozzarella Cheese Shredded Premium Quality

Amazon Search 'Flour'
And some

canned and packaged foods available now

include: 
Wellsley Farms White Premium Chunk Chicken Breast in Water, 12.5 Ounce, 6 Count


Keystone Meats All Natural Canned Chicken, 28 Ounce by Keystone Meats
Swanson Chicken á la King Made with White and Dark Meat Chicken, 10.5 Ounce Can (Pack of 12)
Dinty Moore Beef Stew with Fresh Potatoes & Carrots 20 oz (Pack of 12)
Armour Star Classic Homestyle Beef Stew, 20 oz. (Pack of 12)
Keystone Meats All Natural Canned Beef, 28 Ounce
SAMPCO Shredded Beef 3lb.


Kirkland Signature Chicken Breast (Chicken Breast -6 Count)
Keystone Meats All Natural Canned Pork, 28 Ounce
Armour Star Roast Beef With Gravy, 12 oz.
Armour Star Banner Sausage, Easy Open Can, 10.5 oz. (Pack of 12)
Wild Planet Skipjack Wild Tuna, Sea Salt, Keto and Paleo, 3rd Party Mercury Tested, 5 Ounce (Pack of 12)
Armour Star Luncheon Meat, 12 oz. (Pack of 12)
Canned Vegetables Variety Of Options
Canned Fruits Variety Of Options
Rice
Beans
Pasta
And should the electrical grid go down for an extended period of time, having some kind of way to generate power could be essential. Some generators now in stock can be found right here.
Honda EU2200i 2200-Watt 120-Volt Super Quiet Portable Inverter Generator
WEN 56203i Super Quiet 2000-Watt Portable Inverter Generator w/Fuel Shut Off, CARB Compliant, Ultra Lightweight
A-iPower SUA2000iV 2000 Watt Portable Inverter Generator Quiet Operation, Lightweight
Westinghouse WGen7500 Portable Generator with Remote Electric Start - 7500 Rated Watts & 9500 Peak Watts - Gas Powered - CARB Compliant - Transfer Switch Ready
Champion Power Equipment 76533 4750/3800-Watt Dual Fuel RV Ready Portable Generator with Electric Start
Champion Power Equipment 100692 2000-Watt Ultralight Portable Inverter Generator
Many more ideas can be found at our 'Still or Back in Stock' ANP Shopping Page here. And as always, if you have any ideas, suggestions or links to survival products, please feel free to share them with our other readers in the comment section below. Your ideas and suggestions could very well save someone else's life. 
ANP is a participant in the Amazon Services LLC Associates Program.




Help Keep ANP Online! EMERGENCY FUNDRAISER: With non-stop censorship and 'big
tech' attacks upon independent media, donations from readers are absolutely critical in keeping All News Pipeline online. So if you like stories like this, please consider donating to ANP.

All donations are greatly appreciated and will absolutely be used to keep us in this fight for the future of America.

Thank you and God Bless. Susan and Stefan.

PLEASE HELP KEEP ANP ALIVE BY DONATING USING ONE OF THE FOLLOWING METHODS.
One time donations or monthly, via Paypal or Credit Card:

Or https://www.paypal.me/AllNewsPipeLine
Donate monthly from $1 up by becoming an ANP Patron.



Donate Via Snail Mail

Checks or money orders made payable to Stefan Stanford or Susan Duclos can be sent to:



P.O. Box 575

McHenry, MD. 21541







comments powered by

Disqus