Whatfinger: Frontpage For Conservative News Founded By Veterans
"The Best Mix Of Hard-Hitting REAL News & Cutting-Edge Alternative News On The Web"
Not Sick Of Winning Yet - While Historic NK/US Summit Grabs Headlines, 2,300 Suspected Online Child Sex Offenders Were Arrested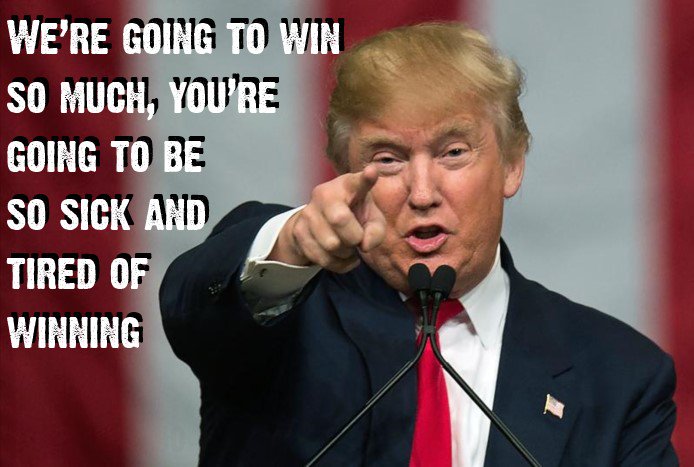 By Susan Duclos - All News PipeLine

While there are no shortage of headlines regarding the first ever summit between an American President and the leader of the North Korea regime, with a signed agreement between the two leaders, which included North Korea committing "to work toward complete denuclearization of the Korean Peninsula," what has seen less traction in the media is that the DOJ just announced the results of a three month operation which netted the arrest of 2,300 suspected online child sex offenders.


The Department of Justice today announced the arrest of more than 2,300 suspected online child sex offenders during a three-month, nationwide, operation conducted by Internet Crimes Against Children (ICAC) task forces. The task forces identified 195 offenders who either produced child pornography or committed child sexual abuse, and 383 children who suffered recent, ongoing, or historical sexual abuse or production of child pornography.

The 61 ICAC task forces, located in all 50 states and comprised of more than 4,500 federal, state, local and tribal law enforcement agencies, led the coordinated operation known as "Broken Heart" during the months of March, April, and May 2018. During the course of the operation, the task forces investigated more than 25,200 complaints of technology-facilitated crimes against children and delivered more than 3,700 presentations on Internet safety to over 390,000 youth and adults.

"No child should ever have to endure sexual abuse," Attorney General Jeff Sessions said. "And yet, in recent years, certain forms of modern technology have facilitated the spread of child pornography and created greater incentives for its production. We at the Department of Justice are determined to strike back against these repugnant crimes. It is shocking and very sad that in this one operation, we have arrested more than 2,300 alleged child predators and investigated some 25,200 sexual abuse complaints. Any would-be criminal should be warned: this Department will remain relentless in hunting down those who victimize our children."

The operation targeted suspects who: (1) produce, distribute, receive and possess child pornography; (2) engage in online enticement of children for sexual purposes; (3) engage in the sex trafficking of children; and (4) travel across state lines or to foreign countries and sexually abuse children.

While previously shutting down BackPage, which had been associated with over 73 percent of suspected child trafficking reports, along with the arrests and indictments of the top members of the organization, this latest announcement, shows that this administration's vow to battle sex trafficking and arrest and prosecute child sex traffickers, is being relentlessly waged against those in the human trafficking industry.

From Backpage to the Nxivm sex cult arrests, to nationwide stings as the FBI cracks down on child sex trafficking, with 150 arrests here, 300 there, 1,000 elsewhere..... the numbers are adding up, which shows that local and state governments with the full cooperation of the Trump administration, is fulfilling the promises made to try to eradicate sex trafficking in America.

This is not news that hits the mainstream every day, most often it is reported locally in whichever state has conducted an operation or sting, which is why we don't often hear how successful the operation against human traffickers and child sex traffickers, truly is.

According to an International Labor Organization report from 2014, human trafficking, globally, is a $150 billion a year business for human traffickers, with $99 billion being earned directly from from commercial sexual exploitation.

From President Trump's February 2017 meeting with anti-trafficking experts throughout his first year and into his second year of presidency, this administration has consistently addressed human trafficking, with his March 2018 statement reaffirming his vow, saying "My Administration will focus on ending the absolutely horrific practice of human trafficking. And I am prepared to bring the full force and weight of our government, whatever we can do, in order to solve this horrific problem."

No matter how you cut it, taking one trafficker off the streets or from online, saving one child, is already a win, but 2,300 arrests in a three-month operation, on top of the local and statewide operations garnering hundreds at a time, saving countless children from sexual abuse..... is a huge win.

Note: Before I could even finish this article, a new  DOJ Release just hit my email box, titled "Acting Associate Attorney General Jesse Panuccio Delivers Remarks at the National Law Enforcement Training on Child Exploitation."

Flashback, February 2017:


THE SUMMIT

The historical summit came after NK leader Kim Jong un released three American prisoners, suspended his testing and demolished one of, if not the largest site. Going in, there was no guarantee there would be anything signed, although it was largely thought that the preparation beforehand gave them a plotted course to get something signed, to be considered just a first step in what will be a long process.

The intent terms signed included four stated goals; 1) The United States and the DPRK commit to establish new US-DPRK relations in accordance with the desire of the peoples of the two countries for peace and prosperity.2) The United States and DPRK will join their efforts to build a lasting and stable peace regime on the Korean Peninsula. 3) Reaffirming the April 27, 2018 Panmunjom Declaration, the DPRK commits to work toward complete denuclearization of the Korean Peninsula. 4) The United States and the DPRK commit to recovering POW/MIA remains, including the immediate repatriation of those already identified.

See Full Text of the Document.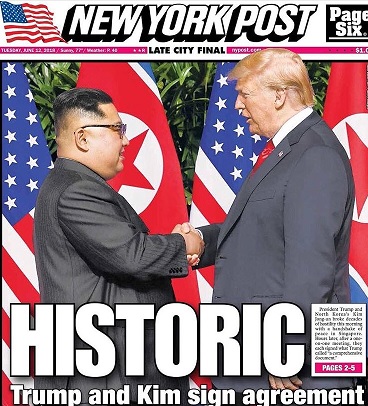 What wasn't included in the statement signed but was announced is that President Trump suspended military drills with South Korea. While the media negatively jumped on that, those exercises are months away and can be reinstated at any time if Kim does not move forward with further negotiations and agreements, so it was a no-brainer.

There is no guarantee whatsoever that Kim will act in good faith, everyone knows that. With that said, President Trump has already managed to do what no other U.S. leader has been able to do, he got Kim to the table with a mixture of harsh rhetoric (Little Rocket Man - My nuke button is bigger than yours - etc...) along with assurances that should he act in good faith and continue to do so, his standing and his country would be better off.

In that vein, the White House showed Kim a video guaranteed to play to the "you can be seen as a great leader if....." mindset, showing him the standing boost he would receive in the eyes of the world if he works towards it.


When a man has a huge ego, playing to it must be included in your arsenal of tools.

The mainstream media is all over the place on reporting this with NYT headlining "Trump and Kim Have Just Walked Us Back From the Brink of War," at the same time as publishing the headline from another writer stating "Trump Was Outfoxed in Singapore."

They just cannot converge on one set narrative here because the summit was unprecedented.

One common theme seen in most the liberal media outlets today is their reference to human rights issues, and their claim that President Trump did not address those with Kim, but as reported by Breitbart: "Later, responding to a direct question from John Roberts of Fox News about human rights, Trump said that the issue had been discussed — though he admitted it had not been as prominent as denuclearization. "They will be doing things" to improve the country's human rights situation, he said."

So outlets claiming the issue was not discussed at all, either missed that or are lying.

You decide.

Either way, the main goal was to get Kim to the table, to discuss denuclearizing and that was accomplished as just the first step, with many more hopefully to come.

The fact is, while North Korea is a brutal regime and no one should forget that, walking back from the brink of nuclear war had to come first, because the issue of human rights means nothing if the country is leveled and only bodies, dust and debris are left.

BOTTOM LINE

Between the historical summit between Kim and President Trump and the news of the continued efforts on the part of the Trump administration to battle the horrible human trafficking epidemic and the sexual trafficking of children, the phrase "still not sick of winning yet" comes to mind.






NOTE TO READERS
: 

ANP Needs Your Help

. 
With 

digital media

 revenue spiraling downward, especially hitting those in Independent Media, it has become apparent that traditional advertising simply isn't going to fully cover the costs and expenses for many smaller independent websites. 
Any extra readers may be able to spare for donations is greatly appreciated.
One time donations or monthly, via Paypal or Credit Card:

Or  https://www.paypal.me/AllNewsPipeLine
Donate monthly from $1 up by becoming an ANP Patron.




comments powered by

Disqus