Whatfinger: Frontpage For Conservative News Founded By Veterans

"The Best Mix Of Hard-Hitting REAL News & Cutting-Edge Alternative News On The Web"
November 8, 2017
One Year Later....... And They Are Still Screaming - Liberals Unable To Cope With Election Loss Have Epic Collective Meltdown! 
Watch The Weirdos, Cultists, Morons, Communists And The Uninformed Self-Implode!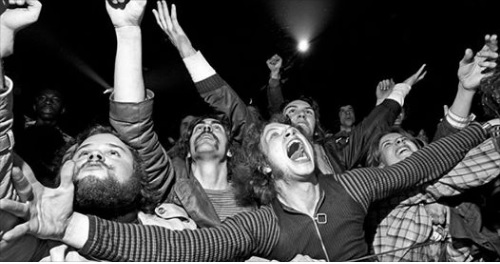 By Susan Duclos - All News PipeLine

Happy Anniversary Deplorables!

One year ago today, ANP readers spent the day following the election exit polls, and tracking results state-by-state, staying up together and watching what was undoubtedly one of the most exciting, nail-biting, controversial elections in modern history. That comment thread on the live election day coverage had over 3,200 comments as everybody stayed up almost all night watching and then celebrating the fact that Donald Trump had just became the President-Elect.

On the other side of the coin, media pundits, pollsters, Clinton supporters, liberals, and the NeverTrump RINOs (Republicans In Name Only) all freaked out, publicly, live on air, their shock palatable. Well, they've done it again! You've got to see the videos at the bottom of this story from yesterday as liberals across numerous US cities have an epic collective meltdown! But first. 

FLASHBACK: THEY SCREAMED

Can anyone forget the instantly viral image of a woman on inauguration day,  screaming NOOOOOOOOOOOOOOOOOO helplessly at the sky?



In the year since the election we have seen those same cast of characters continue to scream, about Russia! About Fake News! About the Electoral College, with the NY Times still whining about it as recently as November 7, 2017. They screamed RECOUNT! Then they threatened electoral college members' lives.  Democratic political "Auntie" Maxine Waters was screaming for impeachment since before President Trump was even inaugurated!

Hillary Clinton herself is still screeching about Russia, James Comey, the media, the DNC, the "deplorables," sexism, misogyny, Bernie Sanders, Wikileaks, the debate questions, women under pressure from men, white people, and a whole host of other things, as she went on her book tour, as compiled by the Daily Caller in the video below.



The media, which didn't even pretend to be objective during the primaries, nor the general election, with studies having found that 91 percent of the biased reporting was "hostile" to Donald Trump in the 12 weeks following the party conventions when Donald Trump was named the Republican nominee, and Hillary Clinton was named the Democratic nominee, suffered a mass meltdown, live on air, following the final election results.

After President Trump was inaugurated that pattern continued, where networks provided 82 percent "negative" coverage of the President in just his first hundred days.

It wasn't until after the 2016 Presidential election that some pundits finally admitted that they knew how "hated" Hillary Clinton was in the heartland, but they deliberately chose to "underplay" the truth to their audience, literally keeping them uninformed, which is largely why liberals, NeverTrumpers, and media pundits themselves that had started believing their own "fake news," were so blindsided by Trump's electoral victory.



Reactions hit the height of absurdity with the creation of an alternate reality website, where every report pretends that Hillary Clinton was elected the President. They pretend that Huma Abedin is the White House chief of staff under "President" Clinton, and that Hillary has decided to run for "re-election" in 2020, and a whole host of other entirely fake news.

ONE YEAR LATER.......THEY ARE STILL SCREAMING

As Stefan Stanford reported back on October 22, 2017, liberals have planned an event for the election anniversary to "scream helplessly at the sky," in what he dubbed a "Mass Demonic Possession," where they plan to join together in multiple cities across the country,  including New York, Boston, Philadelphia, Miami, Dallas, and Austin, to scream their "frustrations."


"Join us cucks and snowflakes, safe spacers and libtards, as we enjoy a collective cathartic yell into the heavens about our current political establishment," organisers of the New York event wrote.

The organizer of th NYC screamfest event, actually put out a pretend interview, with himself.... (yes, he asked smart-aleck questions, then answered his own questions), but in that piece on Medium, he explained why he is doing this, stating "I can't keep up with it all. Every time I think of the laundry list of social injustices on top of my own sh*t like my actual laundry I get overwhelmed. Every news notification on my phone is a reminder of something over which I am powerless. And I think a lot of people feel that way. So f**k me for thinking it'd be nice to yell about it."

Reports indicate that others are planning to attend the collective liberal temper tantrum event, just to laugh at them all "screaming helplessly at the sky."

Note- Please feel free to share any videos and images captured from tonight's events in the comment section below, as we celebrate the Deplorable anniversary....  and they scream.

Not quite sure what screaming at the sky is meant to accomplish, perhaps some praying could help him with his "laundry" list of complaints and anger issues, but then we see there is a counter protest,  where the organizer is asking people to "Praise God that HRC is not our President, Praise God for President Trump," also asking folks to "Pray for him, his cabinet and his family."


The libs event made Fox news, let's protest their event by praying and praising the Lord.


Date of Event: Wednesday, 8 November, 2017
Time of Event: Nov 8 at 12 AM to Nov 9 at 12 AM
Address:Where you are, because you have a job and a life
City: All Cities

Compare those two events, which clearly separates the wheat from the chaff, where one is asking people to praise God, pray for others, and the other is inciting even more frustration, anger, denial, hatred and admitting they are "helpless," which is why they are going gather together and collectively scream at the sky this evening.

The profound contrast between the two descriptions clearly shows that the divisions in America are not just about politics or culture but goes far deeper into the victimhood mindset that has taken over certain segments of society, where screaming helplessly replaces praying for strength to overcome adversity, where anger and frustration replaces the will to move forward and accept reality and work towards change.

#THANKYOU HILLARY TRENDS

Despite the recent revelations and newly reported on Clinton scandals, including the dirty dealings that were part of the Uranium One deal, the direct funding of the Kremlin generated "Trump dossier" by the Clinton campaign and the DNC, and the bombshell report by former DNC interim chair Donna Brazile about how Clinton took control of the DNC before she was nominated, Clinton supporters have started a Twitter hashtag, which is now trending, #ThankYouHillary, and predictably, conservatives have hijacked it to "thank" her as well."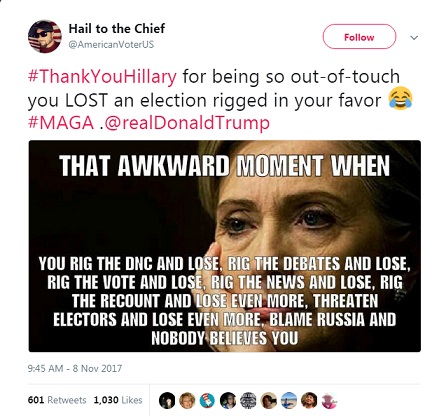 BOTTOM LINE

So ladies and gentlemen, it is one year later and President Trump has made decisions his supporters have loved, some decisions his supporters have criticized and has continued to dominate the headlines as the MSM continues to bash him daily, but no one can take away from him the fact that he helped save the country from a Hillary Clinton presidency, despite the fact that the media, liberal pundits, the Democratic and Republican establishment, all fought tooth and nail against him until the bitter end.

He upended the entire political process and overcame incredible odds to become the 45th President of the United States of America.

As liberals across the country gather together to scream helplessly, we at ANP would like to say "Happy Anniversary Deplorables," and join with the other event organizer in praising God.

Last word goes to President Trump:


One year ago today, the Silent Majority united by the millions to topple a self-serving political class that put the interests of American citizens dead last.

The media said we could never do it. And they still think our agenda is "too bold" for our country. But they are WRONG. There is NOTHING too bold for America.

Since Inauguration Day:

✔ ISIS had their capital LIBERATED
✔Justice Gorsuch was appointed to the Supreme Court
✔Illegal border crossings are at HISTORIC lows
✔The stock market has hit all-time records
✔Fewest joblessness claims in 44 years
✔Refugee cap is LOWEST since 1980
✔1.5 million Americans off food-stamps, now self-sufficient

We are ONLY getting started. There is SO MUCH more to do. And we will get it done -- even if it means firing every liberal Senate obstructionist, we will do it -- believe me.

So where are the Democrats during this new era of greatness? Well, today, Democrats in all the major cities are planning to go into the streets and literally scream at the sky in protest of our victory -- you can't even make this stuff up, Friend.

Thank you and God bless America,

Donald J. Trump - President of the United States
Help Keep Independent Media Alive, Become A Patron for All News PipeLine at https://www.patreon.com/AllNewsPipeLine



comments powered by

Disqus