Whatfinger: Frontpage For Conservative News Founded By Veterans

"The Best Mix Of Hard-Hitting REAL News & Cutting-Edge Alternative News On The Web"
May 20, 2016
Target Now Suing A Hero Who Saved The Life Of A Child  

Amidst Stock Market Plunge Over Dangerous Policy Of Allowing Males Into Female Bathrooms



By Susan Duclos - All News PipeLine

Target has a huge optics problem, all due to their management and corporate decisions, first by inserting themselves into a national controversy over transgenders being allowed to use bathrooms of the opposite sex, which caused a massive boycott petition drive which has reached over 1.2 million signatures.

Then a man decided to test this policy in a video that went viral but was later removed from YouTube, but was mirrored. He went into a Target store in St. Petersburg, Florida, asked if he could use the women's bathroom because he was "uncomfortable" using the men's room and was told by store personnel he could use the women's bathroom.



If those optics aren't bad enough, another man was harrassed  for guarding the door while his daughter was using the restroom, then ordered to leave and being told that cameras and filming are not allowed in their store. As shown in the two short videos below, the man was polite, courteous and explained clearly that he was protecting his daughter's right to privacy.

See below:






TARGET SUES HERO

Now we see in what has to be the worst timing ever for Target, another corporate decision is making headlines over at ABC newschannel 9, and they have filed a lawsuit against a man, Michael Turner, who in 2013 was credited with saving the live of the then-16 year old Allison Meadows, after she was brutally attacked at a Target store and stabbed by a man named Leon Walls, who has since been convicted of attempted homicide of Miss Meadows.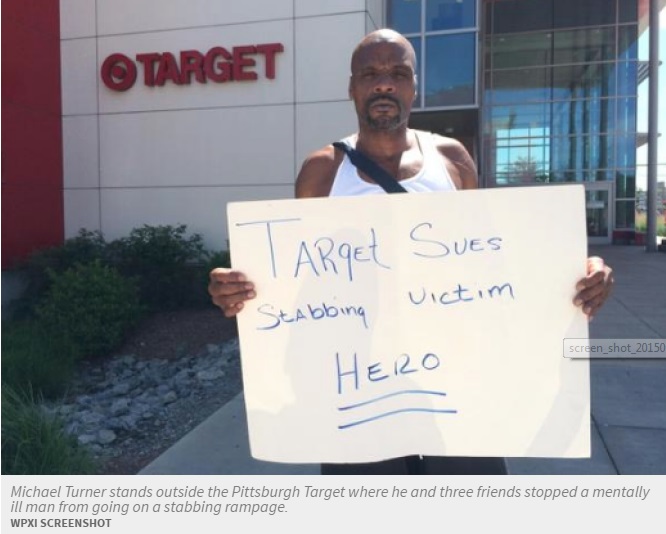 Walls had stabbed another person before entering the store and Turner, along with three other men, learned Walls entered the Target and followed him in to keep him there until police arrived,  Walls then grabbed Meadows and stabbed her twice before the men jumped him and stopped him from inflicting more damage.

Security footage from the store shows Walls grabbing Meadows and stabbing her before Turner tackles the knife-wielding perp and chases him out of the store with a baseball bat.



Meadows and her family vehemently disagree with Target's legal assault on Turner, calling Turner's actions heroic and crediting them with preventing Meadows' murder. The Meadows family has sued the store, claiming that the retail company had inadequate security, and alleging that the store, by suing Turner, is just trying to blame someone else for Target's own refusal to protect the safety and security of its customers.



"Suing Michael Turner is just Target's way of trying to blame someone else for what happened under their own roof," an attorney for the Meadows family said, "The family certainly doesn't blame Mr. Turner and they are thankful he was there that day."


For those that wish to address any of the above issues with Target, contact information below:

Customer service: 1 (800) 440-0680
Online contact form at https://corporate.target.com/press/contact-us
Contact page at https://contactus.target.com/ContactUs?Con=ContactUs&lnk=fnav_t_spc_1_28
Target corporate contact page with email and coporate direct phone # at https://corporate.target.com/press/corporate
Target on Twitter
Target on Facebook 

Also sign the Target Boycott Petition

TARGET STOCKS PLUNGE AFTER ANNOUNCEMENT OF NEW BATHROOM POLICY

Targets claims that their stocks took a massive dive after the release of their 2016 Q1 Report showing their sales had decreased, saying "It's been a very wet and cold start to the year in the Northeast and it's been reflected in our sales," but a look at Target's stock chart for the last month, since they announced their transgender bathroom policy, seems to argue the point that the boycott movement against them has done serious damage.

Target's policy announcement was released on April 19, 2016, which stated in part, "In our stores, we demonstrate our commitment to an inclusive experience in many ways. Most relevant for the conversations currently underway, we welcome transgender team members and guests to use the restroom or fitting room facility that corresponds with their gender identity."

By May 19, 2016, one month after announcing their bathroom policy, stocks had dropped by double digits as shown in the chart below: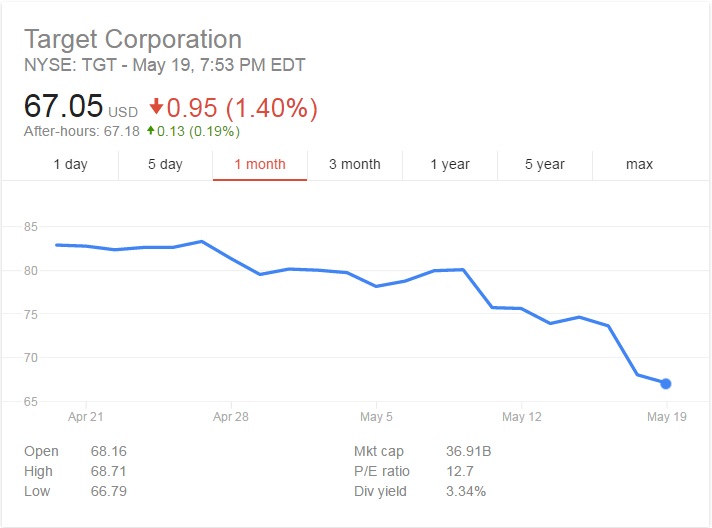 BOTTOM LINE

Despite claims to the contrary and Target's excuse to investors that "weather," and the economy is to blame for a decrease in sales, as well as the liberal media claims that it was after their 2016 Q1 Report that stocks started plunging, the chart above shows clearly that by the second week after news of their new bathroom policy filtered through the media and public that they were going to allow men, not just transgender men, but ANY man, to use the women's bathroom, and the boycott started gathering steam, along movements such as  #FlushTarget, stocks consistently went downward.

Note- While LGBT activists assert that those opposed to policies such as Target's new bathroom policy are homophobic, and discriminatory, the fact is that sexual predators can use those dangerous policies in order to sexually assault members of the opposite sex.

Case in point: There was a hearing held on May 2, 2016 for Matthew Foerstel, who was was arrested on April 23, 2015 for secretly filming women in a Target dressing room. According a reported updated in April 2016, "In 2013, Foerstel was convicted of invasion of privacy in St. Charles County for "knowingly and intentionally" filming an 11-year-old girl while she was partially nude inside a department store dressing room."

Target's new policy has just made it easier for these types of crimes rather than increasing security to prevent them.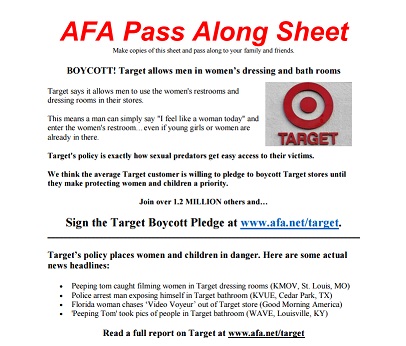 comments powered by

Disqus