Whatfinger: Frontpage For Conservative News Founded By Veterans
"The Best Mix Of Hard-Hitting REAL News & Cutting-Edge Alternative News On The Web"
June 17, 2016
#ShootBack Campaign Goes Viral As Orlando False Flag Backfires Against Gun Control Advocates
Gun sales surge among gays, lesbians after Orlando shooting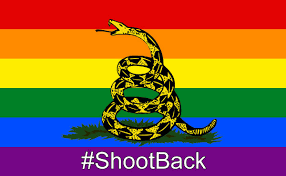 By Susan Duclos - All News PipeLine

USA Today reports that after 14 mass shootings that have occurred during Barack Hussein Obama's presidency, he has made 14 speeches, but ABC News lists the number at 15. The Last Great Stand claims that mass shootings under Obama has risen 700 percent, while NowTheEndBegins lists the number at 23 mass shootings during Obama's two terms.

The difference in those numbers from others is how the individual publication defines "mass shootings," but the bottom line point is that there has been an inordinate amount of mass shootings during the presidency of one the most anti-Second Amendment presidents in modern history, and during each of his speeches regarding them, he has pushed for gun control rather than addressing the issues in regards to the people committing this heinous acts.

TOTAL INCOMPETENCE OR FALSE FLAG?

Is it just a coincidence? That is a question readers can discuss below, but many think these shootings have either been planned, or at the least fascilitated by the Obama administration, in what is referred to as a "false flag," event in order to provide him with a platform to push his ideological agenda to disarm Americans.

Consider the fact that in the last two terrorist attacks on U.S. soil, both in the San Bernardino, CA. mass shooting and the most recent in Orlando, FL, which killed 49 people and injured over 50 others, the perpetrators had pledged alliegiance to the terror group ISIS, and had been investigated  and/or "vetted" previously by government agencies and were not stopped, while Obama continues to import more radical Islamics into the U.S.

Obama is either leading the most incompetent administration in history or many of these events are false flags in order to continue his push for gun control and ultimately gun confiscation.

ORLANDO FALSE FLAG BACKFIRES AGAINST OBAMA AND GUN CONTROL ADVOCATES

Obama's initial remarks after the Orlando terrorist attack are extremely telling, as he first claimed "We've reached no definitive judgment on the precise motivations of the killer," despite news reports that came before that speech, showing that the killer informed authorities that he "swore alliegeiance to ISIS."

The reason Obama needed to pretend they didn't know the "motivation" was so he could frame the official narrative as a hate crime against the LGBT community rather than a terrorist attack by a radical Muslim, as shown by his next comments from his initial speech:

This is an especially heartbreaking day for all our friends -- our fellow Americans -- who are lesbian, gay, bisexual or transgender. The shooter targeted a nightclub where people came together to be with friends, to dance and to sing, and to live. The place where they were attacked is more than a nightclub -- it is a place of solidarity and empowerment where people have come together to raise awareness, to speak their minds, and to advocate for their civil rights. 

So this is a sobering reminder that attacks on any American -- regardless of race, ethnicity, religion or sexual orientation -- is an attack on all of us and on the fundamental values of equality and dignity that define us as a country.

Then Obama gets to the whole point of his speech, stating "Today marks the most deadly shooting in American history. The shooter was apparently armed with a handgun and a powerful assault rifle. This massacre is therefore a further reminder of how easy it is for someone to get their hands on a weapon that lets them shoot people in a school, or in a house of worship, or a movie theater, or in a nightclub. And we have to decide if that's the kind of country we want to be. And to actively do nothing is a decision as well."

The problem for Obama this time is the Orlando massacre happened in the middle of the night and the information had already been reported, everyone knew that Omar Mateen, son of Afghan parents, a devout Muslim, had targeted the Pulse nightclub.

The LGBT community has overwhelmingly supported Obama and Democrats across the board, specifically on the topic of gun control, always jumping on the "gun control" bandwagon after each and every mass shooting.... until now.

Since the Orlando shooting, membership in The Pink Pistols, which is a gay, lesbian national gun club has soared, going from approximately 1,500 members on Saturday to 3,500 members by Monday. Gun shop owners are saying there is also a "surge" in sales among gays and lesbians, stating "For this time of year I'd say its three to four times what we normally have."

Fox Business reports that the guns obama is targeting, the AR-15's are flying off the slves at $500 a pop, with Adventure Outdoors Owner Jay Wallace, stating "[People] are afraid that the government is going to take [guns] away and there are folks that are in fear because of the times that we are living in today and those are two big reasons."

Perhaps the biggest, most clear sign the Orlando massacre and Obama's subsequent attempt to garner support from his most trusted demographic, the LGBT community, has backfired, comes from the #ShootBack campaign being popping up all across West Hollywood, California, with signs depicting a coiled, striking rattlesnake, closely resembling to the yellow Gadsden flag that reads "Don't Tread On Me" and often is used by the Tea Party movement, on rainbow colors.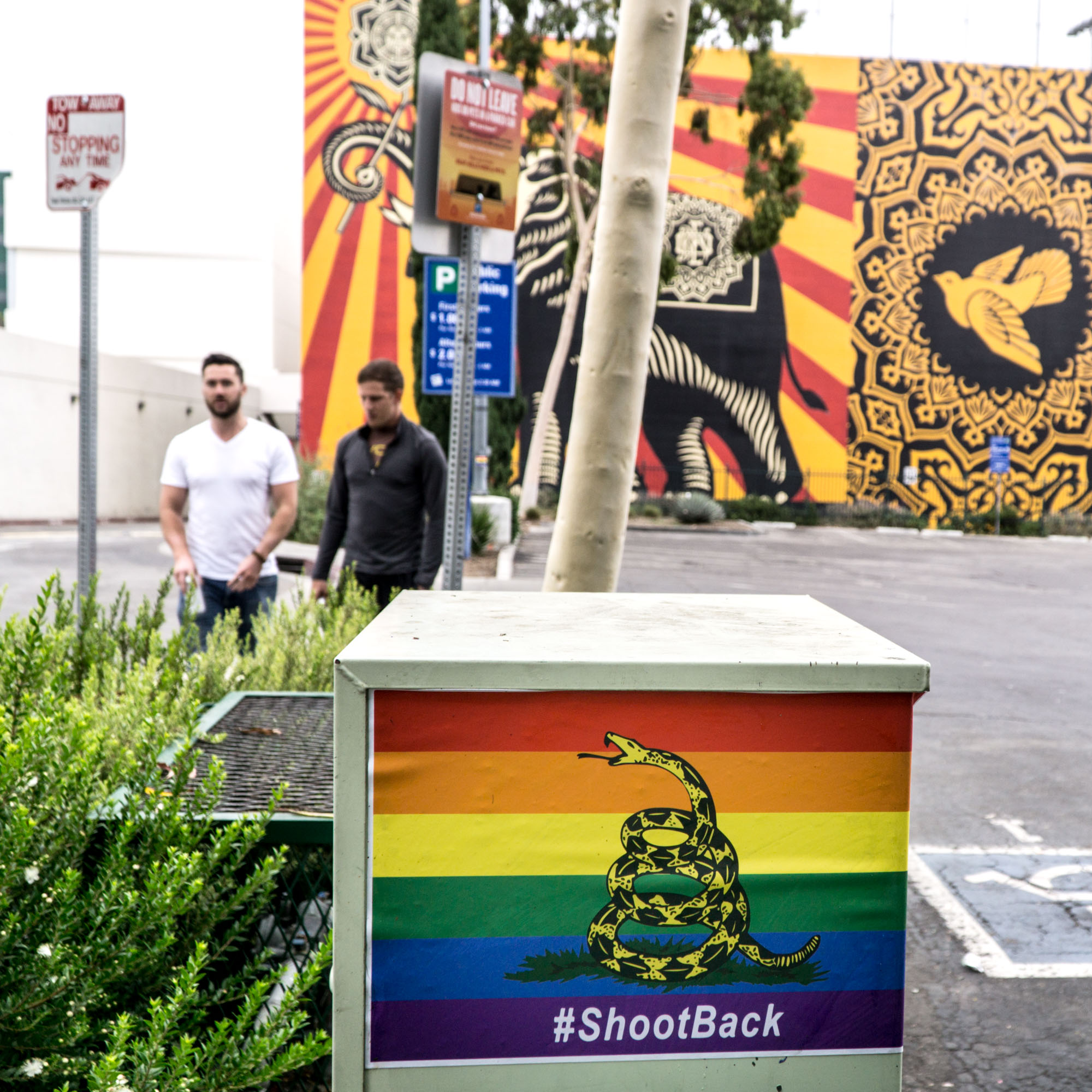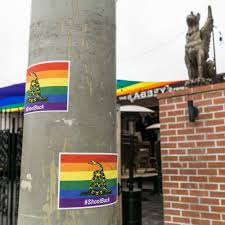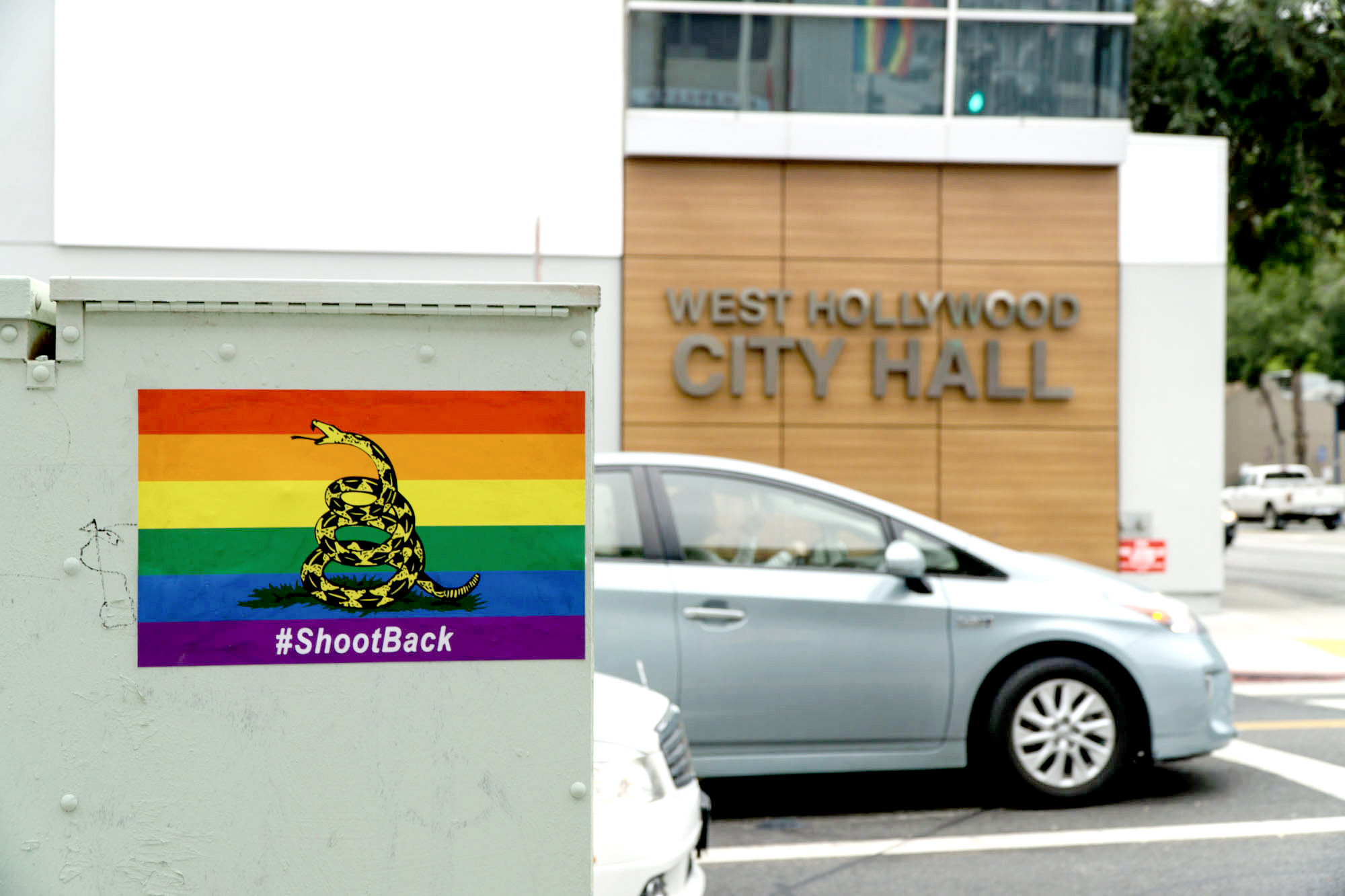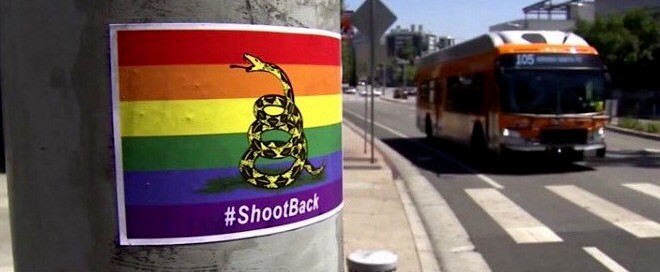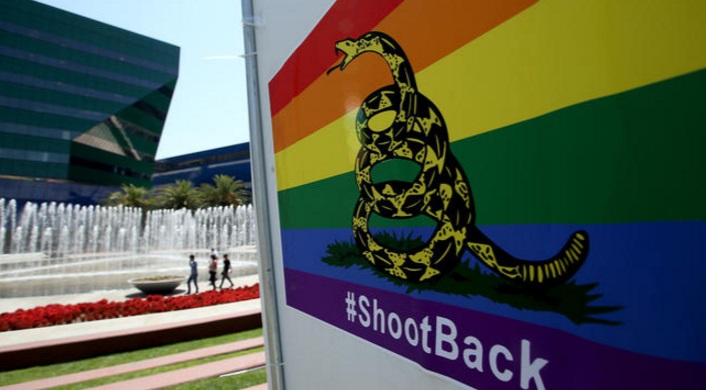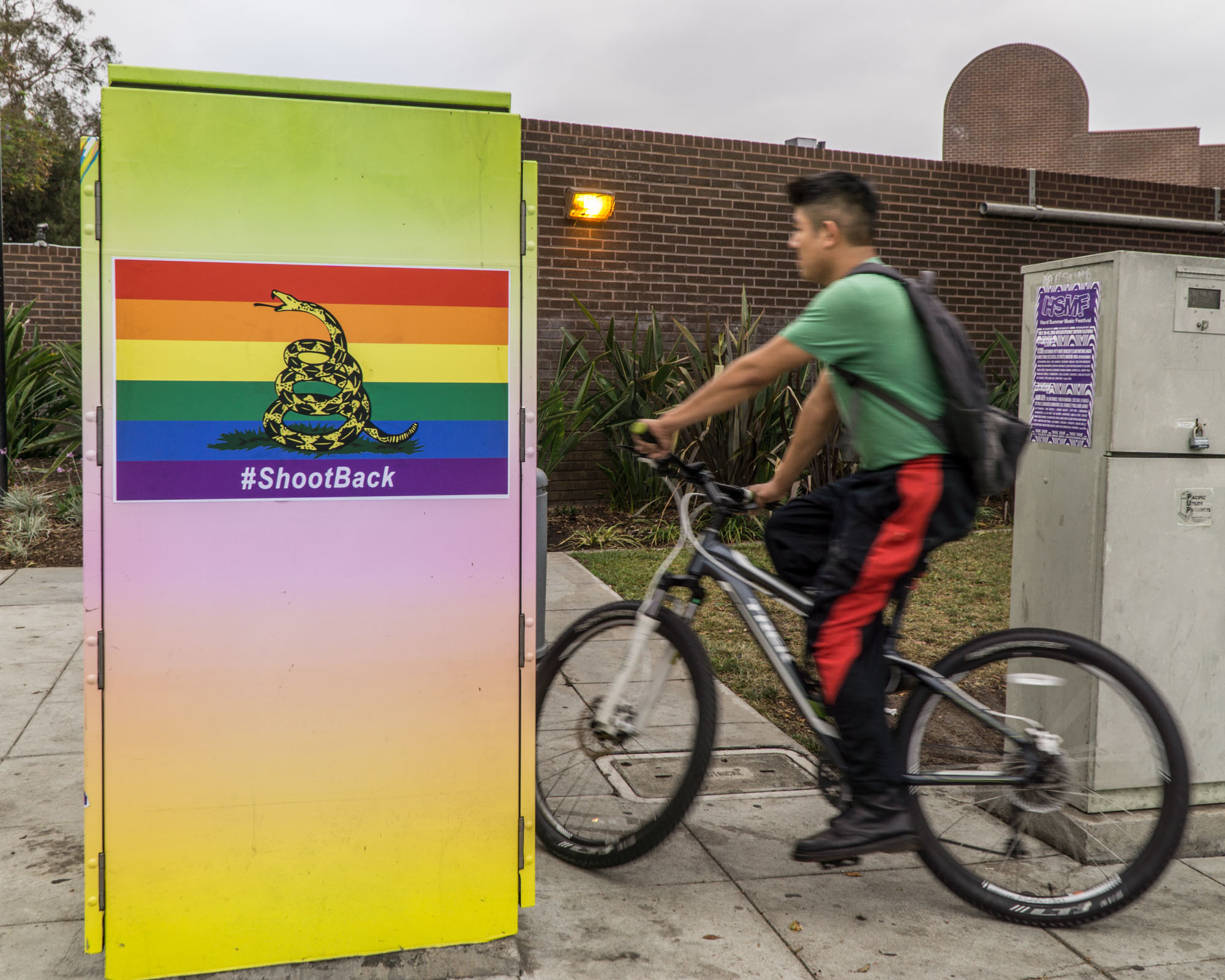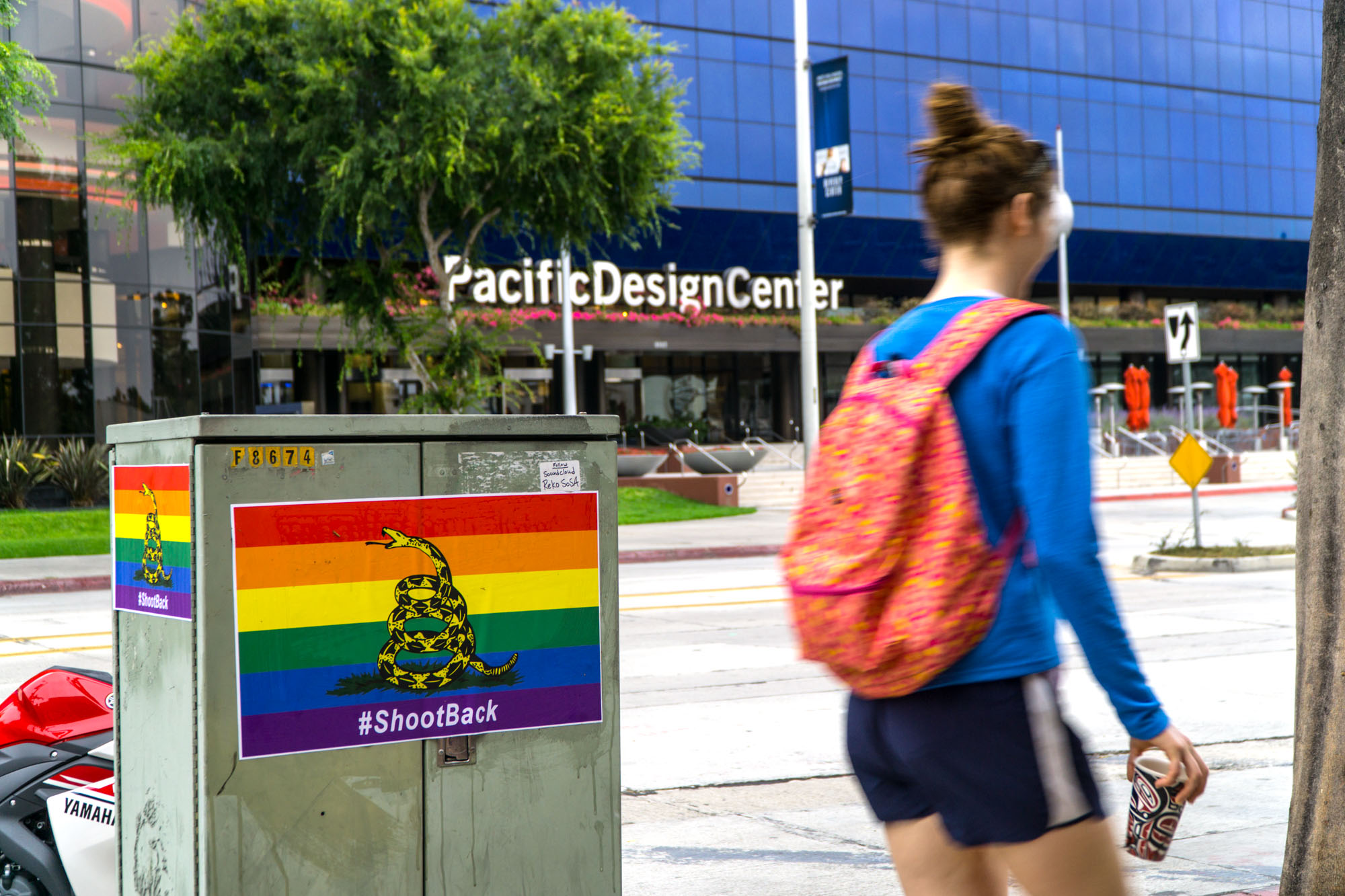 Of course California officials, being some of the most anti-Second Amendment gun grabbers in existence, are "disturbed" by these signs and the campaign which is going viral, with West Hollywood Mayor Lauren Meister, stating "We don't believe in an eye for an eye, and we advocate against gun violence."

Newsflash for the Mayor, the very term "shoot back" rather than "shoot first" is advocating defense, not violence, and Americans have the right to defend themselves and their families.

Via LA Times:

Capt. Holly Perez of the Los Angeles County Sheriff's Department West Hollywood Station said she first noticed one of the rainbow #ShootBack signs Wednesday night as she was running along Santa Monica Boulevard. She was surprised, initially thinking it was just something leftover from Sunday's L.A. Pride parade and "a fluke."

But then she kept seeing them — in the public right of way and on private property — and alerted others in the Sheriff's Department.

"I understand the sentiment behind them and 1st Amendment rights, but it's a bad message," Perez said. "I hope it's just people venting that they could do this, and I'm hoping their calmness will take over. It's our job to keep you safe."

Really?? Encouraging people to depend on law enforcement to keep them safe didn't work out too well in San Bernardino, nor Orlando and discouraging people from arming themselves and preparing to defend their own lives while waiting for the cops to arrive, is asking them to put a huge target on their own backs!

ISIS is now encouraging their supporters to attack "movie theaters, hospitals, airports, trains, amusement parks and restaurants," and the CIA Chief is warning Americans that ISIS plans to intensify attacks, yet gun grabbers are telling Americans, trust us to keep you safe, after seeing how ineffective those same officials are at doing their jobs?

"I understand that people want to fight back after Orlando," Perez said. "But there are ways to do that without a gun."

I beg to differ.... when a terrorist is shooting at you, the best defense is to be trained in the use of a firearm, and to #ShootBack, hiding doesn't help as the victims that were hiding in the bathroom of Pulse in Orlando are evidence of, using your body to attack someone shooting at you is suicidal... what does Perez think, that talking to them while waiting for authorities to arrive, is going to save lives????

A street artist in Los Angeles who said he is a spokesman for the group responsible for the posters, Sabo,  spoke exclusively to PJ Media, stating "it's important that people know that this image came out of the gay community."  He then adds "Continuing to deny where the threat is coming from will not help keep this community safe. The gay community needs to realize that the police are there to respond, not protect."

Spot on!

By the way, it isn't only signs, there are also #ShootBack T-Shirts being sold that say " #ShootBack" and "An Armed Homosexual Is A Dangerous Homosexual - Shoot Back."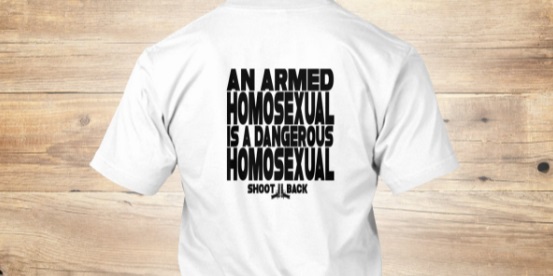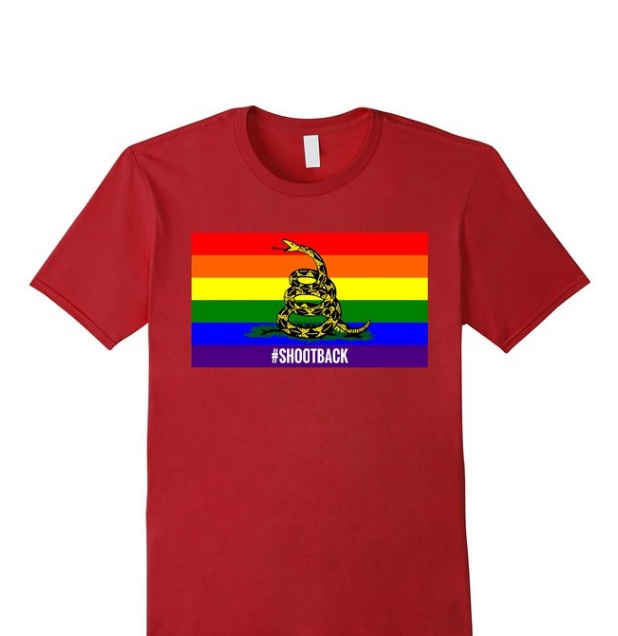 BOTTOM LINE

It isn't that local law enforcement aren't doing their jobs, but they have no way of knowing where the next attack is going to be and once informed where an attack is occurring, they are "responding," which in an of itself includes a number of steps like getting to the scene, getting SWAT activated, negotiating if there are hostages still alive.... all the while people are dying while waiting for those responses.

Americans need to be armed, trained to use those weapons and prepared to defend their lives and those around them, they should not be left disarmed, defenseless and sitting ducks.

It is about time the LGBT community understand that when it comes to a choice between keeping them safe or standing with radical Islamics, Obama will choose the terrorists every time.











comments powered by

Disqus