Whatfinger: Frontpage For Conservative News Founded By Veterans
"The Best Mix Of Hard-Hitting REAL News & Cutting-Edge Alternative News On The Web"
September 22, 2015
Something Strange Is Happening! Widespread Outages Across A Variety Of Platforms And A Very Eerie Verizon Commercial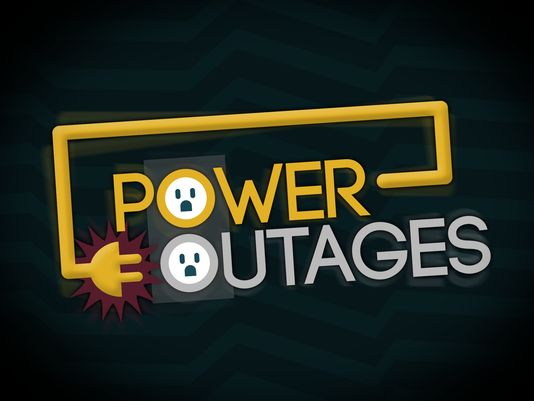 By Susan Duclos - All News PipeLine


[UPDATE] New March 29, 2016 - Strange Internet Outages All Across America - Verizon, Comcast, Cox, Charter, AT &T And More

Multiple power outage reports from California in the month of September, all blamed on a variety of causes, another in Alabama with cause listed as "unknown,"  have left tens of thousands of people without power, and in the midst of these reports, Verizon publishes their new commercial with some very strange wording. That is just the tip of the iceberg of the "coincidental" outages reported recently over a variety of platforms.

Back in December 2013 it was finally made public that the previous April there had been a terrorist attack on a California Power station. The initial report was from Foreign Policy, with later reports from the MSM  in February 2014, but it left the many wondering why it took months before the public was informed.

Flashback:

When U.S. officials warn about "attacks" on electric power facilities these days, the first thing that comes to mind is probably a computer hacker trying to shut the lights off in a city with malware. But a more traditional attack on a power station in California has U.S. officials puzzled and worried about the physical security of the the electrical grid–from attackers who come in with guns blazing.

Around 1:00 AM on April 16, at least one individual (possibly two) entered two different manholes at the PG&E Metcalf power substation, southeast of San Jose, and cut fiber cables in the area around the substation. That knocked out some local 911 services, landline service to the substation, and cell phone service in the area, a senior U.S. intelligence official told Foreign Policy. The intruder(s) then fired more than 100 rounds from what two officials described as a high-powered rifle at several transformers in the facility. Ten transformers were damaged in one area of the facility, and three transformer banks — or groups of transformers — were hit in another, according to a PG&E spokesman.

In July CNN reported that vandals had cut San Francisco area fiber optics lines for the 11th time in a year and last week USA Today reported that two AT&T fiber optic cables in the Livermore, Calif. were severed as well calling it "the latest in a string of attacks against the Internet's privately run backbone."

CALIFORNIA POWER OUTAGES - SEPTEMBER 2015

A look at CBS Los Angeles Power Outage page shows a slew of outages over the month of September all with different and seemingly innocuous reasons, with yet another report on September 21, 2015, this time from  ABC News reporting that "than 7,700 Southern California Edison customers were without power Sunday night after two separate transformer fires broke out in Montebello and Manhattan Beach."

A screen shot of Southern California Edison's latest updated graph of outages, last updated on September 22, 2015, is shown below.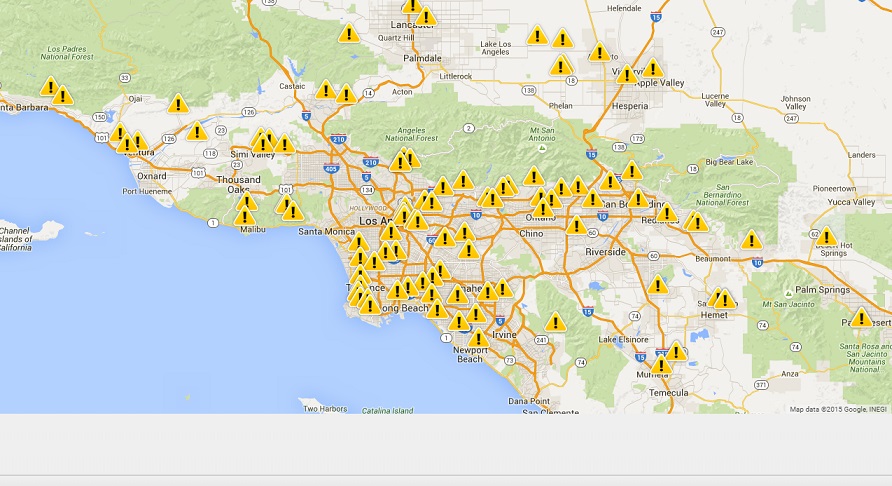 (

SCE Outage Map Updated September 22, 2015

)



On September 20, 2015, according to ABC 10 News, a "fluctuation in the statewide power grid resulted in an order to San Diego's electric utility to reduce power consumption, and up to 90,000 San Diego Gas & Electric customer accounts lost power Sunday."

According to ABC 10 News Twitter account, the cause is listed as a "generator that stopped working in the San Diego area."





At 2:45 p.m., SDG&E said it had cut power to 3,140 accounts in Claremont, 2,154 accounts on the south and east sides of Escondido, and 1,586 in the Fallbrook and Bonsall areas.

Most of the other areas affected were in Encinitas and Escondido. Other outages were near Fallbrook.

On its Twitter feed, the utility said its call center was getting large numbers of calls. But phones were unanswered at the SDG&E media office, and other than the Tweet there was no official reports of unusual problems.

Fox News 5 reported that 115K were left powerless.

Other reports via Twitter were showing stores, reportedly dozens, had to close due the outage.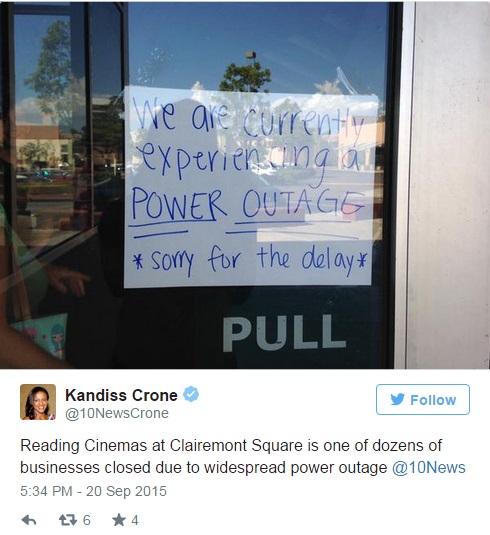 OTHER OUTAGES

Alabama has also suffered a recent "massive power outage" across Madison County, official cause listed as "unknown, according to 48 WAFF.

It is not just power outages being seen either as North Carolina suffered a huge cell phone outage on September 21, 2015, with reports indicating "some customers reported service coming back after 8 p.m., Verizon said the issue wasn't completely resolved until 9:30 p.m. - some six and a half hours after it began." They would only say it was a "connectivity" issue. Strangely enough it affected phone calls but texting services were still functional.

Before detailing other outages across a number of platforms, perhaps now would be the time to take a look at a very short, new Verizon commercial, where we are informed that "Verizon has back up generators for most of their towers, so their ready if the power ever goes down."



Note they don't refer to a short power outage but specifically say if the 'power ever goes down' and with all the talk of EMP's, attacks against our grids, and the slew of outages being reports just in the month of September, in conjunction with the date of this release being September 10, 2015, and then Verizon themselves suffering a Triangle outage.... well, seems a little ironic.

Then we have the fact that Skype was down in multiple countries on September 21, 2015, with Skype saying the identified the issue and had restored service, but initial reports did not specify a reason why.

The Skype outage occurred just hours after 

 

The Next Web reported that an Amazon Web Services location in Virginia broke down, forcing some of the world's most popular services, including Netflix, AirBnB and Viber, offline.  (Source)

BOTTOM LINE

From one end of the country to the other, strange outages have been occurring from phones to power to Internet, which could be explained a variety of ways.... either our infrastructure is deteriorating at a rapid pace, or these are all "coincidental" or we are seeing a coordinated attack against America and once again our government isn't telling us the full extent of the attacks.

Take your pick.







comments powered by

Disqus