Whatfinger: Frontpage For Conservative News Founded By Veterans

"The Best Mix Of Hard-Hitting REAL News & Cutting-Edge Alternative News On The Web"
May 6, 2018
Second Judge Slaps Mueller Down - Transcript Obtained Of Judge Ripping Mueller Case And ANOTHER Judge Rejects Special Counsel Motion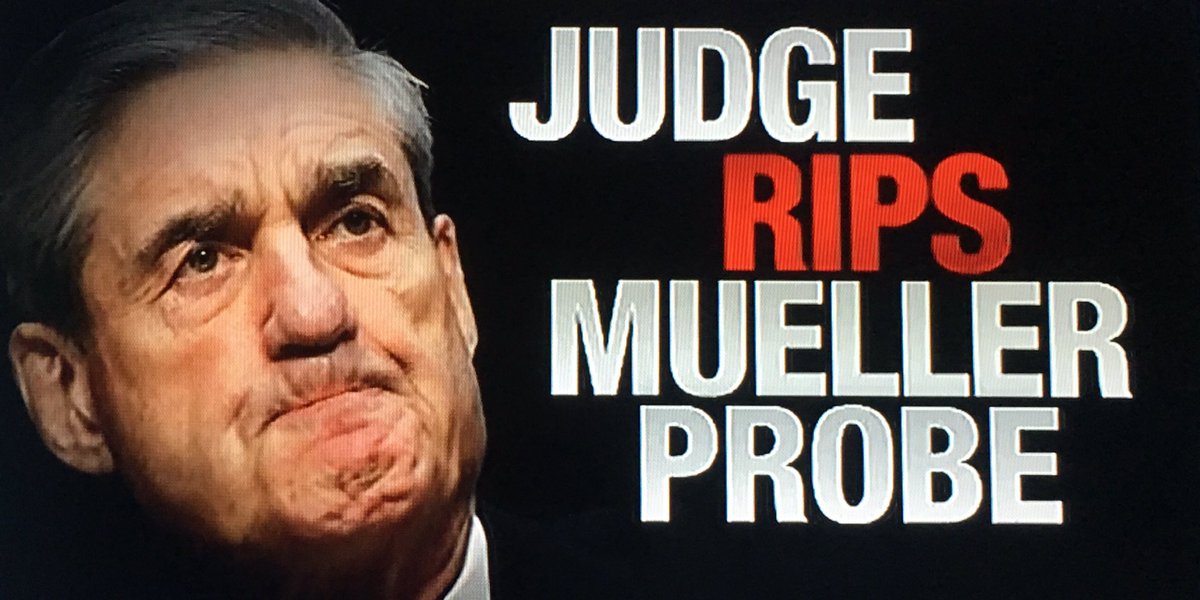 By Susan Duclos - All News PipeLine

On Friday, May 4, 2018, ANP highlighted some choice quotes by federal judge, Judge T.S. Ellis, aimed at one of special counsel Robert Mueller's prosecutors during a hearing for a motion to dismiss by Paul Manafort, where the judge accused the special counsel's office/DOJ of lying to the public in their initial announcement laying out the parameters and scope of what Mueller was allowed to investigate. The judge also called them out on their attempt to grab "unfettered power," and other highly critical comments aimed towards how team Mueller has been conducting themselves.

We have the transcript of that entire proceeding and it is far harsher than the initial quotes that were previously reported when those quotes are seen in context. That transcript will be embedded towards the end of this article.

Now we see another judge has just rejected a motion to delay made by team Mueller in what has been dubbed the "Russian troll farm" indictments.

COURT REJECTS MUELLER'S ATTEMPT TO DELAY 'RUSSIAN TROLL FARM' CASE

On the heels of the harsh questions and assertions from Judge Ellis towards team Mueller, in another judge has sided with one of the defendants in what has been dubbed the "Russian troll farm" case, where in February it was announced that three companies and 13 Russian citizens had been indicted for committing federal crimes while seeking to interfere in the United States political system, including the 2016 Presidential election, with the DOJ press release claiming "The defendants allegedly conducted what they called "information warfare against the United States," with the stated goal of "spread[ing] distrust towards the candidates and the political system in general."

Note- No American indicted by Mueller to date has been charged with anything that fits under his original mandate of collusion between the Trump campaign and Russia, so the indictment against the Russian companies and 13 individuals was seen by many as an attempt to justify the millions upon millions the special counsel has spent in taxpayer money, while the special counsel knew that nothing could be done to the Russians because they couldn't be forced to show up in court, they couldn't even be arrested, and they were expected to simply ignore the entire proceedings.

One of those companies did decide to respond, by hiring two Washington based lawyers to represent them. Concord Management and Consulting LLC hired Eric Dubelier and Kate Seikaly, who demanded a number of discovery requests by the special counsel's office, which included information that has not been made public, to which they have received no reply by Mueller's team.

The initial hearing is slated for Wednesday, May 9, 2018.

Team Mueller had three options at that point, they could 1) Turn over the relevant documentation to Concord Management and Consulting LLC as part of discovery; 2) Withdraw the charges, and; 3) Attempt to get the judge assigned the case to agree to a motion to delay the first court hearing.

Mueller's prosecutor Jeannie Rhee, who formerly represented a top Obama aide and the Clinton Foundation, chose option three and asked the court to delay the proceedings, claiming they couldn't properly deliver the court summonses related to the case.

Via Politico:


"The [U.S.] government has attempted service of the summonses by delivering copies of them to the Office of the Prosecutor General of Russia, to be delivered to the defendants," prosecutors wrote. "That office, however, declined to accept the summonses. The government has submitted service requests to the Russian government pursuant to a mutual legal assistance treaty. To the government's knowledge, no further steps have been taken within Russia to effectuate service."

Mueller's team sent a copy of the formal summons to Dubelier and Seikaly and asked them to accept it on behalf of Concord Management, but Dubelier wrote back on Monday saying that the government's attempt to serve the summons was defective under court rules. He did not elaborate.

While the Politico quote says "he did not elaborate," in a filing that is embedded below, titled "DEFENDANT CONCORD MANAGEMENT AND CONSULTING LLC'S OPPOSITION SPECIAL COUNSEL'S MOTION TO CONTINUE INITIAL APPEARANCE AND ARRAIGNMENT," the elaboration is found, along with some attached emails between Mr. Dubelier and Mueller's prosecutor Rhee. 

Mr. Dubelier explains in that filing that "It is the Special Counsel's own fault that the summons was not properly served," given the manner of summons not complying with the law, proper protocol and DOJ regulations. 

As to the request by Mueller's team to delay the proceedings, Mr. Dubelier asserts "The Special Counsel is not entitled to special rules, and is required like the Attorney General to follow the rules of the Court," and continues with "The Special Counsel's motion, filed late on a Friday afternoon, essentially seeks to usurp the scheduling authority of the Court by requesting a continuance of a proceeding scheduled in five days knowing that Defendant is ordinarily entitled to fourteen days to respond."

Apparently U.S. District Court Judge Dabney Friedrich, a Trump appointee, agreed because she denied team Mueller's motion to delay the first court hearing.

Also on Page 3 of the PDF embedded below, the lawyers for Concord let it be known they would be asserting their "speedy trial" rights under 18 U.S. Code § 3161.



Concord Management Opposition to Delay Proceedings by Susan Duclos on Scribd



It should be very interesting to see what the Mueller prosecutor will do on Wednesday and how they plan to continue with a case when they are reluctant to follow the legal discovery rules, which are described by Dictionary.Law in the following manner:


n. the entire efforts of a party to a lawsuit and his/her/its attorneys to obtain information before trial through demands for production of documents, depositions of parties and potential witnesses, written interrogatories (questions and answers written under oath), written requests for admissions of fact, examination of the scene and the petitions and motions employed to enforce discovery rights. The theory of broad rights of discovery is that all parties will go to trial with as much knowledge as possible and that neither party should be able to keep secrets from the other (except for constitutional protection against self-incrimination). Often much of the fight between the two sides in a suit takes place during the discovery period.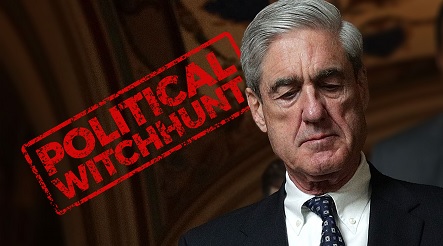 BOTTOM LINE

It appears that Concord, by hiring lawyers to represent them when no one actually thought the Russian firms or individuals indicted would bother with the proceedings at all, threw a monkey wrench into what team Mueller thought would be a slam dunk. Easy to win when only one side shows up to fight.

Now the Russian company has backed Mueller into a corner, forcing them to either put up (hand over discovery) or shut up (dismiss the case), and by attempting to get the court to delay the initial first court hearing on a technicality about summonses, it shows how unprepared they are to turn over the evidence they claim to have against Concord.

For those of us that have been watching Robert Mueller's apparent fishing expedition and his ever-expanding "powers" with Deputy Attorney General Rod Rosenstein allowing him to do whatever he wants without yanking on his leash and keeping him within the scope of his original mandate, it is satisfying to see two courts in the last week putting him and his team in their place. One verbally and one by rejecting their motion to delay, which didn't even follow DOJ protocol.

Robert Mueller has been walking all over the FBI, DOJ, and Congressional investigations, but it appears that the court system is not prepared to let him walk all over them without some harsh push back.

The entire transcript of the T.S. Ellis exchange with Mueller attorney and Manafort Attorney, below. Zero Hedge has some specific highlights offered by a New York attorney, who breaks down "the intense back-and-forth between Eastern District of Virginia Judge T.S. Ellis, a Reagan appointee, and Mueller attorney Michael Dreeben."

Judge Jeanine Pirro has some thoughts about those intense exchanges as well, in the video before the transcript.





U.S. v. Manafort - EDVA - Transcript of Hearing May 4, 2018 by Legal Insurrection on Scribd



NOTE TO READERS: 

With digital media revenue spiraling downward, especially hitting those in Independent Media, where attacks from every direction continue to come unabated, it has become apparent that traditional advertising simply isn't going to fully cover the costs and expenses for many smaller independent websites. 





Any extra readers may be able to spare for donations is greatly appreciated.







Correction to title added to reflect the transcript was obtained, not leaked since court proceedings are public.





comments powered by

Disqus