Whatfinger: Frontpage For Conservative News Founded By Veterans
"The Best Mix Of Hard-Hitting REAL News & Cutting-Edge Alternative News On The Web"
October 2, 2017
Something Strange About The Vegas Shooting As Death Toll Continues To Rise - Eerie Warning 45 Minutes Before Shooting Started: 'They're all around... You're all going to f***ing die today'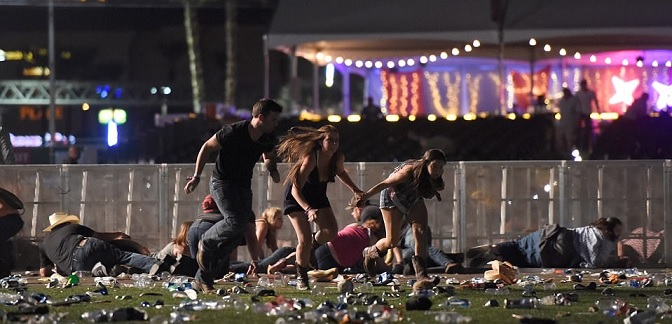 By Susan Duclos - All News PipeLine

After a mass shooting during a country and western concert, the Route 91 Harvest Festival in Las Vegas Village, initial reports said 20 dead, which rose to an "excess" of 50 and now we are seeing reports of 58 dead with over 400 injured. According to preliminary reports 64-year-old Stephen Paddock was found dead after police breached a room across the street in the Mandalay Bay Hotel, finding what they described as an "arsenal of weapons." Police then raided a Mesquite home he shared with Marilou Danley, and contacted her as a person of interest.

Those are the official reports so far, which claim this was a lone gunman, but according to multiple reports, approximately 45 minutes before the shooting, a woman described as "Hispanic," accompanied by a man, had been heard telling concert attendees "They're all around... You're all going to f***ing die today."

Via Daily Mail:


Witness Breanna Hendricks, who was in Vegas celebrating her 21st birthday, said: 'There was a lady who came running up behind us in the concert and she started to play with people's hair acting crazy and she told us that we're all going to f***ing die.

'She said they're all around us and we were going to die,' continued Hendricks, whose mom Shawn Hendricks also witnessed the startling altercation.

'She was Hispanic, probably about 5ft 5, brown hair. It felt like she had knowledge of what was about to happen, her and her boyfriend who was also Hispanic.

'The woman was saying her boyfriend couldn't breathe so they could get through the crowd. 'It seemed she was telling us to either warn us or she was part of it and she was telling us because she knew we were going to die, it was so scary.'


As more information comes out we claims of another shooter who was a recent convert to Islam.(Source)

[UPDATE] Via the AP, ISIS is claiming shooter converted to Islam, without providing evidence, but other attacks that ISIS has claimed responsibility for, have somehow ended up showing some connection.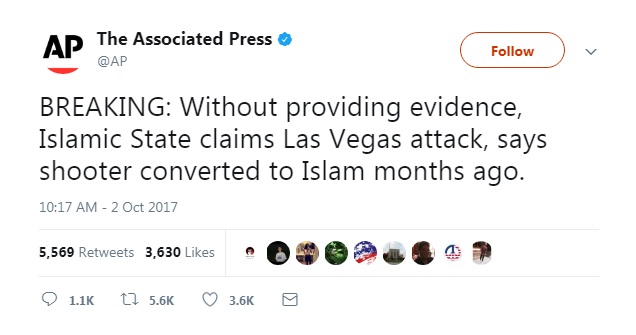 It is also strange that one again initial reports claimed multiple shooters, but official reports claim a sole person did this.

Video footage uploaded to YouTube shows the onset of the shooting, while music was still being played as the machine gun fire could be heard for a solid 11 seconds before the music stops and then there is a 43 second lull in the shooting before it begins again. After the next rounds of gunfire end, there is another 15 second lull before it begins again, as concert goers start to realize what is happening.

We are not sure how long YouTube will leave this video up, but we are embedding it below for as long as it remains available.



While social media is already full of liberals screaming for gun control, the video seems to indicate this was fully automatic weapon fire, the type of weapon that is already heavily regulated as explained by FireArm Blog:


The last piece of machine gun legislation is to many the coup de grace. In 1986 the Firearm Owners Protection Act was intended to prevent the federal government from creating a registry of gun owners. At the last minute, William Hughes added an amendment that called for the banning of machine guns. Charlie Rangel said that the "amendment in the nature of a substitute, as amended, was agreed to." However, after the voice vote on the Hughes Amendment, Rangel ignored a plea to take a recorded vote and moved on to Recorded Vote 74 where the Hughes Amendment failed. The bill passed on a motion to recommit. Despite the controversial amendment, the Senate adopted H.R. 4332 as an amendment to the final bill. The bill was subsequently passed and signed on May 19, 1986 by President Ronald Reagan. Thus, Reagan's signature banned the registration of new machine guns in the USA.

So what does this mean? This is where it gets complicated:

Machine guns are not illegal, but it is illegal to make and register new ones on a form 1 (as you would do for an SBR)

There is no way around the May 19th, 1986 date. if the machine gun in question was made after that date, you may not own it (unless you are a dealer)

Screaming for gun control, when the weapon used seemingly is already banned from civilians, is redundant and not at all helpful, it is just the knee-jerk reaction of all liberals that want to see all guns banned.

[Update] Astute readers are also asking how the gunman or gunmen, managed to get an "aresenal," with some reports saying at least 8 weapons and others saying 10, past the Manadalay Bay security. The Manadalay Bay is a resort and casino, as seen in the image below, it would be very difficult to not be spotted beinging an arsenal into this place.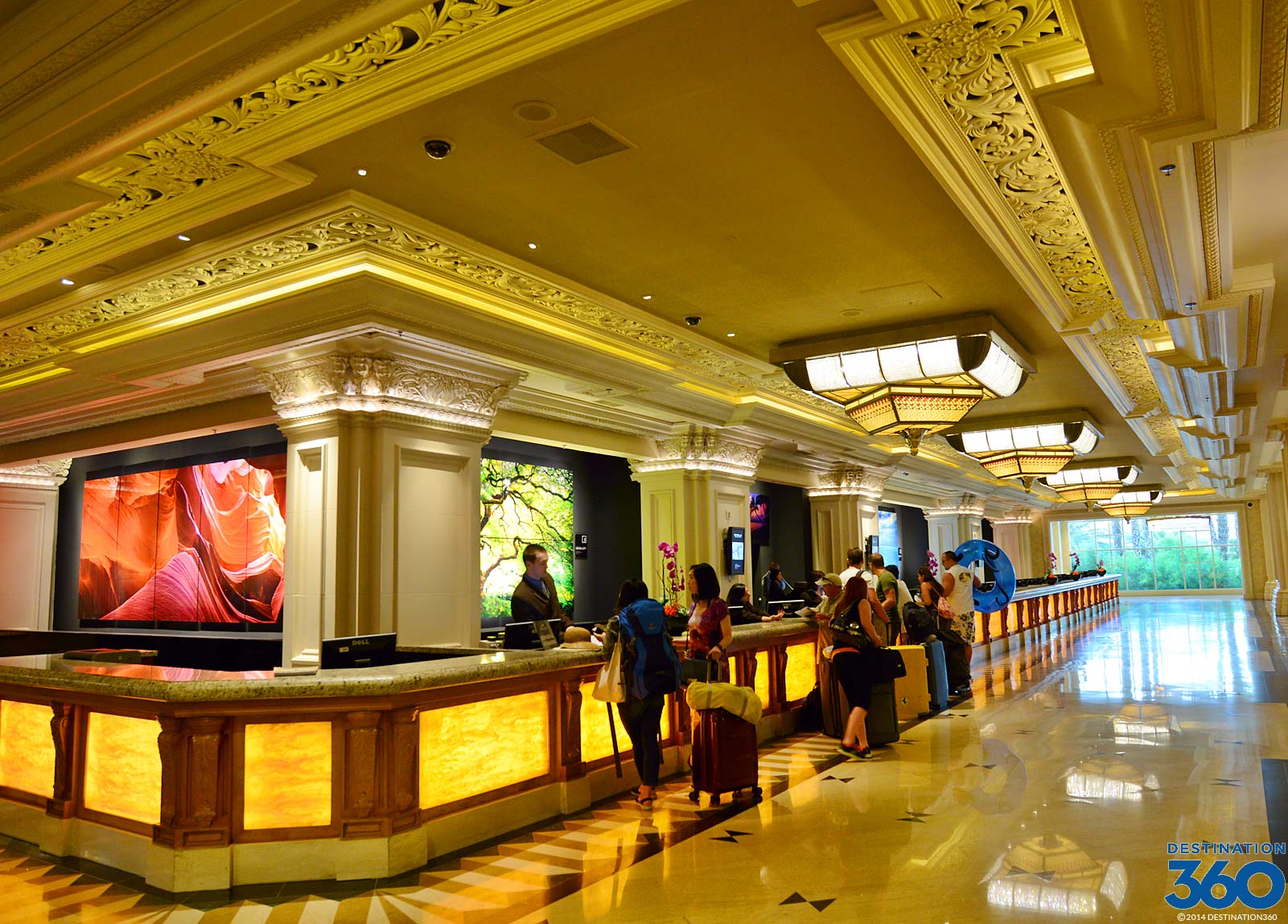 With over 50 dead and over 400 injured, it makes it quite difficult to accept this was the act of a lone gunman, despite the official LVMPD release, shown below. 

LVMPD Press release:


The Las Vegas Metropolitan Police Department identified the lone suspect involved in the latenight mass shooting on the Las Vegas Strip as 64-year-old, Stephen Craig Paddock, a white male from Mesquite, Nevada.

Paddock opened fire on a crowd of more than 22,000 concert-goers from his hotel room on the 32nd floor of the Mandalay Bay Hotel on Sunday evening at approximately 10:08 p.m. The victims were across the street attending the Route 91 Harvest Festival concert when bullets rang out. LVMPD SWAT responded to the call, breached the hotel room and found the suspect dead.

The Clark County Fire Department estimated that approximately 406 people were transported to area hospitals and 50 are dead following Sunday evening's shooting. Among the dead is an LVMPD officer who was off-duty at the time. His name is being withheld pending notification of next of kin. There were also two on-duty officers injured, one of whom was upgraded recently from critical to stable condition. The other sustained non-life threatening wounds.

This is still an active investigation. The Federal Bureau of Investigations is asking for anyone with videos or photos concerning the shooting to call 1-800-CALLFBI or (800) 225-5324. LVMPD and Clark County Coroner's Office have set up a hotline for family or friends to report a missing loved one connected to this incident. The hotline is only to take reports on missing people. The number is (866) 535-5654. LVMPD also opened up a family reunification center at its headquarters at 400 S. Martin L. King Blvd. in Building B.

The identification process of all of the injured and the deceased will take time, so authorities are asking the public for patience.


This article will be updated, corrected and edited as further information becomes available.

Live stream coverage below. 








Help Keep Independent Media Alive, Become A Patron for All News PipeLine at 

https://www.patreon.com/AllNewsPipeLine






comments powered by

Disqus