Whatfinger: Frontpage For Conservative News Founded By Veterans
"The Best Mix Of Hard-Hitting REAL News & Cutting-Edge Alternative News On The Web"
November 20, 2015
Inuit Elders Sound The Alarm As Government Cover-Up Intensifies While Strange Reports Pour In That Indicate The Elders Were Correct 'The Earth Has Shifted'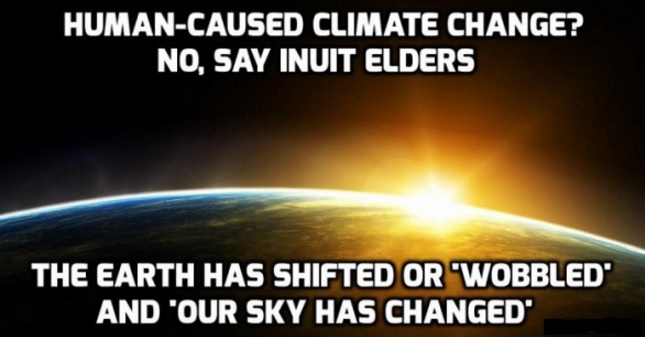 By Susan Duclos - All News PipeLine

Back in December 2014 ANP reported on a warning sent to NASA and the world by the Inuit Elders, who said that "their sky has changed," and that the earth has shifted, tilted or as they put it, "wobbled" to the north. The Inuits indigenous people that inhabit the arctic regions of Canada, the United States and Greenland and while not scientists, throughout history their very lives have always depended on being able to forecast the weather. The Inuit also warned that global warming isn't the cause of what we are seeing with extreme weather, earthquakes and other events.

OBAMA ADMINISTRATION  COVER-UP INTENSIFIES

In the year since that report we have seen evidence of a massive government cover-up occurring, specifically noting back in October 2015, reports of the U.S. government placing "gag orders" on the following agency employees, "The National Weather Service", the "National Oceanic and Atmospheric Administration", and the "US Department of Commerce," as was reported by Dane Wigington at Geoengineering Watch.

A report emailed to ANP this morning from a trusted source shows the government cover-up has intensified and is being noted and addressed by House Science Committee Chairman Lamar Smith regarding a climate report issued by the NOAA, over objections from its own scientists as whistleblowers have come "forward saying that NOAA fudged their Climate-Change report in order to meet political requirements."

A letter from Smith to Commerce Secretary Penny Pritzker, found here (PDF), dated 11/18/15 and republished below, shows the scope of the government cover-up and falsified reports, which doesn't just extend to keeping the American people in the dark, but Congress as well:



INCREASING INTENSITY AND FREQUENCY OF EXTREME WEATHER EVENTS

As was seen by reports that Hurricane Patricia was historically strong, described as the strongest ever in the Western hemisphere, as well Earthquakes throughout the world increasing in magnitude and frequency in conjunction with reports of increasing seismic activity across the globe, all of which is indicative of the Inuit Elders' warnings being entirely accurate, but which the "Global Warming" proponents would prefer to be blamed on "man-made" causes..... something is going on.

The gagging of the National Weather Service (NWS), the National Oceanic and Atmospheric Administration (NOA), and the US Department of Commerce, by Washington, gives serious credence to claims that the government is hiding something huge from all of us.

As evidenced by a SQ Alert over at Steve Quayle's website, we are also seeing a delay in reportage of Earthquakes as well as what some consider some serious under-reporting about EQ activities. The SQ Alerts shown below are dated November 19, 2015, the same day ANP had strange reports start pouring in from our regualr readers, which will be discussed a little lower in the article.

UNREPORTED EARTHQUAKES :it makes you wonder why they would add earthquakes to the long list of things that the world government lies about on a daily basis.

UNREPORTED EARTHQUAKES :ECUADOR RESIDENT'S EYE WITNESS REPORT ON ANDEAN EARTHQUAKE'S THAT ARE GOING UNREPORTED 
------------------------------------
There's been an amazing run of earthquakes here in the high Andes lately --
and there was a time when 10 to 30 minutes after a significant earthquake,
you could find the intensity, location (coordinates), and depth on any of
the many sites devoted to "earthquake tracking" shortly thereafter.

Not anymore.

Just last night at about 12:30 a.m. we had what we estimate to be a 4.0 to
4.5 here in south central Ecuador. Here it is 12 hours later and nothing
is reported, and this isn't the first time. We've had other significant
earthquakes over the past year and nothing appears on the quake sites. Our
expat neighbors are more shocked by this non-reporting than they are by the
earthquakes themselves. This is not unlike the "under-reporting" on the
severity of Fukushima radiation that I wrote about a few months ago -- (
http://www.altcancer.net/ashwin/ashw0715.htm . . . as we are recording
gamma and neutron ray bursts, along with a broad array of unnatural
radioactive isotopes from Japan, even here in South America).

What I'm noticing is an increase in under-reporting on anything that would
suggest that we are headed for a period of ungodly earth changes. For
whatever reason, those in authority don't want us knowing the severity of
the current trendline. Major earthquake sites say that Ecuador has had 33
earthquakes so far in 2015, and that's nonsense. I moved to this part of
Ecuador in 2007 specifically because it is well known that earthquakes do
not affect this part of the country. We went for years with little to no
earthquake activity. And now what do we have? Earthquakes happening
weekly, on average -- some reported, some not. Nothing yet in the 6.5+
range, mind you . . . but still substantial. 

When you understand how they track these things, you understand that this
misinformation through omission can only be deliberate. And when you
understand that, it makes you wonder why they would add earthquakes to the
long list of things that the wor[ld government lies about on a daily basis.]

Second Alert also dated November 19, 2015

OKLAHOMA EQ 5.7 -IS THE NEW MADRID GETTING SET TO GO OFF SOON? DOWNGRADED TO 4.7

OKLAHOMA IS INVOLVED IN ALL THIS! "TARGET TARGET"! ITS THE PLACE OF THE FIRST (?) JIHAD MANIAC THAT BEHEADED THAT WOMEN IN MOORE AND THE PLACE OF THE BLACK MASS!! THE PLACE THAT I BELIEVE IS ONE OF THE MAJOR PORTALS IN THE USA TO INVITE IN THE ISIS DEATH WITCH. THIS IS THE LARGEST QUAKE I HAVE SEEN IN OK IN A VERY LONG TIME--THEY GET A LOT IN THE 4.0 ETC RANGE, BUT NOT THIS--THIS IS ALMOST A 6.0! ALSO!! THE CIVIC CENTER HAS THE HALL OF MIRRORS........ -------- Forwarded Message -------- Subject: Earthquake Alert - M 5.7 - Nov 19 07:42 AM - Oklahoma Date: Thu, 19 Nov 2015 03:30:05 -0500 From: Earthquake Alert Reply-To: Earthquake Alert To: mikhael66@likeathief.com REPORT SENT BY EARTHQUAKE-REPORT.COM AS YOU HAVE SUBSCRIBED TO OUR MAIL ALERTS! Magnitude 5.7 earthquake downgraded to 4.7, Oklahoma

[UPDATE] Via email, OK Earthquake Swarm image below and link sent is - http://www.emsc-csem.org/Earthquake/earthquake.php?id=471414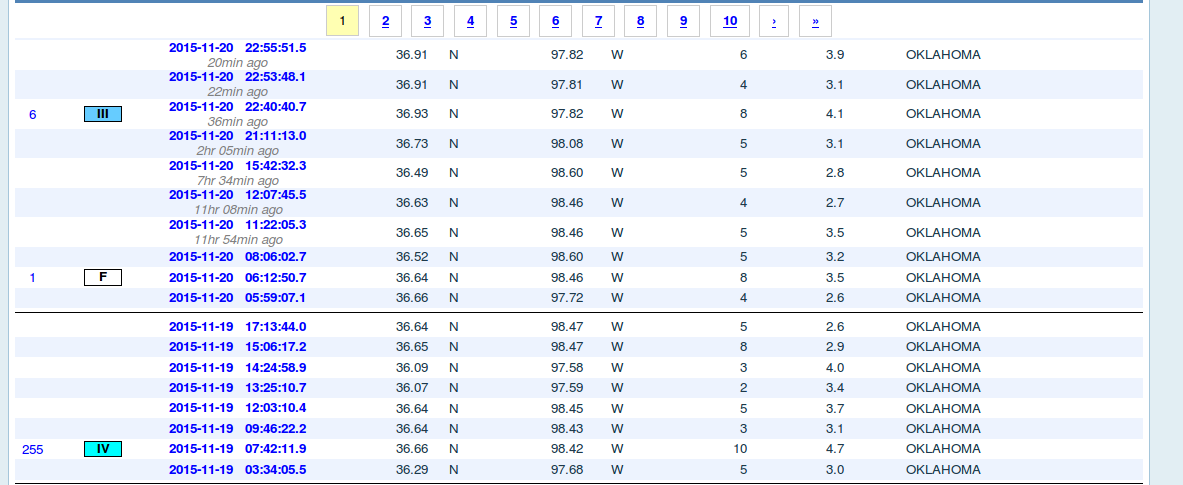 What are they hiding? There are a variety of theories, including HAARP and the geoengineering and weather manipulation causing the atmospheric chaos being seen today. Some believe we are feeling the effects of the much-talked about Planet X. There is also the Iduit Elder warning of the "Earth shifting,"  which in light of reports that came pouring in to the ANP comment section yesterday on this article, has many wondering if we are witnessing a magnetic pole shift could be the real culprit behind climate change and if this is the real reason for the government gag orders, the secrecy, and the refusal to provide Congress with the data they have issued a subpoena for.

STRANGE REPORTS POUR IN

The strange reports started with the one shown below:

URGENT!!!!!!!!!!!!!!!!!!!!!!!!!!!!!!!!!!!!!!!!!Check this out......................Lillith just contacted me with a video that just got posted. I will attach it. This lady has a compass in her home, in the same exact location for years now. She has a spot marked on the shelf to line up with EAST..... She has watched the compass the last three days move 40-45 degrees and has never touched the compass.....So, I just took my hunting compass, which is a very good quality compass, and I took my Iphone compass and walked out by my road leading to the house. This road runs north and south, I have checked numerous times, and I know exactly where NORTH should be....Here are my findings.The Iphone compass is 5-10 degrees off of where straight North should be. But........ My hunting compass is 30 degrees off of the compass on the Iphone.....So, with my hunting compass.... North has moved 40-45 degrees???????Now, you all know I am in south Texas. Check your locations, and see what is happening by you. On the video you can see some people commenting saying it is off by them.Something is NOT RIGHT here folks..... God I wish I had time to dig into this right now...Undrtaker



Others took up the challenge and a variety of responses came in, such as this one from SGR which stated "Seeing a 30* shift from my iPhone vs. my other compasses in Phoenix, AZ....." 

Aubie responded as well stating "Just checked and magnetic North is shifted 20 degrees in central AL."

Houston TX, newer commenter: "Hi there, I just downloaded a compass app for my phone and calibrated it. It's true, north is off by 45 degrees. It is showing west/northwest as north. The coworker who sits behind me also has a compass app (different than mine) hers is doing the same thing also. We put our phones together and they are reading the same, west/northwest as north. Also, NASA will be doing low flyovers all across Houston today in a strange plane, this was reported on click2houston. Something is wrong, when I drive home today I will check the north arrow on the GPS in my car."

Shannon responded with "I'm se of Houston...sitting in my car 2005 vw facing what is known to me to be s and the car says south but app that I downloaded of a compass is showing se. It is deff off...ppl what is going on, this is just crazy."

James Grubbs weighed in with "I live in SE Ohio and having same issue and worse." James came back shortly after confirming his initial report, stating "I'm still having trouble with my compass. It is really off big time. Can't continue thinking I'm doing something wrong. This thing worked fine the last time I used it. 40-45 degrees off might even be an understatement from what I'm experiencing."

Gary aka Godzilla responded to James by saying "I noticed it a few hours ago. Car said we were heading South West when we should have been going due South."

While the majority reported a problem with their compasses, using different types and makes, there were those that tested theirs and found nothing off, such as Stealth Ghost, a regular reader and commenter and friend of ANP, who responded approximately three hours after the initial report by stating "Just ran about 3 miles using both my fluid filed manual old school compass & on my wrist watch & Compass built into my Casio Pro Trek model PRW2500-1A Solar Powered watch. Seem to find my way points / GPS locations & notable "Landmarks" w/ usual precision I'm accustomed to. Wind gusts were pretty strong however at about 53 mph where I was at from the West. My way point times were considerably slower going West than to the East. ;-P"

BOTTOM LINE

According to Wiki: A geomagnetic reversal is a change in a planet's magnetic field such that the positions of magnetic north and magnetic south are interchanged. The Earth's field has alternated between periods ofnormal polarity, in which the direction of the field was the same as the present direction, and reverse polarity, in which the field was the opposite. These periods are called chrons. The time spans of chrons are randomly distributed with most being between 0.1 and 1

 

million years  with an average of 450,000 years. Most reversals are estimated to take between 1,000 and 10,000 years. The latest one, the Brunhes–Matuyama reversal, occurred 780,000 years ago; and may have happened very quickly, within a human lifetime.[1] A brief complete reversal, known as theLaschamp event, occurred only 41,000 years ago during the last glacial period.......

Are we witnessing a pole shift or a geomagnetic reversal? Are we seeing what the Inuit Elders warned NASA and the world of nearly a year ago, described as the "wobble" with the Earth shifting and the skies changing? If so, is the Government cover-up for the sole purpose of pushing their "man-made" global warming agenda or is there something far more dangerous coming our way to which the government wishes to hide for as long as possible? 

These are questions we cannot answer with 100 percent certainty but we feel should be asked and answered by our government officials... with the truth, rather than the lies they have so often been caught telling us.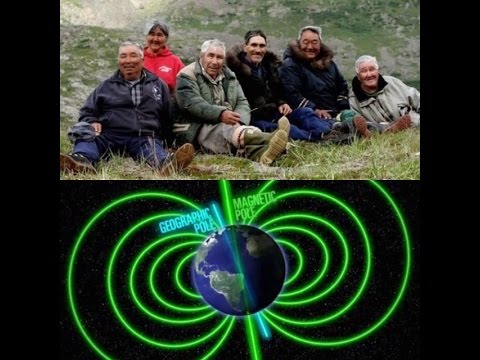 comments powered by

Disqus