Whatfinger: Frontpage For Conservative News Founded By Veterans
"The Best Mix Of Hard-Hitting REAL News & Cutting-Edge Alternative News On The Web"

August 20, 2021 
Miles Long Train And Boxcars In Texas Labeled 'China Shipping' Is Just The Latest National Security Threat We Face As China Buys Up Our Farmland While Shelves In America Are Going Bare
- 'Ripple Effects' Over Biden's Disastrous Afghanistan Decision Becoming Monstrous Waves


With the post-American world order now kicked into high gear as massive shortages of food, supplies and other goods are already being seen across the country as Susan Duclos showed in this Thursday ANP story, a sure sign of the arrival of some sinister type of 'communism/socialism' as we saw in Venezuela most recently, we're going to take a look within this story at a few other pictures that were also recently sent to ANP that tell a tale the mainstream media will never tell and hold a common theme; 'China rising'. 
The photos both above and below were recently sent in to ANP with the following note:
These are a couple of pics from Jan 2021 of trains parked along highway 287 near Amarillo Texas. We were driving home from my fathers funeral when I noticed this and thought it was odd. Most of the containers are from "China Shipping". This train went on for several miles this is not the first time I have observed this. I had made several trips from my home in Colorado to north east Texas during December and early January 2021 and saw similar trains. 
I was discussing the closure of the China port and a friend mentioned to me today that its ok we do not get anything from China any more, anyway. It reminded me of these pics and thought I would share them. I am by nature curious person and in recent years have become more suspicious of most things. It would be good to find out how much we really get from China currently?? And why we currently have numerous ships sitting off the LA port waiting to get unloaded. I have heard some have been waiting for months?? Is it just a shortage of labor at the ports or is something else going on??
So of course, we had to check out 'China Shipping'. According to the 'about us page' on the 'China Shipping' website: 
CSG, the parent company of CSCL and CSNA, was founded on July 1, 1997 and is headquartered in Shanghai, China. It is one of the key state-owned enterprises under the direct administration of the Central Government and is a super-large shipping conglomerate that operates globally in various shipping and logistics sectors. 
Under its umbrella, there are five specialized shipping fleets of container vessels, oil tankers, tramps, passenger ships, car carriers and special cargo ships, comprising more than 500 vessels with an aggregate deadweight of 28 million tons.
With China long buying up American farmland as was reported in this July of 2021 story over at Politico, and receiving American taxpayer subsidies while doing so, as that Politico story pointed out, China's presence in the American food system poses a national security risk. This happening at a time when food shortages are already popping up across America. But is something even more sinister at play?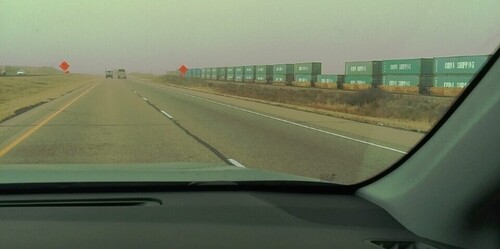 As this story over at the Long Beach Business Journal reports, Operations at the Meidong container terminal at the Ningbo-Zhoushan Port in China were halted Wednesday after ONE worker tested positive for the coronavirus, leading to a ripple effect across not only America but the world and expected to cause delays at the Port of Long Beach, which already is facing a backlog of ships amid one of the busiest cargo months of the year, according to port executives.
From this story about the closure via the South China Morning Post.: 
The world's largest shipping port by cargo tonnage has shut down one of its key terminals following a confirmed case of Covid-19, putting further strain on the global shipping industry and disrupting supply chains. 
The news came as container shipping rates from China and Southeast Asia to the east coast of the United States hit a record high of more than US$20,600 per 20-foot equivalent unit (TEU) – the standard measure for freight container volume – according to the Freightos Baltic global container freight index. 
On Wednesday, a 34-year-old employee at the Meishan Terminal of China's Ningbo-Zhoushan Port tested positive for the coronavirus despite being fully inoculated with two doses of the Sinovac vaccine. It was an asymptomatic infection. Port authorities quickly locked down the Meishan area – including the terminal and bonded warehouse – and suspended its operations indefinitely, according to a statement released by the local government in Ningbo, Zhejiang province.
Not only giving us the latest proof that 'the vax' isn't working to prevent covid infection, (for a very simple reason as a vax for covid is expected to be as 'effective' as a 'vax' for the common cold, impossible), take note that New Zealand's Prime Minister Jacinda Ardern also recently shut down the entire nation of New Zealand, also over one Covid case, another taste of things to come for America. 
Can you imagine them shutting down America over a single American catching the common cold, another coronavirus that cannot be 'inoculated against'? 
And we'd be remiss to not report upon the fact that "only days after the fall of Afghanistan's on Joe Biden's watch, China has mobilized its warships while hitting the U.S. with aggressive new demands on Taiwan". From this Becker News story.: 
China isn't wasting any time seizing upon a U.S. Commander-in-Chief's weakness and inability to lead. The Communist nation is making overtures towards taking aggressive action against the island nation of Taiwan, which China has long claimed is actually its territory. 
The communist country is now mobilizing warships, attack submarines and jet fighters off the coast of Taiwan, while hitting the United States with aggressive new demands over the Pacific nation.
"The Chinese People's Liberation Army (PLA) on Tuesday launched joint live-fire assault drills in multiple locations near the island of Taiwan in response to recent collusion and provocations by the US and Taiwan secessionists," the Chinese mouthpiece Global Times reported. 
"The PLA Eastern Theater Command on Tuesday dispatched warships, anti-submarine warfare aircraft and fighter jets in surrounding maritime and aerial areas near the southwest and southeast of the island of Taiwan for military exercises including joint live-fire assaults, and also for testing the command troops' integrated joint operation capabilities, Senior Colonel Shi Yi, spokesperson of the command, announced on the same day," the report continued. 
China has also issued a warning to Taiwan, saying it should be "trembling" since the U.S. "won't protect" the island from invasion. The CCP has also told Taiwan that it "can't rely" on Biden in a crisis.
(ANP EMERGENCY FUNDRAISER: Due to renewed censorship by 'big tech' upon ANP articles, we'll be running an emergency fundraising drive over the next month or so until we catch up on upcoming expenses. We also want to thank everybody who has donated to ANP over the years. With donations and ad revenue all that keep ANP online, if you're able, please consider donating to ANP to help keep us in this fight for America's future at this absolutely critical time in US history. During a time of systematic, 'big tech' censorship and widespread institutional corruption, truth-seeking media and alternative views are crucial, and EVERY little bit helps more than you could know!)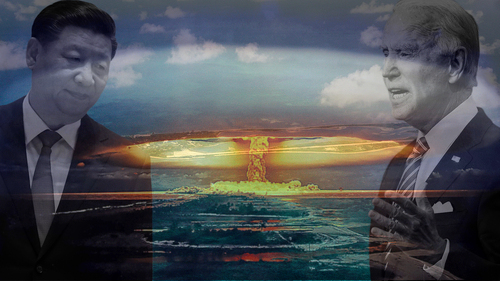 Just the latest signs that the collapse Of Afghanistan has brought the world a lot closer to a Chinese invasion of Taiwan, Biden's haphazard withdrawal from that country halfway around the world is having massive (and likely planned) ripple effects globally. From Michael Snyder's story over at the Economic Collapse Blog.: 
The way that the Biden administration has handled the U.S. withdrawal from Afghanistan is not going to bring peace. Instead, I believe that it is going to result in more war. For decades, the overwhelming strength of the United States restrained other major powers from becoming too adventurous. But now the stunning defeat in Afghanistan has exposed how weak we have become. At this point, the U.S. is like a rapidly aging boxer that is becoming even more feeble with each passing day. At one time we may have been able to take on anyone, but now we are in an advanced state of decline and we have utterly incompetent leadership in the White House, in Congress and in the Pentagon. 
As I discussed yesterday, the debacle that is currently playing out in Kabul is going to greatly embolden the enemies of the United States. 
In particular, Chinese leaders are absolutely loving what they are seeing, and they can't help but express their delight… 
Chinese state media, meanwhile, reported on America's "humiliation" in Afghanistan with relish, using scenes of the chaotic US evacuation and swift resurgence of the Taliban as proof of the superiority of China's hands-off approach to other countries' internal affairs. 
"The drastic change in Afghanistan's situation is undoubtedly a heavy blow to the US. It declared the complete failure of US intent to reshape Afghanistan," the state-run tabloid Global Times said in an editorial published late on Sunday night. "This defeat of the US is a clearer demonstration of US impotence than the Vietnam War — the US is indeed like a 'paper tiger.'" 
In this instance, the Chinese are 100 percent correct. 
The United States really has become a "paper tiger". 
Also warning within his story that our "woke military" has become a pathetic shadow of what it once was, and that even if we had a competent military, the brass in the Pentagon would have no idea how to use it because they are completely and utterly clueless, just imagine the humongous problems that this is now causing our allies not only in Taiwan but all across the planet as the U.S. military has been the only thing holding the Chinese back from invading the island. 
After watching how we abandoned our friends in Afghanistan, the Chinese publicly taunted authorities in Taiwan and warned that we would do the exact same thing to them… 
It published an editorial contrasting the U.S. commitment to Afghanistan and its commitment to Taiwan, and concluding that if it "abandoned" Afghanistan, then the ruling pro-independence Democratic Progressive Party (DPP) in Taiwan should "wake up from their dreams." 
"From what happened in Afghanistan, they should perceive that once a war breaks out in the [Taiwan] Straits, the island's defense will collapse in hours and the U.S. military won't come to help," Global Times opined. "As a result, the DPP authorities will quickly surrender, while some high-level officials may flee by plane."
So with China buying up American farmland as if they intend upon forever keeping it to use to feed their own nearly 1.5 billion people, while letting the American people starve to death, and China already having a state run transport system all across America as seen in the photographs we've embedded within this story sent to us by an ANP reader, what do the globalists have planned next? 
Judging by what's already happening here in the USA as tyranny over our own bodies is unveiled, and shortages are already being seen in locations all across America, Americans better be fully prepared for the globalists 'end game' because it's now being carried out before our very eyes. 
ANP EMERGENCY FUNDRAISER: With non-stop censorship and 'big
tech' attacks upon independent media, donations from readers are absolutely critical in keeping All News Pipeline online. So if you like stories like this, please consider donating to ANP.

All donations are greatly appreciated and will absolutely be used to keep us in this fight for the future of America.

Thank you and God Bless. Susan and Stefan.

PLEASE HELP KEEP ANP ALIVE BY DONATING USING ONE OF THE FOLLOWING METHODS.
One time donations or monthly, via Paypal or Credit Card:

Or https://www.paypal.me/AllNewsPipeLine
Donate monthly from $1 up by becoming an ANP Patron.



Donate Via Snail Mail

Checks or money orders made payable to Stefan Stanford or Susan Duclos can be sent to:



P.O. Box 575

McHenry, MD. 21541







comments powered by

Disqus