Whatfinger: Frontpage For Conservative News Founded By Veterans
"The Best Mix Of Hard-Hitting REAL News & Cutting-Edge Alternative News On The Web"
October 12, 2017
From One Disaster To The Next, The Fuse Has Been Lit And The Time Is Ticking - In THIS Worst Case Scenario, EVERYTHING Would Change Before Most Knew What Happened 
By Stefan Stanford - All News Pipeline - Live Free Or Die
With President Trump's recent White House meeting with top generals showing the dire urgency to which the situation on the Korean peninsula has deteriorated to, with even Department of Defense head James Mattis recently warning the US Army to stand ready for war with North Korea, we take a look within this story at the latest emerging signs that war may not be able to be avoided but should it somehow be dodged, President Trump should probably win a Nobel Peace prize.

We also take a look at a brand new SQAlert republished below in which Steve Quayle re-shares with us his warning froma talk radio show years ago that once trouble started, we'd be flowing from one disaster to the next, just as we're now witnessing in America as well as taking another look at a 'worst-case-scenario' that America may never come back from. 

In this new story over at The Express that the Drudge Report linked to this morning they report that according to North Korea's foreign minister Ri Yong Ho, President Trump has already lit the wick of war against North Korea and its their duty to put that to an end: "We need to settle the final score, only with a hail of fire, not words."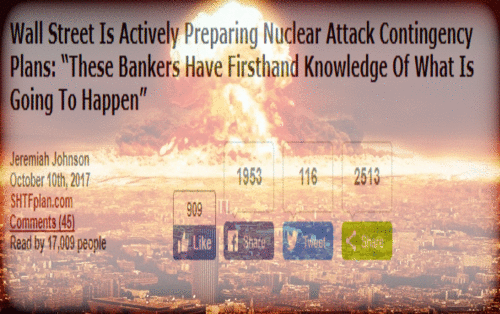 With global mega-bank JPMorgan's recent change of their bylaws to include a section on 'nuclear disaster' and 'world war 3' as seen at this filing at the SEC also helping to put an exclamation point upon how close the world might be to nuclear war, as Jeremiah Johnson recently reminded us recently over at SHTFPlan, "these bankers have firsthand knowledge of what is going to happen".

And while the US recently sent a 2nd nuclear warship and 7,500 marines within striking distance of North Korea as shared in this new story over at the Daily Star, the fact that North Korean hackers have allegedly stolen 235 gigs of US/South Korean war plans with information on both Kim Jong Un assassination plans and nuclear war strikes underlies the perilous waters both sides are now swimming in. 

With President Trump on Hannity last night telling Sean the United States WILL stop North Korea's nuclear program as heard in the 1st video below while North Korea vows to continue their program despite the US threats and the condemnation of most of the world, we've reached a 'between a rock and a hard place' scenario that could bring disaster.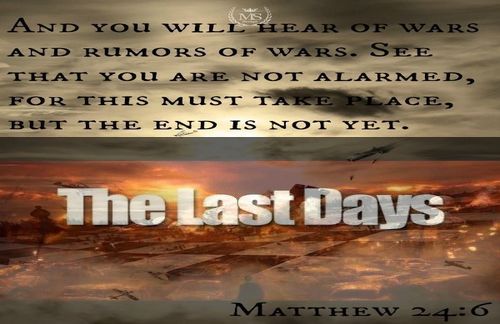 And we find it interesting that with apocalyptic fires on one coast while deadly and possibly geoengineered hurricanes and floods hit the other coast, only a new deadly war or a meteor strike upon the planet remains to feel like prophecy from long ago is unfolding before our eyes as wars and rumors of wars continue to swirl all around us.  

As we read in the brand new SQAlert below, long ago Steve warned as evil events fast approached us, darkness would be raining down upon us yet as he reminds us, we've long been told, we need not fear. And while we're not in the position to confirm that we're living in a time of prophecy, we're clearly moving from one disaster to the next in America, just as Steve had warned long ago.

The new SQAlert:  

WORD SPOKEN BY SQ, YEARS AGO ON TALK RADIO - A MEMORY OF A PROPHECY STATING THAT ONCE JUDGEMENT BEGAN, WE WOULD NOT HAVE ENOUGH TIME TO RECOVER FROM ONE DISASTER, BEFORE THE NEXT ONE HIT. DO YOU RECALL ANY SUCH PROPHECY?

BOB, I THINK THEY MAY BE REFERRING TO THE WORD I GAVE YEARS AGO ON RADIO - HERE'S HOW IT WENT - ONCE THE 'TROUBLE' STARTS WE WILL LOOK TO THE LEFT AND IT WILL BE COMING AT US WE WILL LOOK TO THE RIGHT AND MORE EVIL EVENTS WILL BE CLOSING IN ON US  - WE WILL LOOK BEHIND US AS EVIL TRIES TO OVERTAKE US, AS WE LOOK FORWARD, WE WILL SEE EVIL EVENTS FAST APPROACHING US AND AS WE LOOK UP THE POWERS OF DARKNESS WILL BE RAINING DOWN UPON US, AND AS WE LOOK DOWN UPON THE EARTH, IT WILL OPEN UP BEFORE US, AS ALL HELL IS VOMITED OUT UPON THE EARTH TO DEVOUR AND MAKE WAR AGAINST US - BUT AS WE LOOK TO JESUS, AND KEEP OUR EYES ON HIM, HE WILL MAKE A WAY FOR US AND DELIVER US FROM EVIL AS WE WALK BY FAITH AND NOT BY SIGHT!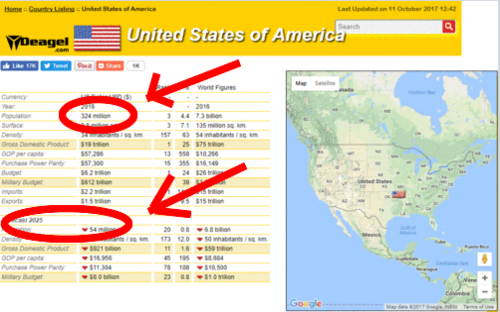 With the website Deagel.com still forecasting a 270 million population drop here in America between now and 2025, expecting a massive crash from 324 million living here in 2016 to an expected 54 million living here in less than 8 years, it's believed that one of the easiest way to get to that number would be via an EMP attack upon us, sending the US back to the dark ages and eliminating up to 90% of the US population within a year to 18 months.

Interestingly, if Deagel's numbers are correct, approx 83% of the people living here in America in 2016 won't be here by 2025, very close to that 90% of Americans mortality rate predicted by the Congressional EMP Commission with most people likely never finding out exactly what happened after an EMP took down our grid and communications.

As we reported back on October 9th of another potentially disastrous scenario we're quite sure 90% or more Americans wouldn't be prepared for: an EMP combined with a cyber attack, draining the accounts of tens of millions and immediately bringing an end to the banking system here in the US and the end of life as we know it. Would you be prepared to live for up to a year with no power knowing you wouldn't be able to access your bank account, either?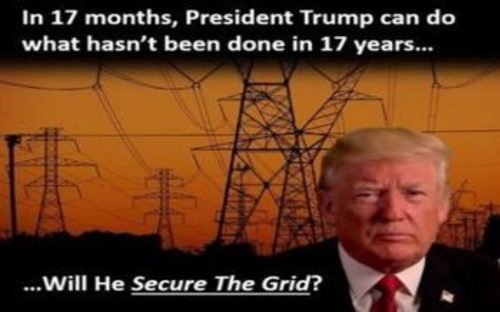 And with the EMP Commission now officially and indefinitely disbanded, we can only hope that President Trump takes the steps necessary to harden our electrical grid and deal with North Korea's satellites while preparing ourselves for the worst-case-scenario, a possible life without electricity, the very fabric that holds our society together here in America.

We also find it interesting that evidence is out that North Korea allegedly attempted to hack into our power grid. As the people of Puerto Rico are still finding out, those who didn't prepare for what they're now facing are completely overwhelmed with the domino effect of no electricity leading to no water, no food, no cell phones, no communications, and no modern amenities, all contributing to no hope.  

As we reported back on October 6th, our planet Earth has already witnessed 380 'mass animal death events' in 2017 and according to some scientists, our planet Earth is a 'dead planet walking', 'Fukushi-mad' and closing in on the threshold of catastrophe. For us humans and most animal species that is - of course, the Earth will go on long after we're gone. Through one disaster after another.










comments powered by

Disqus