Whatfinger: Frontpage For Conservative News Founded By Veterans

"The Best Mix Of Hard-Hitting REAL News & Cutting-Edge Alternative News On The Web"
June 8, 2016
Something Very Strange Is Going On - Weird Events And Planned Chaos Coming At Us From Every Direction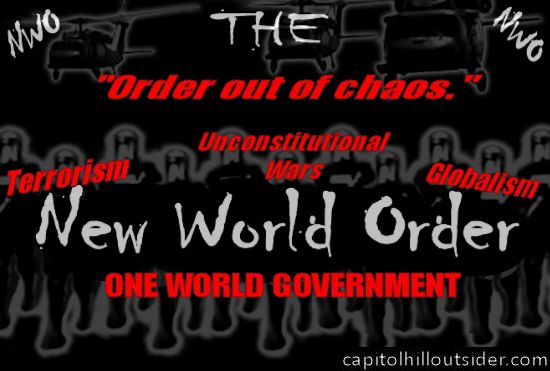 By Susan Duclos - All News PipeLine

Red flags are waving for all those that believe some type of planned life-changing "event" is on the horizon.

EBT CARDS , COMMUNICATIONS AND ELECTRONIC BANKING PROBLEMS ARE INCREASING DRAMATICALLY

On June 1, 2016 Stefan Stanford reported a warning saying the "next 5 months are going to shock the world", where he headlined with a CEO's warning of massive shortages as the "spirit of violence and unrest" rises in America, and as we will show below, a rapid series of seemingly unrelated and strange events have occurred where planned chaos is coming at us from every direction, most likely with the intent to overwhelm and confuse the populace.

As ANP first reported on June 5, 2016, thousands of reports over the last couple of months have come in about Electronic Benefit Transfer (EBT) cards not being reloaded with expected welfare funds, and as of this morning, even more reports are coming in about the problem. On top of that we are hearing reports of bank cards, with adequate funds in the accounts are being declined for no reason.

In that same ANP June 5 report we also showed screen shots of communication providers suffering widespread outages, Internet, cell/phone service , television and total blackouts being reported across the country, at Comcast, Time Warner, AT&T, Verizon, T-Mobile, and Cox, just to name a few of the larger providers.

Update - Link just emailed to ANP shows that the Oklahoma Department of Public Safety has purchased several devices capable of seizing funds loaded on to prepaid debit cards, under the guise of aiding "troopers in roadside seizures of suspected drug-trafficking proceeds."

NOTHING SHOULD BE HIGHER ON YOUR MUST-DO LIST THAN FOOD ACQUISITION - SQ

This morning Steve Quayle issued a personal alert, telling people that at this moment nothing should be higher on your list than food acquisition as we are seeing warning signals all around us, increasing dramatically in these late days:

ONE OF THE HARDEST THINGS IN POSTING THESE ALERTS IS TRYING TO GET MULTIPLE VALIDATIONS AND VERIFICATIONS AND BACKGROUND INFO FROM PEOPLE IN THE KNOW-THIS IS NOT THE CASE THIS MORNING!!!-I WANT TO ENCOURAGE EVERYONE WHO HAS FINANCIALLY STRUGGLING FRIENDS, RELATIVES AND NEIGHBORS TO BUY CANNED GOODS,MEATS ,FRUITS AND VEGETABLE AND A LARGE CONTAINER OF VITAMIN C AND BAGS OF RICE FOR THEM--PRAY FIRST AND ASK GOD ,TO SHOW YOU WHO HE WANTS YOU TO HELP!-,VETS ,FRIENDS AND ANYONE ON FIXED INCOMES ARE THOSE WHO NEED HELP THE MOST-THE EBT CARDS , COMMUNICATIONS AND ELECTRONIC BANKING PROBLEMS ARE INCREASING DRAMATICALLY-THIS IS A HUGE HEADS UP-EBT CARDS BEING HELD UP FOR 8 DAY'S IN SOME FLASHPOINT CITIES COUPLED WITH HAVING PAID PROTESTORS BEING ORDERED TO RIOT ON CERTAIN DAYS PRIOR TO AND DURING THE RNC CONVENTION ARE BECOMING DOCUMENTED AND IN OUR FACES! MOST PEOPLE, 99%-- DON'T GET THIS PLANNED TAKE DOWN OF THE US GRID AND ECONOMY AND WILL BE OVERWHELMED AS IT PLAYS OUT-PLEASE TAKE THIS SERIOUSLY-IF THE PEOPLE YOU WANT TO HELP LIVE OUT OF TOWN( CALL RYAN AT 406-581-0182 FOR NUMANNA FOODS,WHO BY THE WAY ARE SHIPPING WITHIN DAYS)-AND ORDER BASICS FOR THOSE IN NEED - OTHERS SHOULD CONSIDER PUTTING OFF SUMMER VACATIONS AND USE THE FUNDS TO PREPARE-THOSE OF YOU IN CITIES ,WHO ARE HVT,S (HIGH VALUE TARGETS) SHOULD CONSIDER LOOKING FOR AND IMMEDIATELY ACQUIRING RENTAL PROPERTIES OUT OF TOWN, ITS TO LATE WHEN THE GO SIGNAL IS GIVEN--I SUGGEST YOU ALL DOWNLOAD THE EXCELLENT SERIES BY MY FRIEND BILL,OF HIS 'OVERTHROWN' AND 'AFTERMATH SERIES' ON THE RIGHT HAND SIDE OF MY MAIN PAGE -SQ--HERES THE LINK--http://www.todpublishing.com/shop/ BY THE WAY LOOK AT THE PRECIOUS METAL'S PRICES!





ANP has been given permission to upload chapters 1 & 2 of Overthrown Book 14, which is linked to the graphic above and will be embedded for readers at the bottom of this article.

GOVERNMENT ISSUING STRANGE WARNINGS, CONDUCTING DRILLS

Recently it was reported that Barack Obama publicly stated that "it is every citizen's responsibility to be prepared for a disaster," where he also suggested that everyone should have an "evacuation plan, having a fully stocked disaster supply kit."

In the Obama speech he unveiled a new Fema app, which according to the FEMA website, has information including tips for survival and how to locate 'FEMA shleters', to which some have dubbed  "FEMA camps."

Right on the heels of that statement we now see that Homeland Security is telling people that in the event of a natural disaster or terrorist attack the residents of DC should have a "plan" to evacuate.

We also note an article at Vaccine Impact that the U.S. government is conducting mass pandemic flu outbreak exercises at schools, medical centers and hospitals, while foreign troops along with our own practice "mock missions" in Tampa a couple of weeks ago, which followed secret midnight military drills in Indiana in late May, which reportedly frightened nearby residents that were not informed a drill would be taking place. Fenway is reportedly looking for volunteers for a  mock "wide scale" terror attack.

Let us not forget the Cascadia Rising "Doomsday Drills" are occurring which Stefan Stanford at ANP has been covering in a series of articles dealing with those planned Earthquake and Tsunami drills.


ARIZONA ASTEROID AND NO-FLY ZONES

On June 2, 2016, NASA cameras as well as others caught the the Arizona asteroid fireball that lit up the night skies, with NASA claiming it was  "a small asteroid estimated at 5 feet (1-2 meters) in diameter - with a mass of a few tons and a kinetic energy of approximately half a kiloton - entered Earth's atmosphere above Arizona just before 4 a.m. local (MST) time. NASA estimates that the asteroid was moving at about 40,200 miles per hour (64,700 kilometers per hour)."

NASA and some dashcam footage can be seen below of the event, but beneath that we will show that on the same day, the FAA declared the location as a no-fly zone, type described as "hazard" to start on June 3, 2016 and to last through July 2, 2016.





NASA reports this is a "continuously occurring natural process," but what isn't common is the Federal Aviation Administration (FAA) declaring a nearly month-long no-flyzone over areas to which a simple asteroid/meteor was observed, as the screen shot below shows they have done in this instance. As readers can see below, the date it was issued was June 2nd, the same day the "asteroid/meteor" was reported, going into effect by the next day, June 3rd, and to last through Saturday, July 2nd.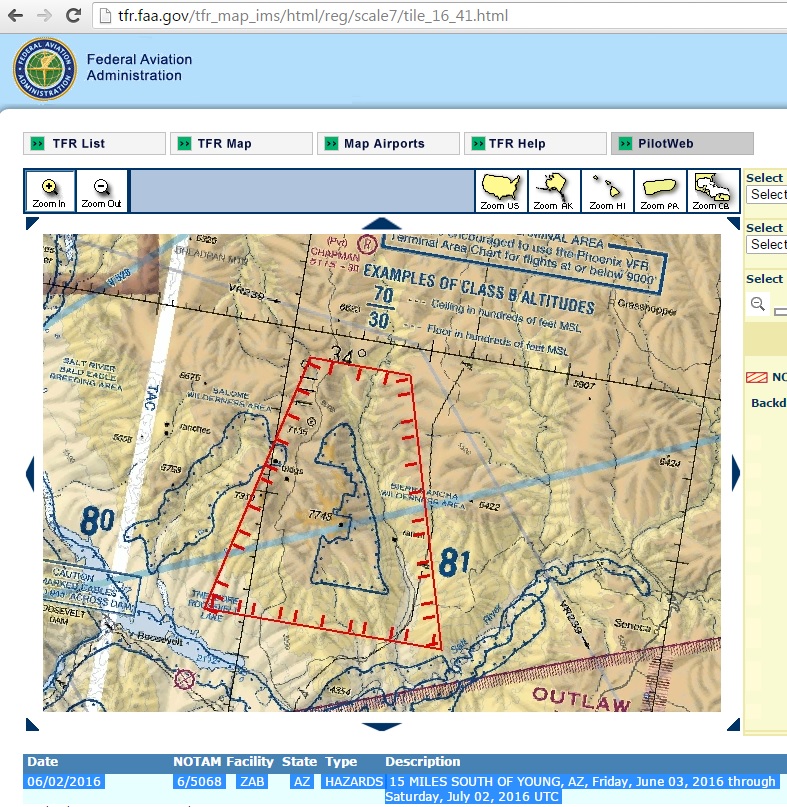 According to Videographer MrBBB, not only has a no-fly zone been declared for that area, but as he states in the video below and in the description for it, "Also, only vehicle travel through this area is by escort, 4 hours per day 12-4pm. There has been a small contained wildfire burn in that area for a couple of weeks now that is well under control, however, the "No Fly Zone" was just issued after the asteroid event. This, along with the rare smoke trails has made this entire event into a conspiracy of sorts..."eyebrow raiser" for sure!"



If that doesn't raise your red flags, consider this next bit of news, where the FAA has also warned of GPS outages this month for some type of mysterious military testing on the West Coast, and the "jamming" of the GPS will span "505 nautical miles at its greatest range."

The following image was provided by the FAA in their Flight Advisory release (PDF), showing the the range of the "jamming" which, coincidentally or not, also covers Arizona, where the asteroid/no-fly zones has been declared.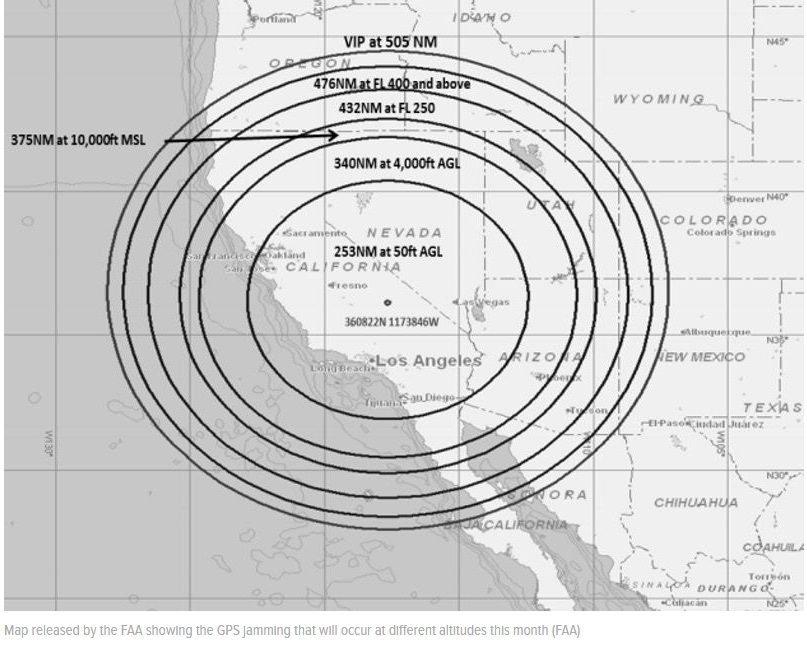 BOTTOM LINE

Things not mentioned above include but are not limited to; economic news, the planned protests at both the Democratic and Republican conventions, the paid Craigslist protesters for Trump rallies, which as recent examples show have gotten increasingly violent and deliberately planned to incite civil unrest, and a whole host of issues being reported across the web.

As a reader recently stated, sometimes trying to keep up with all the news becomes overwhelming and after researching some of the strange events occuring now and scheduled to occur, we are wondering if that isn't the point.... overwhelm the general public with planned chaos coming from different directions, all happening in rapid succession, so that when the hammer does fall, confusion will reign.

I am reminded of the expression "Order out of chaos," a basic concept of the NWO and ultimate goal and endgame of the globalists. One of the best descriptions of this comes from Zero Hedge back in 2014, described as "It provides distraction and cover for the elites to implement other plans that they would rather not have noticed."

Some would say that has been the plan all along.

ORDO AB CHAO - ORDER OUT OF CHAOS - Out of chaos comes order, their order, their new world order.(Orwell Today)



Overthrown Book 14 Chapters 1&2 uploaded by Susan Duclos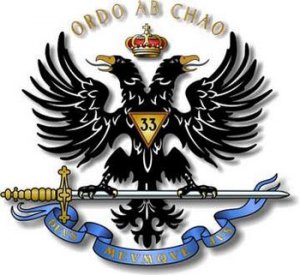 comments powered by

Disqus